All fixed set patterns are incapable of adaptability or pliability. The truth is outside of all fixed patterns. — Bruce Lee
Delaney Owen, like many other professional MMA fighters, did not plan on a life of combat sports. She didn't grow up wanting to train in the martial arts for hours every day. She didn't think that she would be paid to punch other girls in the face. But Delaney Owen was able to adapt.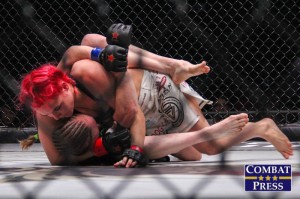 At age 15, her goal in life was to become a pro triathlete. Her parents taught her at home, thereby allowing for more time for her training. She was determined and focused and well on her way to meeting her goals until her she developed an adrenal issue. Her doctors demanded that she rest.
---
Advertisement

---
Her dream was gone. But not her drive.
Once she was able to be active again, Owen visited the Highlander MMA gym in Tampa, Fla. Her first time on the mat led to feelings of frustration, so she picked the guy up and slammed him down, which is an illegal move in Brazilian Jiu-Jitsu. From that day forward, she was known as "Lil Scrappy."
Owen wasn't training for MMA originally. However, when her coach suggested she take an amateur fight, she was up for the challenge. She tore through the ammy ranks with a four-fight winning streak to start and finished her amateur career with seven wins and two losses.
A new dream surfaced and a new truth was born. Delaney Owen was a fighter.
Her pro career took off with a bang. Owen submitted her first two opponents, but she lost in her Invicta FC debut against Colorado phenom JJ Aldrich in September 2014. Owen wasn't hurt in the fight, though, and was able to get back in the cage in November. She fought Amber Stautzenberger, a Texan who has beaten Glena Avila, Lacey Schuckman and Kathina Catron.
"I watched the fight — bought the DVD — and definitely learned a lot from it," Owen admitted. "I got the win, but there is still so much I could have done differently. I did zero jiu-jitsu and zero wrestling. I was lucky, because she was coming forward and I was able to submit her.
"It was an awesome fight, though. Crazy scrambles. I feel like I won the first and third rounds and I was winning the fourth, but I am sure she won the second round. I don't think she was expecting me to stand up as much as we did. I am feeling more comfortable on my feet. It's always been there, I have just never tapped into it because I feel so comfortable on the ground."
Owen secured the rear-naked choke in the fourth round. Then, she came home to a whirlwind of change. Just days before her fight, she and her fiancé broke up. That breakup was made even more difficult because her fiancé was her coach. Things got a little weird at the gym, so Owen decided to train elsewhere for a while.
She moved in with her sister and found a new home gym about an hour and a half's drive away in Lakeland.
"Ross Kellin and David Baggett have really been nice to me and [they are] really great coaches who helped me tremendously," said Owen. "They have 10 or 13 girls there at each session and a bunch of smaller guys, and the diversity alone would up my game. I've also been going to Ingrid Medrano's, a former freestyle wrestler from El Salvador who competed in the 2008 Olympics. I am working with Michel Santos, who happened to be on the same team as my next opponent, Sharon Jacobson."
Owen will fight Jacobson, a 2-1 MMA fighter with a great wrestling background, in her next Invicta fight. Jacobson, like Aldrich, hails from Colorado.
"She is good. This is not going to be an easy fight at all, but it is an MMA fight. Wrestlers don't like to get punched in the face. Me? I just get beat up and I don't have a problem with it," she said with a laugh, referencing her fight with Aldrich. "But I have been doing much better protecting my nose. I still get hit, but I am focused on protecting the nose."
"I don't really know a whole lot about her, though, besides she is an amazing wrestler and comes from Colorado, same deal as with JJ. Everyone is worried about her gas tank — being a wrestler from the higher elevation — but my cardio has been on point. I feel really good. My weight cut is on point," she said as she bit into a bacon,egg, and cheese sandwich. "I have been below my target, so am just maintaining the weight. She is heavier than me but we're the same height, so I think I have the advantage here. This is her first time at 115 [pounds] — she wrestled heavier. She might be stronger, but I am going to be quicker."
Normally, this is where the interview ends. But Owen's road to Invicta has been a life-and-death struggle. Her mother, Patti Lynn Owen, was called to heaven in February. She fought breast cancer for over seven years before the disease took its toll.
"After my mom's death memorial, I was going to do a month-long road trip with my best friend and then I got the call for this fight. My best friend lives in Kentucky now, but she knew my mom. We grew up together, and her grandparents are like mine. I needed some healing time, some good cooking. So I went up there for a week.
"This camp has been really emotional, but I've been putting my emotion into my training. I am not a crier, but sometimes I will just sit in my car and just… let go. I am pulling from this to make me stronger — pulling from my mom's strength. No boys, just family, just going to work every day to learn to be a better fighter.
"My mom and I were really close, and even though she wasn't a fan of me fighting, she was always proud of me. She was always telling me to be careful. And she didn't want me to hit my opponents in the face. Even though I tried to explain it was a choice between them and me, she still didn't like that part. But my mom and I are a lot alike.
"She was determined and caring, and I hope I can be more like her every day. Anything she set her mind to, she did it. She was a strong Christian. If she felt like God was leading her to help someone, she'd do it. She wasn't a procrastinator and she didn't wait for others to get something done. If God laid on her heart to make a meal for someone, she would just do it. But, at the same time, she had the same attitude as me — 'Mama Scrappy.'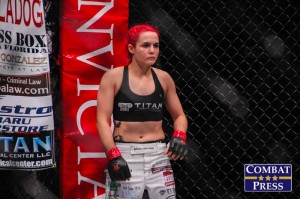 "She was witty and always making us laugh. I have two sisters and a brother, and we all handle the loss in our own ways. My dad lives close by with my little sister, and I have been appreciating them a lot more. It's been super important for me to be there for them and with them and to be around them as much as possible.
"I've needed to grow up real quick. Gotta keep on moving. I feel like I did a lot of my grieving over the past seven years. I know it's weird to say, but I feel like I always knew. My mom has been fighting and holding on for us. She was always there for us, and I know she really wanted to see my brother's baby, who is still on the way.
"Through this, I have become more spiritual. Taking joy in the little things, ya know? Slow down and enjoy everything. I am embracing change and embracing my path — fighting, being single, lots of things coming at me, so I have been trying to roll with the punches. And I made a decision: I am going to make it work. I am fighting through the pain, emotionally and physically. I feel like I can't go through any more heartache, but I know I am going to power through."
Owen's journey is best described by this passage that her mom wrote to her:
"Embrace the change. Grow in new directions, explore, discover, reach and risk. Change creates an energy inside of you that you didn't realize you had. You don't need to wait for happiness to find you… plant some seeds and grown your own." — momma
Delaney would like to thank her sponsors: Titan Medical, Anthony Gonzalez of Byrd & Gonzalez, The Press Box, Copa America, Andress Electrical, StopBadCops.com, MMA Madhouse and Champions MMA. She would also like to thank CR and Melissa Hall — "Thanks for everything you've done for this camp!"; the Champions family for the love and support — "You're worth the drive!"; and Ross Kellin and David Baggett for their amazing coaching and training. Delaney would also like to thank her family for being supportive and understanding, and, of course, her fans for tuning in and supporting her. Follow Owen on Twitter:
@scrappydl
---
Advertisement

---