Every fighter who plans on having a future as a professional has an ultimate goal to fight in the UFC's patented Octagon. Getting there may be easy for some and hard for others, but the toughest part about the journey is not getting on the biggest stage in the sport, but staying there.
Last July, heavyweight Josh "Cuddly Bear" Copeland was undefeated in pro action. He had just taken out former standout collegiate football player Jan Jorgensen via a first-round battering, and he was headed to the big show. It was a whirlwind of powerful emotions, constant bombardment by media and fans, and training for the biggest fight of his life. All else aside, the fight is still the most important thing.
Copeland's first UFC opponent was a doozy. When he stepped into the Octagon for the first time last November, he was standing across from fellow big-man striker Ruslan Magomedov. The Russian fighter had a similar fighting style to Copeland, but also held an obvious height and reach advantage. To make matters worse, early in the fight, as he was throwing a high kick, Magomedov appeared to have cut Copeland, and some excessive bleeding followed.
---
Advertisement

---
"Man, it wasn't even a cut," Copeland told Combat Press. "Actually, my eye was bleeding. His toe popped a blood vessel in my eye, and that's where the blood came from. It bruised my retina, so I was blind in that eye for about two weeks."
As the fight progressed, Copeland hung in there despite the injured eye and finished three rounds. However, he suffered his first pro loss by decision. It wasn't the ideal showing for his UFC debut, but he learned something.
"Don't fight Russians," joked the Colorado-based fighter. "No, I still have to learn a lot from Bryan [Youngs] and different guys about how to enter in from different angles, you know? It was a tough match-up. I said that from the beginning. Just that fact that he's a counter striker and I'm a counter striker. We're both counter strikers, and he's the longer one. I couldn't get in to lock in on anything, to get the timing on him."
After healing from his eye injury and getting through the holidays, Copeland got right back to the drawing board and tapped every available resource at this disposal. He trains at a few of the top gyms in the Denver area, which helped him get ready for his next UFC appearance, one that came on pretty quickly.
A little over five weeks ago, Copeland found out that he would be traveling back to Texas this Saturday to make his next Octagon appearance at UFC 185, live from the American Airlines Center in Dallas. Training camp kicked into high gear pretty quickly.
"I started out training a lot with Factory X and those guys down there," Copeland explained. "The last couple of weeks, I've been doing a lot of training with Grudge [Training Center] and 303 [Training Center], for all of the grappling stuff, and I've been hitting mitts with Bryan every day."
Bryan Youngs is a Muay Thai coach who works with top-level fighters in the Denver area, and Copeland trains with him wherever he's at. Outside of that, the big man is pretty much his own head coach, tapping resources all around town to get the best training possible. This has been important as he has prepared for his next fight with a short camp.
Saturday night, Copeland will be facing a consummate grinder by the name of Jared Rosholt. Rosholt is a wrestler who trains at Team Takedown in Texas and will be making his fifth UFC appearance. He is 3-1 under the promotion, and he is also coming off a loss from the same November card. Copeland has done some training at Rosholt's gym and knows his style very well.
"Honestly, it's going to be another tough one, you know?" admitted Copeland. "Jared's completely opposite [from Magomedov]. He's got decent stand-up, he definitely has world-class grappling, and he's a phenomenal wrestler, so it's going to be one of those. I need to keep it on my feet as long as I can.
"Defending the takedowns is going to be tough, but I'm going to make him work extra hard to get me down to the ground. I've been doing a lot of footwork and a lot of angles, and just trying to make it as tough on him as possible."
Copeland certainly has his hands full in his second UFC outing, but he takes the challenges in stride. Magomedov and Rosholt are both extremely tough opponents, especially for a newcomer, but he knows that the UFC doesn't want guys who are seeking easy fights.
"First things first, I've got to win," explained Copeland. "If you're not winning, you're not going to be in the UFC very long. This fight is going to be huge. The UFC does not want people who are just looking for a spot. They want people who are going to make a run for the title."
Knowing what's at stake, even on short notice, Copeland is doing everything he can to be in the best shape of his life. He is working closely on his strength and conditioning with Tony Basile, owner of 303 Training Center, and Loren Landow, a trainer who works at the famed Steadman Hawkins Clinic in Colorado.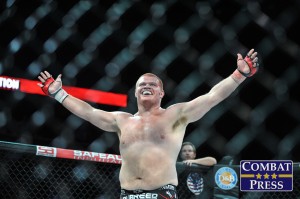 "I've been really concentrating on cardio and getting my weight down, and I'm probably going to go into this fight 15 to 20 pounds lighter than I was last fight," Copeland elaborated. "I need to be mobile, I need to be quick, and I need to be a handful for guys."
Frankly, this is one Cuddly Bear that is already a handful for his opponents. After his dismantling of Jorgensen, all of Copeland's corner guys were covered in his opponent's blood that came from the other side of the ring.
With a wife and child to care for, life has been a handful for Copeland, so it stands to reason that a leaner, meaner Copeland is going to be more than a handful for Rosholt.
With a young family and a tight window to get ready, it's been a bit of a rough ride, but Copeland is focused and ready for the task at hand.
"Honestly, it's been weird. I'll get home about eight o'clock, hang out with my family for a few minutes, and then I'm in bed between 8:30 and 9:30. Then, I'm up by seven and back at it. It's crazy. I'm just trying to rest up as much as I can, and push my body as much as I can. This was literally a short-notice fight. Coming off the holidays, I've been having to really try to push my body and get in shape ASAP."
Copeland would like to thank Bryan Youngs, Tony Basile, Jon Madsen, Trevor Wittman, Loren Landow and all of his other coaches and training partners. He would also like to thank Eating Primal and all of his other sponsors, fans and especially his family. Follow Josh on Twitter:
@joshcuddlybear
---
Advertisement

---