They say in show business that it's not what you know, but who you know. That belief can also apply to mixed martial arts, at least in the case of John Rallo. A Brazilian Jiu-Jitsu black belt and former MMA fighter, Rallo is also the founder of Shogun Fights, a biannual fight card at Royal Farms Arena in Baltimore. The 12th edition of Shogun Fights is scheduled to take place April 18.
Rallo competed in multiple Brazilian Jiu-Jitsu tournaments in his career, often traveling to other states like New Jersey and California. He is also the head instructor at Ground Control Baltimore, which has locations near Baltimore and in Columbia, Owings Mills and Bel Air, Md. An ankle injury derailed Rallo's career in baseball and football, but he took up Brazilian Jiu-Jitsu at the age of 29, training with Rickson and Renzo Gracie and winning several competitions on his way to becoming a black belt.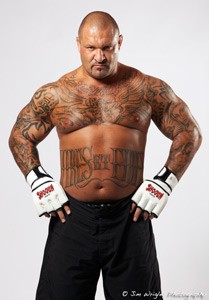 Until Rallo worked with local legislators to pass a bill sanctioning MMA events in Maryland in 2008, local fighters had to travel out of state to compete.
---
Advertisement

---
"It's a pain in the ass that every time you compete, you had to travel out of state," Rallo told Combat Press. "That's money leaving the state. Sometimes your fans can't see you fight, and sometimes you want to fight in front of your friends."
Rallo received guidance from colleagues at the New Jersey Athletic Control Board on how to produce the first Shogun Fights card in 2009, which he originally wanted to call Bushido, or "The Way of the Warrior."
"I have a good relationship with the UFC, and I contacted them to ask permission to use that name," Rallo said. "Their trademark for the name 'Bushido' had expired, but they still sold merchandise with that name. So, I went with Shogun Fights."
Rallo received further inspiration for how to present Shogun Fights after attending an MMA card in Pittsburgh. Shogun Fights has an attendance average between 4,000-5,000 fans. It boasts higher live attendance than fight cards put on by Bellator Fighting Championship or World Series of Fighting, according to Rallo.
"Everyone knows their responsibilities and knows what they need to do," Rallo said of his event crew. "I wouldn't be successful without them."
Fighters routinely reach out to Rallo on social media to be featured on a Shogun Fights card, and Rallo attends regional MMA events and talks to local coaches to scout talent. A fighter who knows how to promote himself is important, Rallo stresses, as is having an exciting style and having a similar record to one's opponent.
"The show sells itself," Rallo said of Shogun Fights. "Who wouldn't want to fight in front of 5,000 people?"
Rallo estimates he spends up to $30,000 to advertise Shogun Fights, receiving sponsorships from several Baltimore-area businesses. Bigger companies like Comcast take advantage of the Shogun Fights experience, routinely treating prospective business partners to a day of fights and entertainment to help solidify new deals.
Shogun Fights also attracts local athletes, including members of the Baltimore Ravens and even current and former UFC fighters like Donald "Cowboy" Cerrone, Matt Serra and Renzo Gracie, the latter of whom trained extensively with Rallo on Brazilian Jiu-Jitsu.
"We've created a really cool event," Rallo said. "It's not just fights. It's a whole day of entertainment."
While Shogun Fights is recorded and broadcast on local television following the event, Rallo prefers to focus on providing an optimal live experience instead of investing in a live television broadcast. The increased production costs with a live broadcast would adversely affect the self-funded Shogun Fights, "and a live broadcast would greatly diminish the crowd – they would just stay home and watch," Rallo said.
However, Rallo credits the rebroadcast of Shogun Fights for helping educate fans on MMA and increasing the show's efficiency and improving the quality of fighter who competes on the card.
Rallo works with event production staff who also work on UFC events, and they and others say the production of Shogun Fights is on par with that of the UFC, Rallo said. He would like to increase the frequency of Shogun Fights and is interested in bringing the event to the Washington, D.C. area and northern Virginia.
"I try to look at the show as a fighter, a coach and as a fan," Rallo said.
---
Advertisement

---