When it comes to sports interviews, everybody tries to have an angle. Writers will typically look for some sort of sensationalized story that they can dwell on for 500 to 2000 words. However, sometimes there are athletes out there that don't have some crazy background, like a tough childhood, a military career or some kind of sob story that can be expanded upon. Some guys are just lifelong athletes, not someone to feel sorry for or some kind of heel.
Twenty-seven-year-old Joe Murphy is, by trade, a Brazilian Jiu-Jitsu player and a mixed martial artist. He likes to surf, lift weights, play basketball, and play hockey in a Sunday league in the Greater Los Angeles area. He holds a brown belt in BJJ, and he is 8-1 as a professional fighter. The story to be told is that Murphy is simply a talented, dedicated, hard-grinding athlete who should be viewed as a role model.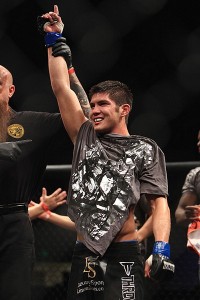 Murphy trains out of a few different gyms in the L.A. area. He spends time at Cleber Jiu-Jitsu under Professor Cleber Luciano, trains with the Classic Fight Team and Triunfo Training Center with Tyler Wombles and Felipe Fogolin, and then he heads over to Grandpa's Gym in Costa Mesa to get some boxing in. Surrounded by high-caliber coaches and training partners, he is working his butt off to land on the radar of the UFC brass, and there is no better place to accomplish that goal than in the Resurrection Fighting Alliance.
---
Advertisement

---
The RFA has become known for putting up-and-comers into the Octagon, and 2014 was a banner year for RFA alum. Murphy is looking to throw his name in the hat, and this Friday night, at RFA 23, he will get the chance to move one step closer when he steps into the RFA cage for the second time in a mere two months.
"I love it," Murphy told Combat Press. "That's one of the things I wanted when I started working with RFA. I want to fight as often as possible, and giving me a fight every other month is beautiful. That's something I want to do."
Prior to his RFA contract, Murphy had only fought about eight times in his first five years as a pro. His current record is now 8-1 with his sole loss coming by decision in the World Series of Fighting over a year and a half ago. Outside of the loss to Carson Beebe, he has finished almost all of his opponents. His record includes five submissions and a knockout.
Murphy's last outing was at RFA 21, where he handed a TKO loss to Bruno Frazatto in just under three minutes of the first round. The Brazilian was coming into the cage with big hopes of his own, and Murphy was happy to shoot them down.
"It was good," Murphy said. "There are definitely some areas that I need to clean up. That was the game plan — to float around — because I knew that he was heavy-footed. He tends to set his feet before he punches, so I just floated around, not being a stationary target, and waited for him to throw a punch and leave openings. Then, I caught him."
His last fight ended pretty quickly with the first knockout of his young career, but Murphy still understands that he needs to take away a learning experience from every outing. The Frazatto fight was no different.
"I definitely want to start putting a little more pressure on," said the seasoned grappler. "There were a couple times when my back touched the cage, and I try to avoid that. I wasn't trying to touch the cage at all, but things change once you get in there."
Well, after taking little to no damage in that fight, Murphy was right back in the gym, honing those skills for his next bout. Only four weeks later, the RFA 23 offer came through, and he gladly accepted.
"A couple days before New Year's Eve, I caught wind of it, and we started prepping," explained Murphy. "I was still training for the Bruno fight, because I didn't take really too much contact at all, so I was already back in training camp, helping other guys get ready for their fights. The next week, I was already sparring, then I got the call, so I was already still in shape. I just kept at it."
Murphy's next opponent is a huge step up in competition. He is set to face Terrion Ware, a former BAMMA USA champion. Ware, too, has his sights set on the Octagon, and with a 12-3 record over just a couple years as a pro, he has a lot of fights under his belt to compliment the fire in his belly. Ware also has an impressive record of stoppages with five knockouts and three submissions.
"Stylistically, the match-up's good," Murphy elaborated. "We both like to get it when we're standing on our feet. He has some submissions in there and I have some submission wins, so even if it hits the ground, which I'm sure it will eventually, I think we'll both be really aggressive. I think it's one that people are going to watch, and it's going to put both of us on the map, big time."
As the main event, these two are certainly in the spotlight, especially with the UFC implications of an RFA headlining fight. This is one fight away from a potential strap for either fighter, so the onus is on both men to make big waves.
"They billed this as the contender bout, which means the winner of this gets a title shot," stated Murphy. "So, that's ahead of us. If not, the UFC has been scooping a lot of people up from the RFA. The sky's the limit after this fight. But, right now, we've got to get to work on Friday night and make sure we get the best of it."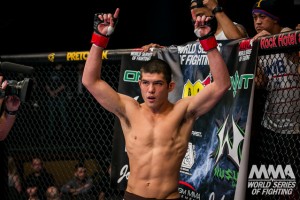 Make no mistake, Murphy is confident in his abilities, but he is also realistic about Ware's advantages.
"He's quick," admitted the Californian. "He's real quick. He's got 15 pro fights — this is only my 10th pro fight — so he's definitely been in the ring a lot more than me. I'm looking forward to the challenge. He's well-rounded. His last loss was to Joe Soto, who was a title contender for the UFC, so I'm looking forward to testing my skills against him."
Murphy is an up-and-coming bantamweight, looking for a shot at the big show. He doesn't have some sensationalized backstory. He is simply a talented, hard-working California guy who's fully aware that RFA gold can be a golden ticket to the UFC. Come Friday night, he will be ready to show the world what he's all about.
"Just the fireworks, man. I'm not just going to be a touch on the jaw. I'm going to be throwing bombs and, after that, I'm going to be looping my submissions together. I'm going to be going for the finish the whole time."
Murphy would like to thank all of his coaches and training partners, his family, his fans, and his sponsors: Newaza Fight Gear, Virus, BSN, Beachside Entertainment and OC Fight Docs. Follow Joe on Twitter:
@jsmurf135
---
Advertisement

---