In the world of combat, just about everyone loves a good spoiler — with the exception of the one whose plans are getting spoiled.
Spoilage in fighting can come in many forms. It can happen on the front end of careers, when guys lose in their debuts. It can happen at the back end of careers, when others get "retired" from the sport. Spoilers can rear their ugly heads as a fighter is trying to earn a spot in a promotion, and again if he is trying to keep his spot in a promotion. A striker getting knocked out, a grappler getting submitted or a well-conditioned athlete getting pushed to exhaustion early in a fight are all variations of this proverbial spoilage.
UFC big man Shawn Jordan has been on both ends of the spoiler equation. This is one of the most exciting aspects of each and every one of his fights. After competing as an NCAA Division I national champion football player under one of the best coaches in college football history, Jordan began training in MMA. He is a lifelong athlete and MMA was a natural progression, but there is one binding theme that has resonated throughout his career.
---
Advertisement

---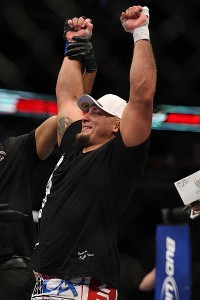 "For all of the training I've done, it's the mental toughness," Jordan told Combat Press. "It's an issue of not quitting. Mental toughness is what we call it."
Whether it was top-echelon football coach Nick Saban, MMA coach to the stars Greg Jackson, or Ricardo Liborio at Jordan's current camp with American Top Team, Jordan has learned to keep his head down, work his butt off and compete in every event like it's his last. That may have yielded mixed results throughout his MMA career, but his fights are always exciting.
College football credentials aside, Jordan has proven to be a beast of an athlete in the MMA arena. While holding stoppage wins on all of the biggest stages, including Bellator, Strikeforce and the UFC, he has suffered some tough defeats.
At Bellator 31, both Jordan and his opponent, Mark Holata, entered the cage on impressive winning streaks. Less than two minutes into the first round, Jordan got caught and had his streak come to a screeching halt. A year later, he handed Lavar Johnson an unexpected submission to bring both of their Strikeforce careers to a close before moving over to the UFC's Octagon.
Since reaching the best-in-class level of the sport, Jordan's career has been one spoiler after another. He handed Englishman Oli Thompson a loss in their respective UFC debuts; he handed the favored Pat Barry a TKO in less than a minute at UFC 161; and he was stopped early twice in a row by fellow heavy hitters Gabriel Gonzaga and Matt Mitrione. The heavyweight division is like that, though.
"You'll hear people say, 'They don't have chins,' but you're getting hit by a really big guy," said Jordan. "Being a heavyweight, it's a tough weight class to survive, because you keep going at it and guys just hit hard. Some of these smaller guys, they're quicker, they're faster, but they're not knocking each other out. They're just beating each other up each fight, so I guess it's a little different in that respect."
In his last outing, at UFC Fight Night 47 in August, Jordan took on Jack May in May's second Octagon appearance. In the downhill side of the third round, the former football player stopped May by TKO, but there was still a lesson to be learned.
"I need to really work on just starting," Jordan admitted. "Ever since I got into the UFC, I've been a pretty slow starter. You know, with Pat Barry, that was a quick fight, but we both started banging early, so that was different. Getting going is a big issue to me right now."
Ever since entering the UFC, Jordan's finishes, with the exception of the one he noted, have been later in the fight than he is used to. Working under ATT coaches Roger Krahl, Kami Barzini and Liborio, as well as with great training partners like Steve Mocco and Jake Heun, Jordan is looking to bring the heat in his next fight, which takes place Saturday night at UFC 182 at the MGM Grand Garden Arena in Las Vegas.
Standing across the cage from Jordan this weekend will be Alaskan newcomer Jared Cannonier. Jordan is in a similar position as he was against Thompson in his UFC debut, and it has spoiler written all over it.
Cannonier is entering the big stage with a seven-fight undefeated pro career. He is young and ready to make a splash. Jordan is not ready to be the guy he blasts out of the pool, but he also understands that his opponent has a limited background to help in preparations.
"He still doesn't have too many fights, and most or all of them are local fights," Jordan explained. "It's really hard to get decent film on him. He's a newcomer, so he's hungry. He's undefeated. Fighting undefeated guys can be tough, because you can start beating them up, and they don't even know it, because they don't have that gear where they stop. It's tough when you can't see someone, because you can't really pick up on what he does."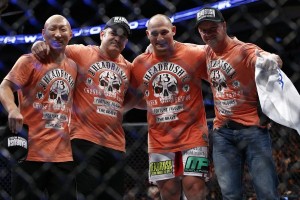 Jordan may be unsure of exactly what to expect, but he is being realistic in his expectations. The Texas native understands the pitfalls of fighting a relative unknown, and he is not generating any false sense of security. He knew what he was getting into with Barry, Gonzaga, Mitrione and Cheick Kongo, but for Cannonier, he is preparing for the unknown.
"I think not being able to prepare for anything specific is what makes it tough," Jordan intimated. "I feel that, more than any other sport I've ever played, fighting is such a feel-out sport. You have to get in the cage and do it to see what he's going to do anyway. Every fight, things change. Every time you fight a new guy, you see new stuff and you find things out. He has a lot of film on me. It is what it is. It's tough, especially, with heavyweights."
Regardless of Cannonier's record on the local Alaskan circuit, the UFC heavyweight division has always been trial by fire. Anyone with 265 pounds behind their punches can hit like a Mack truck. Even the most skilled fighters can get snot-bubbled, and Barry is the perfect example.
At UFC on Versus 4, Barry got flash knockouts of Kongo twice in the first couple minutes of the fight, before Kongo woke up and laid him out with one punch. The point is that the UFC's biggest division can yield some crazy results in the blink of an eye. Regardless of what happens on Saturday night, Jordan knows what he always brings to the table.
"Every fight, I come out to fight," Jordan said. "I come out to bang. I do whatever the fight calls for. Things don't always go my way. The Gonzaga fight was a quick fight, because big guys hit hard. When you're running into each other, it's just that much harder. I come to fight. You can expect that much."
Jordan has been an athlete for his entire life. Football and wrestling were just preludes to a very exciting career in MMA. He's not a cocky guy who walks around and talks about being the best in the world. He is a down-to-earth, southern competitor that always looks to entertain the fans. This Saturday night, he will look to play spoiler once again in his UFC career as he steps into the Octagon to ruin the hopes and dreams of the Alaskan newcomer.
"I always come to fight. Yeah, they start slow, but they end fast, so we'll see how it goes."
Shawn would like to thank his family, friends, fans and, most importantly, his team at American Top Team, especially coaches Liborio, Krahl and Barzini, as well as training partner Steve Mocco. Follow Jordan on Twitter:
@SavageShawn
---
Advertisement

---