Earth and the human experience make excellent metaphors for sport. For example, everything has a season. Earth, depending on where you live, experiences four seasons. Humans go through infancy, childhood, adulthood and (if we're lucky) the senior years.
And in those seasons are more seasons. But MMA is an anomaly. It has no off-season. Fighters train day in, day out. Unless they carve time out for rest and vacation, it's back to the gym as soon as the doctor gives the OK, sometimes the Monday after their fight on Saturday.
Jessica Philippus has had the wisdom to take breaks, and it's made her life and career better. She started life in Northern California, experimenting with ballet, gymnastics and softball. On a dare, she took up wrestling. And that high school career took her to Missouri Valley College.
---
Advertisement

---
There, Jessica met Robb Philippus, a fellow wrestler, and though she didn't date wrestlers, somehow he won her over. They dated but experienced one of those down times in their relationship.
"It was our second or third time going to an MMA show. There was a girls' fight on the card and it was horrendous," she laughed in an interview with Combat Press. "It was like a YouTube video; it was ugly. I was embarrassed to be female. I turned my head from the fight and didn't even care what the outcome was. I knew that I could show the discipline of a true athlete. I had dabbled in judo and jiu-jitsu, but we were wanting Robb to fight at the time. I was actually encouraging him to turn his wrestling skills into MMA skills.
"I didn't even think there was a future for girls in MMA, but seeing that fight made me want to prove that I could do it. So, we drove to Arkansas for us to fight on the same card, but my girl backed out. Robb won his fight in something like 24 seconds.
"Wrestling brought us together and fighting put us back together. We had split up, but fighting and jiu-jitsu lit the fire. We were able to do things together, and that's what we needed. Cornering and coaching in life and sport require commitment."
Philippus amateur MMA debut came in 2009. She didn't know it at the time, but she was facing a future Invicta FC flyweight champion.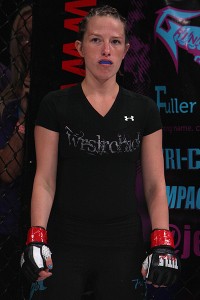 "My first fight was a loss to Barb [Honchak]," Philippus recalled. "I learned a lot more from losing that fight than if I would have won. In fact, Barb was going to a G2 summit and I had a fight. I only had Robb for my corner for my next fight, so she volunteered. She actually got me ready backstage; Robb met us out there. She really prepped me for that fight. She said, 'Who is going to hit you harder than I did? They are at 105 [pounds]; we were at 120. What are you afraid of?' And, you know what? From that one fight, she has actually prepped me for every fight. Every time I walk out, I hear her voice. She has given me confidence, and that has given me my career."
Philippus took the lessons from that first loss and translated it into a seven-fight winning streak (eight, if you count unsanctioned bouts). It was time to go pro, and who came calling but Invicta FC. But Philippus's pro debut would end like her amateur debut, with an "L" next to her name.
"I heard people say that you learn more from your losse,s and I can tell you it's true," Philippus confessed. "Incredibly true. I shouldn't have fought Liz [McCarthy] when I did. We were ammys at the same time, and we'd even tried to fight before but it just never worked out. And then Invicta called, and it was exciting. I knew history was happening and I wanted to be a part of it. I know everything happens for a reason, but I just should have known. This was the first time I didn't make weight. My head wasn't right. I think it was too close to having given birth.
"Don't get me wrong, I am grateful. I am grateful for what I've learned. I learned a lot. I rushed it. No one would take a fight against me because I was a wrestler, or the commission wouldn't approve it because I was a wrestler. I wanted to prove that I wasn't 'just a wrestler,' but people don't follow me because I am a striker. But, I went into that fight thinking, 'Oh, I have to prove that I am not just a wrestler. I have to make it exciting.
"But, I learned that I can't go in the cage and try to be someone I am not. I told myself, 'Whatever the cost, don't just be a wrestler.' So, in the fight against Liz, I had her in a clinch and instead of going for the takedown I saw the TV camera and pushed her away.
"In a way, the success that the wrestlers have is great for the sport, but [it] makes it harder on the individual. We have proved we are durable, mentally and physically. I mean, how many All-Americans are there in [women's] MMA? We are generally more dominant. I didn't even learn to strike until 2012. That fight, I just ran at her, thinking, 'This girl can throw head kicks, so just get in there.'
"[Former Invicta FC matchmaker] Janet Martin told me it was hard for her to find fights for me in the beginning because I had been a college wrestler. I think that mediocre striking is easier to learn than wrestling. Grappling is not a skill that you learn overnight, and not all people can learn it.
"My experience with grappling gives me better body awareness and movement. In high school, we wrestled all year round, so I basically got three times the mat time. Freestyle in college; folkstyle in high school. It's been weird, actually, trying to teach it. Because, how do you teach someone how to do something that feels like walking or breathing? I am trying to teach girls how to do things that are just second nature to me with grappling and wrestling.
"Teaching has given me an awareness of just how many hours, months [and] years it takes to become a great grappler. I mean, my two-year-old knows simple one-two punches — not perfect form, of course — but it is so much harder to teach centering one's weight or being able to shift weight. It is just harder for most people to get good at."
Teaching is just one of the things that Philippus does outside of fighting. Not only is Jessica the wife to another fighter, but they have two lovely children. Robb works full-time and Jessica teaches wrestling at a local high school. She also runs wrslrchick.com, though the website has been taken down for a full redesign and reboot.
"I plan on having a place dedicated to wrestling. A place for girls to go to learn about the past contributions, the present and the future," she explained. "We were having a seminar, and I had two-time Olympian Clarissa Chun with me. And the girls were just not paying attention and I got really mad at their disrespect. I asked them if they even knew who she was and only a few girls raised their hands. I want to build a place where the girls who are getting into the sport can know and realize what we had to go through — training with boys [and] having boys refuse to compete against you because you're a girl. Girls like Clarissa, Tricia Saunders, these ladies made it possible for these girls to even have an all-girls training area.
"In the first quarter of this year, we will have that up and running. There will be an events calendar, news site, a place for girls to learn about other girls and, of course, accessories, hair coverings, girl-shaped singlets, anything a wrestler might need."
Philippus's only pro fight took place in 2012. She has spent the last two and a half years away from action.
"I needed time," she said. "After that loss, I fell out of love with MMA. I had taken a new job. I never had a serious job like that [wellness coordinator for ConAgra Foods]. My mental attention was there. We just had a new baby, and I felt like taking the fight against Liz was a betrayal. I felt like I was betraying my family and had already lost that time when she was just a four-month-old and I was training for a fight after working an eight-hour day.
"They are only babies for a short time, you know. I felt mad at MMA. I wouldn't even get on Facebook or any social media for a week, or weeks at a time, because my whole feed was all about MMA. I am really lucky. My fans and friends stood by me. Here I am, I haven't fought in over two years, and they follow me like I have been fighting the whole time. But I needed to wait until I got the itch again. It started with jiu-jitsu and then striking.
"I have to be cool with being a mediocre striker. I am OK with being me. And that is good — I lost that weight on my shoulders. That said, I had to not be a wrestler. I got rid of that. A year ago, I wasn't ready to be in the cage mentally or physically. I was fat as hell [giggles]. It takes time to get the body right. But, now, I am in the best shape of my life. In the gym we joke about old-man strength and old-woman strength. But, I wonder, is it possible that a 30-year-old is stronger than the 20-year-old?
"I look at some of these 40-year-old women and they are jacked. I'd never really done strength training, so I never really knew what my body could do. I don't have youth on my side, but with age comes wisdom — wisdom about nutrients, rest, scheduling and timing. Some days, I do strength. Some days, I grapple. On social media, I see a lot of fighters post about training three times a day. But sometimes more isn't always better.
"When you're young, you can beat the shit out of your body. I am training in Omaha, but not at an MMA gym. We tried a couple of places, but they just weren't the right fit. There was one gym that was chauvinistic — guys wouldn't hold mitts with me — and it was expensive, but it just wasn't going to be worth the money. I can get a bag workout at home. I refuse to pay out the nose just to be ignored.
"So, we train at Mid-America MMA. They do traditional martial arts, BJJ, judo, Muay Thai and strength and conditioning at Omaha Barbell. My striking coach comes to me there, and I get wrestling in with my coaching. I have a stable of middle-school-age boys in my weight class. They are my size and quick and scrappy, like the girls I fight. In fact, they are super scrappy, just like the 105[-pound] girls."
Wrestling brought Philippus and her husband together, but it also paved the way for a friendship with Michael Schroeder. Schroeder is a D-1 wrestling coach who was speaking at a conference Philippus attended. He has some ideas on conditioning that don't sit well with some of the old-timers.
"He was talking about how training should be sport specific, and I asked about running," Philippus recalled. "He said, 'When do you ever see running in wrestling? Do you ever see those movements in wrestling?' But running is a sacred cow, and some of the older coaches got all bent out of shape. But, after the talk, we got to talking and he asked me if I wanted him to do my program. It turns out he comes from a boxing family and he wanted to find a way to bring his two passions together, and I get to be the first fighter he worked with.
"And this is by far the easiest weight cut I have ever had. Good strength. Eight weeks out and everything I do is sport specific, with no running. I went into New Year's Eve at 111.6 [pounds] and I am still eating — not hungry [and] not irritable. It's just been a super smooth camp. I have never been this physically ready for a fight. Two days before my Invicta fight, I was 115. Right now [Ed. note: this interview was conducted just over a week prior to Philippus's upcoming fight.], I am 112 — right where I am supposed to be.
"We mapped it out on a weekly and daily basis. Lifting, circuit for cardio, timing — everything has a reason and a specific time. After striking and after my workouts is when I might do some of my cardio. I have to give [Schroeder] a huge shout-out and thank you for all he has done, and it's all happening during his wrestling season and they are focusing on winning nationals. I would never have been able to come up with this on my own.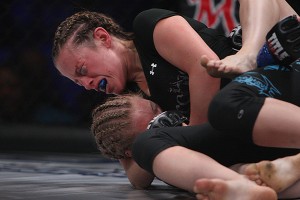 "It's the little things like working on mobility between lifts. For example, I quit back squatting. My lower back was sore a few months ago. Before, I would have just pushed through the pain, thinking it was just a little pain — thinking the problem was with my discipline. But, now, I am learning there is a fine line between tough and stupid. And I thank him for the shape I am in."
All the mental and physical preparation has been to prepare Philippus for her second professional MMA bout, which is set to take place this weekend against Cat Ginorio at Rocks Xtreme Combat 11 in Corpus Christi, Texas. Ginorio has been slated to fight quite a few times, but she has not been able to actually fight in a sanctioned bout yet.
"The promoter says she has tried to fight and it seems there are always last-minute issues," Philippus revealed. "Things happen. Her coach says she is ready to go pro and that going pro would eliminate some of those issues and she would have to deal with someone backing out less. What can I say?
"It's actually been nice not knowing too much about her. It is almost a mental vacation, not having to worry about her strengths because I don't know them. I do know she trains at a Duane Ludwig affiliate, so she has to be a decent striker, and I know she has a blue belt in jiu-jitsu.
"Her coach wants her to fight at 105 [pounds]. I thought that since it was over the holidays and both of us might want to celebrate Christmas and New Year's that we could have a catchweight at 110, but her coach says she is walking round at 111. So, I guess it's good to get my weight back down. I feel like we take it more seriously."
Sometimes you just have to stop, get your bearings, check your gear and give yourself a breather. Philippus has done just that for the last two years. Now, she is ready to show what a little rest and refocusing can do. And this Saturday, she will.
Jessica would like to thank her sponsors, X-Ion-X, Amber Carter and her striking coach, Tim Seretta. Tim has been dealing with a personal loss, and yet, despite his pain, he has continued training Jessica, and for that she is intensely grateful. She would also like to thank her husband, Robb, and her children, friends and family, as well as all her fans. Follow Philippus on Twitter:
@jessphilippus
---
Advertisement

---