It's not how hard someone falls, but how quickly he picks himself back up that really defines a man.
Fourteen months ago, professional fighter Adam Stroup tried his hand at season 18 of The Ultimate Fighter reality show and fell hard to eventual finalist Dhiego Lima. Out of a mixed stable of middleweight contenders, the Denver native got one of the toughest draws in the bunch. Lima was coming into the show with a 9-1 record and had been fighting professionally for more than three years. Stroup was just 5-1 and less than two years into his pro career.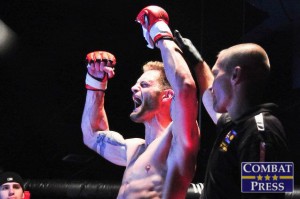 One of the great things about TUF is that it pits guys together with different levels of experience to really draw the diamonds out of the rough. However, compared to the other contenders, Lima was one of the best, putting Stroup at a heavy disadvantage. After losing the fight to get into the house, Stroup was sidelined with a battered noggin and a UFC agreement that prevented him from stepping back into the cage until the show aired the following spring.
---
Advertisement

---
Stroup is not a weak-minded person and made no excuses for his defeat. He knew that Lima was a more established combatant, and the only way he would redeem himself would be to get right back to work and win his way back into the Octagon.
It is a character-defining moment when a man admits another man got the best of him and then works his ass off to improve. That was October of 2013.
Fast-forwarding to July of this year, Stroup was healed up, the TUF season was complete and he was ready to wreak havoc on the first person he met in a cage. That person was fellow Colorado fighter Jason Lee.
Lee had spent the last few years bouncing around the local circuit with mixed success, and he had just strung together two wins in a row. Reality quickly came screaming back for Lee.
When someone locks himself in a cage with an animal who hasn't eaten in over a year, there's only one way things are going down. Early in the second round of Sparta Combat League: Heat, a series of vicious strikes sent Lee to the mat flopping around, while Stroup celebrated in the center of the ring with the SCL middleweight title.
After the fight, Lee immediately took to social media to cry foul regarding some unintentional groin strikes. He and his supporters attacked Stroup's family, fans and even his girlfriend. Stroup was short on people willing to challenge him and he gladly took the rematch. In October, the two met again and the same thing happened.
"It was nice to get another finish and put that behind me and move forward," Stroup told Combat Press. "I thought Jason came out pretty hard. He was swinging and hit me pretty hard. It went exactly the way that the last fight went, you know? Even with an unintentional nut shot. It was the same result. I don't think the nut shots played a part in either one of the fights, but it ended the exact same way."
The fact is, Stroup was not looking to make a statement in the first fight. He just wanted to get back into the cage and fight. The rematch was more of a "we're done now" statement, and neither fight yielded any physical damage to him. Back in the grind, with a year behind him since the Lima fight, Stroup is ready for his next challenge against a much tougher opponent tomorrow afternoon at SCL: Certified Violence at the Grizzly Rose in Denver. Standing across the cage will be veteran Justin Guthrie, who is looking to get his hands on the middleweight belt.
Guthrie has been fighting as a pro since 2007. He's 17-6 and has finished 11 of his opponents. His most recent appearance was in September and marked his first fight in a year and a half. Guthrie actually trained with Stroup in the past at Factory X Muay Thai in Englewood, on the south side of Denver, but he has since moved to Colorado Fight Factory in Colorado Springs. Stroup is still at Factory X and has become one of their flagship fighters.
Stroup feels a lot more confident going into this bout than he would've years ago when the two first met.
"I think it's a perfect fight for me," Stroup intimated. "It's a step up in competition for sure. He's a seasoned vet, and it will be nice to get a win over a guy that's been around and has as many fights as he does.
"I don't think I have a disadvantage in the fight. He has more experience than me, but that's about it. I don't think he's better than me anywhere. He's strong. He's a tough guy. He hits hard. I would say he's a naturally tough dude, you know what I mean? There's guys out there that are good at what they do, and there are guys that are just tough. I think he's a tough guy."
Stroup is a humble guy. He doesn't reek of arrogance, and he knows that he can only get better. Tomorrow afternoon, Guthrie is going to see a much different guy than he used to train with.
Unlike Lee, who has a lot going on in his life outside of training, Stroup is a full-time fighter. He eats, sleeps and trains mixed martial arts. His life outside of the gym is spent at home, relaxing with friends and family, and that's about it.
"Since July, I really haven't been doing anything," said the Factory X standout. "I've just been grinding in the gym. I take one week off after a fight and then I grind some more. I'm ready to finish up 2014 with 3-0 on my record and kick off 2015 with some more hard work and some more victories."
Stroup isn't looking past the task at hand. Having trained together in the past, he knows the type of fighter Guthrie is and what he brings to the table.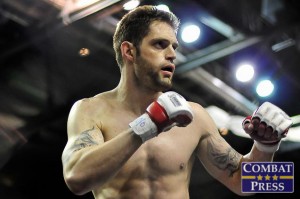 "The last two fights, we knew were going to be more of a stand-up match," Stroup explained. "This one, I feel like has the potential, definitely, to hit the mat. I'm going to try to avoid that, of course. I feel like my strength in this fight is definitely on the feet. He's a tough wrestler, and that's his game. He's going to try to wrestle me and I'm going to try to defend that, and we'll see how things work out."
While Stroup has no formal wrestling background, Factory X has been bringing in new guys on a monthly basis. The gym is growing rapidly with patriarch Kru Marc Montoya at the helm. In addition to the main guys, like Chris Camozzi and his brother Brian, Marcus Edwards, Brian Rogers and other big-name guys, Nate Marquardt, Neil Magny, Josh Copeland and other UFC fighters have been stopping by to join the fun. To deal with Guthrie's wrestling, Stroup has been spending time training with Titan FC's Jon Madsen, another former TUF contender, and Ian Heinisch, both established wrestlers.
"I'm constantly grinding. I constantly want to improve," Stroup stated. "I want people to see a different fighter every time I come out."
It doesn't matter how hard Stroup fell in the fight against Lima. The past is in the past, and he has done everything in his power to pick himself back up and work his way back to the Octagon. With the Lee drama in the rearview mirror, he can only go up from here. The next step toward his sure-to-be successful future as a UFC fighter comes tomorrow afternoon as he faces off against one of his most formidable opponents yet and looks to defend his SCL belt for the second time.
Stroup would like to thank all of his coaches and training partners at Factory X Muay Thai, especially Marc Montoya. He would also like to thank all of his family, friends, fans and his sponsors: Rome's Saloon, 5280 Armory, and Ride the West RV. Follow Adam on Twitter:
@AdamStroup
---
Advertisement

---