The sound is a familiar one to many people who grew up within the last few decades. It's the familiar plastic tone of a controller being manhandled as the buttons are mashed furiously. Sweat begins to bead on the player's forehead as the small round buttons are fired in a combination so that a series of punches, kicks and jumps can be relayed onto the television screen.
Not everybody was a seasoned video gamer, so it was not at all common for hours upon hours to be spent with a gamepad in hand, forever chasing the credits that would appear when the final boss had been dealt the game-ending blow. In a game like Street Fighter, a gauntlet of the characters stood before the end goal.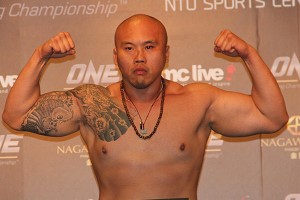 For Paul Cheng, the ONE FC heavyweight division is very much like running that gauntlet. And being crowned a world champion with the ONE FC heavyweight title, well, that's his equivalent of those final credits.
---
Advertisement

---
"There is a lot of talent in the heavyweight division, especially with the likes of Brandon Vera, Chi Lewis Parry, James McSweeney—[the] list goes on," Cheng told Combat Press. "It's like playing Street Fighter 2 for real [laughs]. I'm very honored to be a part of this talented division, and I hope to get a crack at the inaugural ONE FC heavyweight belt."
Long before he was poised with what seems like a video-game gauntlet of boss-level opponents, Cheng hadn't really considered a career as a professional fighter. With his 6-foot-3 stature, he didn't have the typical framework of a combat-sport athlete. He had tried his hand at other sports, but a pair of gloves seemed to be the best fit for him.
"I never thought in a million years I would end up a professional fighter. I had overcome some odds to play football. Only a few players of full Asian descent have ever played professional football at any level," Cheng said. "I thought my sports career was done after I fell out of a bobsled—[that's a] story for another interview [laughs]—and a couple of unsuccessful tries in the Arena football league. I took quite a few years away from any sports, then picked up some boxing and found my competitive spirit again. My coach and close friend Sal Ram introduced me to MMA, and now here we are fighting at ONE FC. Not too bad for [an] old guy that started this journey four years ago."
Stepping foot inside a cage in front of thousands of people is an entirely different situation compared to donning some football gear to run out onto a field. Cheng was well and truly prepared to step out in front of a screaming crowd. He had done that before. The other part of what he was going to endure when he became a professional fighter, well, that was a little different.
"I was okay ʹcause I was use to playing sports in front of large crowds, but honestly I was super nervous for my first walk to the cage," Cheng recalled. "Just the thought of why am I going to lock myself in a cage with that huge guy didn't make any sense to me. But when I heard that cage door close and looked my opponent in the eyes, everything seemed to make perfect sense and [I] fell in love with this sport."
Cheng made his professional debut just over three years ago in a fight that he won. He's gone on to fight five more times since then, but that fight stands as the only time he had to compete for the entire 15 scheduled minutes of his bout.
"At the end of my first fight, I remembered thinking, 'Oh my god! I'm so tired! MMA ain't easy!' I went the full three rounds for the first and only time," Cheng explained. "Wow, I don't think I was ever that exhausted for anything in my life, but that experience of getting my hand raised hooked me into this great sport we call mixed martial arts."
When ONE FC announced that it would be holding its first event in Taipei, Taiwan, Cheng was an obvious addition to the card. He faced Egyptian fighter Mahmoud Hassan and emerged with the TKO victory. Although his opponent didn't exactly have the best record, that feeling of winning in his hometown on the big stage of ONE FC was a huge highlight of his career.
"It felt like a dream to fight in my homeland with my mom, girlfriend, sister and my family watching me live," Cheng said. "I know my country and family were proud of me when I won, but that fight wasn't pretty. You had to hear my mom after she saw my face after the fight [laughs]."
Cheng has won back-to-back fights under the ONE FC banner and extended his winning streak to four. With his next bout not taking place until 2015, Cheng is eager to continue his rise through the ranks of the ONE FC heavyweight division and eventually secure himself a championship fight.
"So far, I'm doing well in ONE FC, but I know the level of competition will rise," Cheng admitted. "Thus, I have to get better and keep building my confidence in this sport ʹcause I still quite new. I'm excited to see where things can go, ʹcause it's been a great ride so far. I'm excited to show the world the new version of 'Typhoon' that's [a] more technical and overall better fighter. I will fight whoever ONE FC puts in front of me, but I would like to fight one of the big-name guys so I can prove myself for a potential title shot in the future."
Paul would like to thank his coach, Sal, and his teammates and training partners. He would also like to thank his girlfriend, Kelsey, and his family for putting up with him and his MMA career. He would also like to extend thanks to his sponsors: 50sq, Clinch MMA, Poker Stars, Royal Empire Jewellery, Connect Cash, Puget Sound Computer Repair and Stacked Nutrition. He adds, "For any sponsorship enquires, please contact my manager, Gavin Williams
@fighterservices
." Follow Cheng on Twitter:
@typhooncheng
---
Advertisement

---