If no opponent has yet to stand a chance against undefeated World Series of Fighting lightweight champ Justin Gaethje during his 19-fight combined pro and amateur MMA career, what chance does a hog have when someone hands that kid a rifle?
Well, that question has yet to be answered, but sometime in the near future, reality-show viewers may actually get the chance to find out.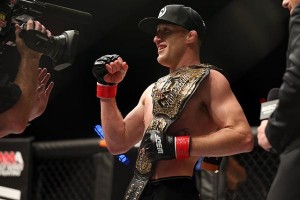 This weekend, at WSOF 15, the undisputed champ, one of the most vicious leg-kick artists in the history of MMA, will get another chance to defend his strap, and the fight comes against his toughest opponent yet. However, as exciting as it may be to see Gaethje step into the cage across from longtime UFC veteran Melvin Guillard, it will be even more exciting to see what happens in the aftermath.
---
Advertisement

---
On Saturday night, the 25-year-old will enter the WSOF cage live at the USF Sun Dome in Tampa, Fla. After that, he has some pretty crazy plans. And, who better to join on a crazy adventure than a bunch of other MMA fighters?
"I'm going down to Texas to do some hog hunting," Gaethje told Combat Press. "One of my coaches is filming a hunting show called Gladiators Unleashed, so we're going to do that. We're going to go to Arizona and down to New Mexico to do a little hunting down there. I like to stay active. I cannot sit down for more than like two minutes unless it's to take a poop."
Gladiators Unleashed is a show currently filming pilots, which multiple networks are currently considering. From what Gaethje explained, one of his coaches from Grudge Training Center in Denver, former UFC fighter Luke Caudillo, will be leading a band of outdoorsy fighters on hunting trips throughout the United States. Guys like Gaethje, UFC welterweight Brandon Thatch and UFC mainstay Donald Cerrone will join Caudillo as they get outside and have some fun.
While the TV show sounds interesting and could draw quite a few viewers, there is business at hand, and anyone who has seen Gaethje fight knows that this guy is all business.
Coming off a devastating second-round TKO of Nick Newell, Gaethje is quickly climbing the ranks of the best lightweights in the world. That was his seventh knockout in a row, and he has no plans of slowing down as he faces Guillard.
"It's a great opportunity," Gaethje admitted. "We all grew up watching him—or I did, at least. He's perfect. It's just the way this is supposed to go."
Gaethje is a guy that should be on everyone's radar. One of the most famous former UFC champs of all time has certainly taken notice.
"All of my training has been at Grudge," explained Gaethje. "That's my team, and we have some amazing kickboxers down there. I did spend some time out in Tom's River, N.J., with Frankie Edgar. That's where I pretty much spent the first week of my camp.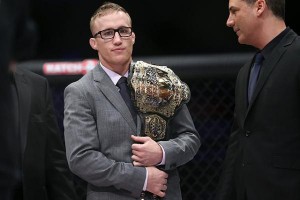 "They called me up and said he wanted to train with me, so I jumped on a flight the next week. It was great, man. They train really hard, which was awesome to see."
Training with Edgar and the other guys in Tom's River is not an invitation that is getting handed out on a regular basis. With 14 knockouts, three submissions and two decision wins, Gaethje has proven that he is a force to be reckoned with. Now, people are watching him closely. It's probably time for the hogs to start sweating too.
Guillard is also known as a very dangerous fighter, and while he does have 13 losses in his 49-fight career, he has primarily been stopped by submission and has 21 knockout victories of his own. However, Gaethje's particular brand of punishment is one very few fighters have faced.
"He's very explosive and fast," said Gaethje. "We both are. We'll see who gets hit first."
Gaethje is a man of few words, but he really knows how to drive home the point. He and Guillard are knockout-centric fighters, and both men will certainly come swinging for the fences. Fans would be making a huge mistake if they miss this inevitable throwdown at WSOF 15.
"I'm coming hard and trying to knock him out. I'm coming at him hard and fast, and I'm not afraid to get knocked out."
After that, it's going to be feral hogs for dinner.
Gaethje would like to thank all of his coaches and training partners at Grudge Training Center, and all of his sponsors: Western Precision Rifles, Newbreed Nutrition, Berkley Forge, KBL Industrial Services, Sonoran Process Equipment Company and Open Loop Energy. Follow Justin on Twitter:
@Justin_Gaethje
---
Advertisement

---