Some of the greatest poems have described great warriors, battles, victors and defeats. Throughout the centuries, poets have labored to accurately depict the lives, deaths and struggles of soldiers, leaders, generals and kings. And perhaps no poet did it better than William Wordsworth (quite an aptly named fellow).
"The Happy Warrior" was written to honor Lord Nelson, who was renowned for his inspirational leadership and his love for his men and their love and loyalty to him. He was also revered for his bravery, his wisdom in battle, and his honor.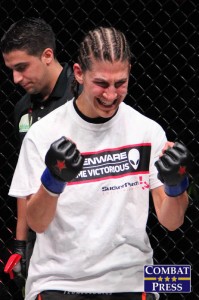 If you've not read the poem, you're wrong, in this writer's mind, anyway. But the gist is this: describing the ideal "man in arms." The Happy Warrior is a generous spirit whose noble thoughts and deeds are an example of his inner light and innocence. The Happy Warrior is also a perpetual and attentive student, understanding that only through tribulation and challenges can one find one's self and improvement, never shirking from duties but remembering compassion and tenderness. Honor is utmost and the Happy Warrior would sooner walk away from wealth, honors or power if the greatness is attained by compromise of morals.
---
Advertisement

---
There is one MMA fighter who has earned the nickname "The Happy Warrior." That fighter is the well-respected, dearly loved and fierce competitor Roxanne Modafferi. Modafferi, also known by her fans as "Roxy," has loved the martial arts since she began taekwondo as a teen. After two years, she was introduced to karate and then judo. She fell in love with combat sports. Right before she left home to study at University of Massachusetts Amherst, a friend took her to a Royce Gracie Jiu-Jitsu school.
At school, Roxy continued her studies and love of the martial arts while majoring in Japanese language and literature while minoring in Linguistics. Her junior year took her to study abroad in Japan and to compete. She went undefeated in three MMA fights while there. On U.S. shores, she picked up a decision win over Jennifer Howe, who was considered the best American fighter at the time. In December 2004, Modafferi again fought in Japan, defeating Ana Carolina and losing to Megumi Yabushita in a single night of action. She struggled upon returning to the United States, dropping decisions to Laura D'Auguste and Tara LaRosa.
Once her studies were complete, Modafferi returned to Japan to teach English by day at Berlitz and train in Muay Thai and Brazilian Jiu-Jitsu in her off time. Her professional MMA career continued as she fought for many promotions, including Bodog, King of the Cage, Strikeforce, Cage Warriors and Jewels. Then, she tried out for The Ultimate Fighter 18 with a storied record of 15 wins and 10 losses. She defeated Valerie LeTourneau by rear-naked choke to earn her spot in the TUF house, but she lost in her next fight to eventual finalist Jessica Rakoczy.
A crossroads appeared: continue living, working and training in Japan or move to Las Vegas in the hopes that the UFC would call. So Modafferi decided to move to follow her dream. She joined the team at Syndicate MMA and has studied under John Wood and the gym's amazing band of instructors.
"I want to visit Japan as much as possible. I learned so much there with so many skilled teachers, but moving to Syndicate was the best decision of my career," Modafferi told Combat Press. "My team of instructors under John Wood, including Mike Pyle, who teaches grappling for MMA and various cage techniques—well, whenever we both have time—they have helped me find myself."
After Modafferi trained for just a couple of months at Syndicate, the UFC did call. She fought fellow TUF alum Raquel Pennington and unfortunately lost by unanimous decision, bringing her loss streak to six. At that point, there were some who thought the legend should have retired. She was over 30 and had realized her dream of fighting in the UFC, in addition to all her other accolades and achievements.
But Modafferi had to continue. She wasn't done. The tribulation of loss only made her want to be better. She trained for over a year and was offered a rubber match with her longtime foe and friend, Tara LaRosa, under the Invicta FC banner. For most of her pro career, she had fought at 135 pounds, but this fight was at 125.
"I don't feel stronger, but my opponents don't feel as strong either," Modafferi admitted. "My opponents are smaller, and this division fits me the best. And now I know how to cut weight properly rather than fighting out of Japan where cutting isn't as popular."
Roxy's fans were excited to see her and LaRosa complete their trilogy. Modafferi had stumbled against LaRosa in their 2006 bout under the Mix Fighting Championships banner, but she avenged the loss in 2010 by eking out a split decision over LaRosa while fighting for the Moosin promotion. The third fight didn't disappoint. One of the highlights of the night was LaRosa's walkout. She made the unusual choice of "Miss American Pie." She came out singing at the top of her lungs and dancing. The crowd went wild and even Modafferi joined in the singing and dancing.
"I was surprised she was dancing and happier than even 'The Happy Warrior.' I like the song, too, and it made me want to join in. She's my friend," Modafferi explained. "I really wanted to try the John Wood striking and implement everything I was learning. I wanted to stay open to what the fight would bring but happy to show off my new technique. A lot of people were surprised the fight never went to the ground. At one point Tara stuck her tongue out and was smiling. I don't know, it worked. Oddly enough, it made me more comfortable and able to focus—relaxed."
Despite being good friends, or perhaps because of it, the ladies matched wills and skills and left it all in the ring. In the end, Modafferi's footwork, grappling and aggressiveness led to the win by unanimous decision.
Training is Modafferi's main focus, but she finds creative ways to fill her free time. Writing for www.mmasucka.com has helped her find another passion: helping Japanese fighters tell their stories to American fans.
"I've met and trained with so many of them in Japan, and it's an honor to use my skills to better the sport," enthused Modafferi. "To be the English voice for Japanese fighters is another calling.
"It's important to me to bring positivity and a smile to everything I do in the sport and outside of it. I communicate with fans as much as possible and I like to set the example of an MMA fighter who always stays positive."
Nowhere was that more evident than in the TUF house.
"It's hard to be in there with the high pressure—you might have to fight your teammates," she said.
After Modafferi's loss to Rakoczy, she congratulated her foe, smiled for her friends and fans, and continued smiling until she thought she was alone. It may have been the most poignant and touching moment in all of TUF history.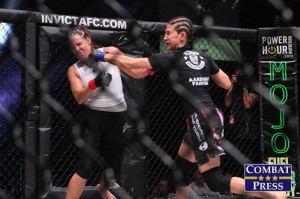 "The Happy Warrior" was inconsolable at that moment and she gave herself over to her pain, proving that behind the smile there was a true competitor. That drive, that mettle, is what has propelled Modafferi to continue improving and preparing for her next challenge, Andrea "KGB" Lee. Modafferi was originally slated to face the legendary grappler Vanessa Porto, but visa issues forced a last-minute change.
"The prep is slightly different, but the results are the same. We do different drills and cardio. At the end of the day, I am very in shape and I have leveled up in technique," Modafferi said, alluding to her love of video games. "I am ready to bring it to my opponent. I think I'll surprise everyone.
"She has a record of two wins and no losses with a much larger record as an amateur. With her extensive kickboxing and boxing experience, I know she is a dangerous opponent. I believe I will win, but I have not yet decided how. But I will finish this fight."
Modafferi has been a fixture in the world of women's MMA, but this will be just her second appearance for Invicta Fighting Championships.
"Invicta is amazing—everyone says it but it's really true," Modafferi said. "They are professional and put on exciting fights with serious athletes, and I am so glad that they are getting more viewership with Fight Pass. UFC fans have the opportunity to watch Invicta fights, and it's a huge honor to be included in this organization."
"The Happy Warrior" is humble, kind, compassionate, unwavering, steady, loyal, fierce and, above all, innocent in motive and deed, spreading positivity and light. Wordsworth may have thought he was writing a homage to Lord Nelson, but in fact he was prophesying the career and life of the legendary Roxanne Modafferi.
Roxanne would like to thank John Wood, Mike Pyle and the fans. Her fans are her biggest supporters and without them she says she would be lost. She would also like to thank her sponsors: Remove It Restoration, Outlaw Fight Gear USA, Sportsfood Inc, Tussle Fight Gear, Fight Chix, Top Notch Fighter, Kinetic Performance Edge aka Dr. Jacob Steckel Chiropractor, Combatsportslaw.com, Alienware, Herbal Papaya, Wartape, Dominate Your Game, wetdryvac.net, Aardvark Painting, and Syndicate MMA. Follow Modafferi on Twitter:
@RoxyFighter
, Instagram:
@roxyfighter
and her website:
www.roxannemodafferi.net
---
Advertisement

---