MMA fans worldwide are going to have a field day on Nov. 15. Not only is it the date for UFC 180, featuring Mark Hunt vs. Fabricio Werdum, and Bellator 131, featuring Tito Ortiz vs. Stephan Bonnar and Will Brooks vs. Michael Chandler II, but it also is the date for World Series of Fighting 15.
WSOF 15 features not one, not two, but three title fights. Justin Gaethje defends his lightweight strap against Melvin Guillard, David Branch defends his middleweight title against Yushin Okami and last, but certainly not least, Jessica "JAG" Aguilar looks to defend her belt against Kalindra Faria.
Aguilar will be competing in her third fight this year, and all of those contests have been title fights. In January, she made her WSOF and defeated Alida Gray with a first-round arm-triangle submission for the vacant WSOF women's strawweight title. Aguilar went on to defend her belt in June against Emi Fujino with a unanimous decision. Next up for Aguilar is Faria. The two will square off at the USF Sun Dome in Tampa, Fla.
---
Advertisement

---
Aguilar's fight against Faria almost took a turn for the worse when information surfaced that Faria was still under contract with the XFC and that the WSOF would have to find another opponent for Aguilar.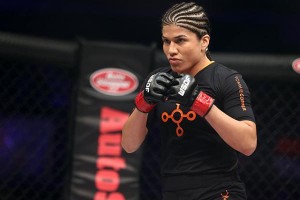 "I don't even know what happened or what was going on," Aguilar told Combat Press "I just had that confirmation from WSOF and Ali [Abdel-Aziz], the matchmaker of WSOF, that I was still fighting Kalindra Faria, and they confirmed that, so I just continued training and really didn't pay attention to that. I don't know the details of what happened on the other end and then it was confirmed that I had the fight with her and I was happy."
And a happy Aguilar is a dangerous one. She has not lost a fight since September 2010 and she has collected nine victories in the span since then, a winning streak that most would brag about. Most, but not the champ.
"It's just something that I kind of do," Aguilar shrugged. "I don't even know how many wins I'm on. I don't focus on that. I just focus on winning and being ready for the fight and giving the best fight possible."
Training camps are always a hot topic when it comes to fighters these days. What have they done differently? Who did they bring in? Aguilar has found a nice rhythm that has produced the results she wants and needs.
"My training camps are kind of always the same. I focus a lot on what I need to get better and improve," Aguilar explained. "My coaches watch video and strategize, and we kind of train specifically for her. So every sparring is specifically for her—another training partner fighting like she fights. That's how I do all of my training camps, and it's been a good training camp. I'm ready. My body is ready. I can't complain. I'm ready. After eight weeks of putting your body through training, your body is ready. It's been through a lot of hard work and the hours you've put in. The fight is the fun part. Training is the hard part.
"I bring in someone from Mexico, and I brought him in for the last three fights. He's very well rounded, so he helps me specifically with her. He watches video and fights like her. I also have some other training partners in the gym that have helped with certain areas, whether it be stand-up or ground. He's done a great job helping me and pushing me and training specific."
Because of this routine, Aguilar feels that she has the upper hand against Faria.
"There's a lot of holes that I see in her game, and I'm sure that there are still holes in my game." admitted Aguilar. "I may be the best in the world, but we're not perfect. I'm always trying to improve every day in the gym and trying to learn and tighten my game up. But, yeah, there's definitely a lot of holes in her game that, once she gives me an opportunity, I'm going to capitalize on it."
The women's strawweight division is getting more recognition each and every week. As many fans know, this is because of the current season of The Ultimate Fighter, which will ultimately crown a new UFC strawweight champion. The cast includes three women who are no stranger to Aguilar. In her career, Aguilar has faced and defeated the likes of Carla Esparza, Lisa Ellis and Angela Magana.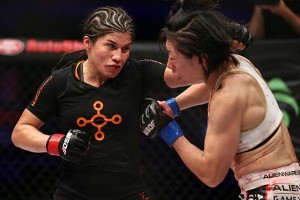 "My ranking at No. 1 is not only because I have beat those girls but because of my record and what I have done," she said. "I just focus on me and focus on training well and fighting and winning."
And if she continues to win, is the UFC where she'd like to end up?
"I just want to continue fighting the best and being the best," Aguilar confessed. "That's all I want to do. Just continue what I am doing, and whatever happens after my contract is over, I am an athlete and I just want to fight the best and just keep winning. Just…. Keep…. Winning.
"My game plan is to win—to fight my fight and to capitalize on the first opportunity I see," Aguilar said with an assertive tone. "This is MMA and you have to be ready for anything, whether it be on the feet or on the ground. I'm going to be ready for everything. Like I said, every camp I try to improve to get better in all aspects and I try to show it in each fight. I try to show a different dimension of my fighting skills. We will see what she opens up and how it goes, but I am definitely getting that victory."
Jessica would like to thank her family and friends, her team at American Top Team for putting up with her, for training her, and just supporting her. She would also like to thank her sponsors: Tommie Copper, Garden of Life and Everlast. She would also like her fans for their support. Follow Aguilar on Twitter at
@JagATT
and Instagram:
@JagATT
. Aguilar can also be found on Facebook, YouTube and at
JessicaAguilar.com
---
Advertisement

---