If you look back at the MMA career of Luke Sanders, you will see he has had little trouble becoming one of the top prospects in this game. He has looked very impressive in the process, with just two fights going to the distance. Yes, he looks athletic, has the cardio and skills of a complete fighter and enjoys every minute he spends inside the cage. But one thing that stands out while speaking with the undefeated fighter, who hails from Nashville, Tenn., is the sure confidence he has in himself.
As a breed, fighters are confident creatures. It is hard to find one that is not confident in their skills. The difference with Sanders is just how high his confidence is coming into the biggest fight of his entire career.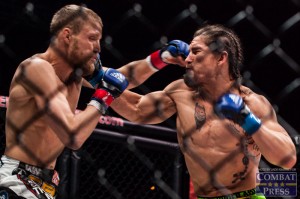 On Nov. 7, the Resurrection Fighting Alliance will hold its 20th show. At the top of the bill, "Cool Hand" Luke Sanders, who is undefeated through eight pro fights, steps inside the cage to face highly touted prospect Jarred Mercado, who wrestled at Northwestern University and brings a 12-1 record to the cage, for the company's vacant bantamweight title.
---
Advertisement

---
"He is definitely a good challenge for me," Sanders admitted to Combat Press. "I'm excited about it. I'm not worried about him and what he does. He should be worried about me and what I am going to do."
It will be the best combined record between two fighters for any title fight the RFA has put on to date. Though it will only be the two of them who will be inside the cage come Nov. 7, Mercado will do so with a lot more fanfare, as he is fighting close to his hometown of Denver. The Elevation Fight Team product won his promotional debut in July with a unanimous decision win over Daniel Swain. It was the fifth fight in which Mercado has gone the distance. Sanders, on the other hand, has finished over 75 percent of his fights.
"He fights smart," admitted Sanders.
With the clash of styles, the man who can implement his game better will come away with RFA's bantamweight championship belt. Sanders sees one area that could make a difference.
"I'm a better MMA wrestler," he declared.
Confidence is something "Cool Hand" has never lacked. When he steps inside the cage, he does so knowing he will be the one getting his hand raised by the referee. Heading into his RFA title fight against a game opponent, that exact confidence that has got him here is at an all-time high.
"I'm on a different train; I'm a different engine. I'm an athlete and fighter that is at that next level," he boasted.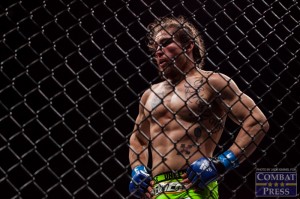 Most young fighters headlining their first-ever RFA event—and for a crack at a major title on live television, no less—could be struck with a look reminiscent of a deer in the headlights. For Sanders, though, it is just another day at the office.
"It's whatever," shrugged Sanders, living up to his nickname. "I don't care if I fight first or last. I've had five fights on national TV and I've been the main event before in hometown, so it doesn't really matter."
The RFA's track record speaks for itself, providing the platform for countless fighters to showcase their talents and make a living while competing in the sport they love and have dedicated so much time and effort to over the years. It also acts as a catapult to the very highest levels of the sport.
"With the win, I'm definitely going to the UFC," said the always confident Sanders. "I'll be in the UFC. Everyone knows it's no secret: you win an RFA title and you go to the UFC. And with the type of fighter that I am, there is no question I will be in the UFC."
Seems like there is more on the line than just an RFA title for Sanders. Just like he has shown us in his previous fights, he is going in confident and plans to put on a fun show because, like he proclaimed, "I'm never in a boring fight."
---
Advertisement

---