A cockatoo screeches from a nearby gum tree. It sits high in the branches doing its best to shield itself from the blistering sun. It always seems like it is hotter in the country. The dry, dead grass stretches on almost as far as the eye can see. Along the barren roads, the odd ute drives by with a panting cattle dog in the back.
Leaving life in the big city behind is hard. And taking a giant leap of faith to start a new business in a small country town? Well, that seems like madness.
Steve Reeks would never strike you as the mad type, though. He likes to test himself, that's all. He does so both in and out of the cage. In the cage, his year seemed to be all but over. He had nothing scheduled, but then an opportunity came his way for Nov. 22.
---
Advertisement

---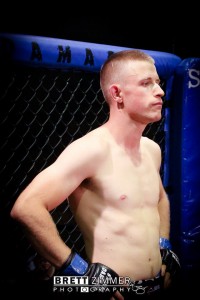 It was time to head back to the "big smoke." BRACE was calling him. First, it was just for a bantamweight fight on the professional card. Then, it turned into a bantamweight championship contest against Jordan Lucas.
"It's a bit of a challenge. It's for a title and the opponent is really, really good," Reeks told Combat Press. "I've turned 30 and I wanna test myself against these young guys, and it'll answer a few questions for me—whether I should keep bothering with it, or whether I should focus on my coaching and my other stuff. I enjoy coaching. Without blowing my own ego, I'm quite a good coach. And I've got other aspects of my life that are going really well, so we'll just see. I think this fight will be a good fight. I mostly took it because it was the challenge and an easy way to make some extra money."
Stepping into a cage in exchange for some cold hard cash probably doesn't sound like it's actually that easy. There's a lot of work that goes into preparing for a fight, but Reeks looks at this weekend's affair as merely a business transaction.
"As long as I don't get KO'd and get brain damage, what's the worst thing that could happen?" Reeks asked. "He holds me down and bashes me up? That's probably the worst that could happen, and that happens at training.
"Jordan is an excellent fighter. I saw his fight in Canberra against Richie Ivory, and that was a great fight. You know, he's a purple belt in jiu-jitsu [and] I'm a purple belt in jiu-jitsu. He's got a Thai boxing title; I don't, but I've done enough Thai boxing to know what to do. He's got good boxing. He's got good wrestling. He's got good everything. It's gonna be an interesting fight. He might just smash me and that'll be that. He definitely has a bit more pressure than me, though. This is his life; this is all he wants. For me, all I wanna do is eat some food after the fight. He seems like a good kid, though. He's got excellent skills and good coaching, so we'll just see how he goes against me."
Before he stepped up to face Lucas, Reeks was already slated to fight in the city he had once called home. However, an injury to his opponent forced him off the card. Luckily, the opportunity knocked for him to step up and replace another injured fighter for the title shot. Even luckier, he hadn't eaten too much to force him out of weight-cutting range.
"I had that BRACE fight already lined up with that guy, but old mate pulled out. So I probably had like a week and a half of, 'Oh well, I'm just gonna eat food and chill out and enjoy life,' and then I got an email about the other one, so I was just like, 'Yeah, I like a challenge. Let's try and lose 13 kilos in two weeks' [laughs]. I think it was only 10 kilos—I weighed 71.6 and this fight's at 61.2 with a 500-gram leeway, but it's comin' along slowly [laughs]. But I'll be right—I'll make it.
"I've never fought [at bantamweight]. The lowest I've ever fought was at 64 kilos in amateur boxing. The lightest I have fought in MMA was featherweight, and the heaviest was lightweight, which was a bad idea at the time."
When Martin Nguyen won the BRACE featherweight title on Nov. 29 last year, he was also awarded a contract with Asian MMA powerhouse ONE FC. The contract was a result of BRACE being part of the worldwide ONE FC network. A ONE FC contract isn't necessarily a guarantee for this weekend's winners, but Reeks would consider it to be a nice bonus.
"You know, it does cross my mind a little bit," confessed Reeks. "What's Martin's record? It's like 4-0? I'm at 6-1. And when I beat Jordan, I'll be 7-1. So that does cross my mind. I think that my style is reasonably exciting. Maybe I'm not the most charismatic person online with my fan page or anything like that, but for the most part I'll put on exciting fights. I'd love a little crack like that. That'd be just a nice part of the journey. It doesn't worry me either way, but I have thought about it.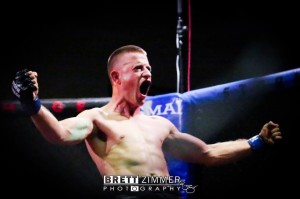 "You never know, though. [ONE FC] might have six contracts for all the winners. If I won and I got a contract, that'd be sweet—I'd have to change my training up a little bit. And if I lost and Jordan got it, you know what? Good for him. He's only like 20. I'm 30. He's got another 10 years left in him, and that's good for him. It's not my driving force. It's been a massive year for me. I moved away from Canberra, moved here [to Cowra] and started the gym, had two fights in one night at Storm Damage, done a bunch of personal things, and it's been a really big year. This is kinda just a nice little challenge to finish off the year and see how I go."
Lucas enters the fight with an unblemished 7-0 record and is highly touted as one of the best bantamweight prospects fighting in Australia. A win over Lucas would certainly top off an already successful year for Reeks, who won the Storm Damage featherweight title on March 22.
"I don't really care who the opponent is. It's more about challenging myself," Reeks admitted. "You know, it's two weeks, with a fair bit of weight to lose [and] training the whole time in the country. I haven't managed to get to Canberra yet because I've had a lot of other things happening so I haven't gone there to do any training. I'm literally training myself against someone who has got tons of training partners and I'm literally just training up my students. Win or lose, I don't care. It doesn't particularly bother me, because I've got so much going on in my life to look forward to that I can can just smile regardless of the result. So I'll just go in there and see what happens.
"It's an awesome opportunity. I don't fight well when I stress myself out. At Storm [Damage], I was kinda like, 'Whatever happens, happens,' and it's the same thing here at BRACE. I'll just go in and see what happens, and breathe and try and stay relaxed. If I can stay relaxed, I think that the crowd will see a really high-quality scrap. If I can go in there without much thinking at all, I think it'll be a beautiful performance."
Steve would like to thank Anthony Manning from Phoenix Gym, fiancee Nikki Young and the guys at Art of Combat Cowra.
---
Advertisement

---