Sacrifice is everything in professional sports. For a mixed martial artist, sacrifice means no booze or other vices, limited downtime, a broken body and a challenged mind. When fighters are in camp, their lives can be completely on hold for 10 to 12 weeks or more. However, the sacrifices do not end with the fighter alone.
Mixed martial artists, contrary to some people's beliefs, are not all twentysomething thugs who just want to fight for the fun of it. Some have families, some have jobs, some go to school, and all of them have some life outside of the gym that takes a hit when they get serious about their craft. Canada's Chad Laprise and his wife, Emily, know all about sacrifice.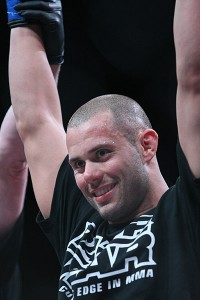 Earlier this year, The Ultimate Fighter Nations: Canada vs. Australia aired with a strong stable of welterweights and middleweights training under UFC vets Patrick Cote and Kyle Noke. Since the coaches were assigned their respective country's fighters, as opposed to picking teams in the traditional TUF format, it was initially difficult to gauge who the favorites were. Laprise was a welterweight contestant under Cote's tutelage.
---
Advertisement

---
As the show began to progress, Kajan Johnson and Olivier Aubin-Mercier seemed to be two Canadian welterweights that people felt could go far in the competition. It's not that Laprise, who happened to be undefeated in his pro career, Matthew Desroches or any of the Australian welterweights were being looked over, but the producers definitely paid a great deal of attention to the other two guys.
Well, as TUF has proven time and time again, there are very few fighters that opponents can sleep on. Laprise quickly made his name known.
The Canadian first fought in the third episode, where he earned a unanimous decision victory over Aussie Chris Indich. As the semifinal round rolled around, there were three Canadians and one Australian left in the welterweight group, and some tough choices had to be made. Prior to the show, Johnson and Laprise had trained together, so it was a tough pull when the two ended up facing off. It was an even tougher situation for both men when Laprise basically broke his teammate's face en route to a second-round knockout. While he would have preferred not to fight his buddy, it was still a great experience.
"It was tough being locked in that house for six weeks," Laprise told Combat Press. "You have no contact with your family, no contact with any of your friends, and that was definitely the toughest part. But I'm super blessed to have had that opportunity, and I'm glad everything worked out for me. It was a dream come true and it got me a spot in the UFC now."
In April, at the season finale, Laprise faced another teammate from the show when he squared off against Aubin-Mercier to crown the welterweight winner. He showed up ready to fight and won the crown by a controversial split decision. Two judges gave Laprise all three rounds, while one judge gave Aubin-Mercier two rounds. It was some strange scoring, but Laprise earned his spot in the Octagon.
Upon winning TUF, the native of English-speaking London, Ontario, was training out of Adrenaline Training Center in his hometown. However, everybody knows that some of the best fighters in the world, and definitely the best in Canada, train at Firas Zahabi's Tristar Gym in Montreal. Laprise knew that's where he needed to be.
"I actually moved up to Montreal on July 1, so Tristar Gym is where I do all of my MMA training, and my Muay Thai coach is Kru Ash," Laprise explained. "I also train at the Grant Brothers Boxing Gym."
The TUF winner and his wife made the choice to join their country's best, even if it meant making some major sacrifices.
"She's an awesome girl and she's always there for me," Laprise said of his wife. "I don't know if you know Montreal at all, but its mostly French-speaking up there, so she hasn't found a job or anything yet, since we moved up from London, Ontario. Without her support, I wouldn't have been able to do it."
Fighters are not the only ones giving something up when they pursue their passions. For Emily, supporting her husband is worth it. While training takes up a great deal of Chad's time, the Laprises always make time for each other.
"It's something I love doing," said Laprise. "But if I'm not training, I'm with my wife. We love doing everything outdoors—hunting, fishing, mountain biking, anything to do outside—and I'm happy."
A happy wife is a happy life, and a happy life is probably a good thing when training with one of the world's most elite teams. Laprise is always surrounded by great coaches and training partners.
"I train with Kru Ash for my Muay Thai, Howard Grant on boxing, Firas Zahabi for MMA, Matt Miller in wrestling, and my strength and conditioning coach is Jonathan Chaimberg," Laprise said. "I'm actually sitting here with Olivier Aubin-Mercier right now. We've got Rory MacDonald, Georges St-Pierre, Nordine Taleb, David Loiseau—the list goes on and on and on."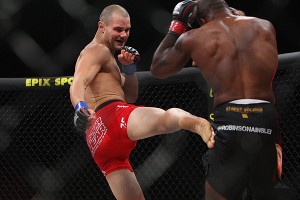 Laprise's next fight takes place this Saturday night at UFC Fight Night 54, live from Scotiabank Centre in Halifax, Nova Scotia. It will be the promotion's first event on the eastern Canadian island. Laprise enters the cage at 8-0. Standing across from him will be Cuban knockout artist Yosdenis Cedeno.
Cedeno enters the Octagon for the third time with a 10-3 pro record. He has only been stopped once, by submission, and has knocked out seven of his opponents. He lost his UFC debut by a close split decision, but followed that up with a first-round retirement of Jerrod Sanders in July. The Cuban native is a wild striker, and Laprise, who loves to stand and trade, is excited for his next challenge.
"I couldn't be happier," Laprise stated. "I'm fighting a striker. You know, he's going to come out and bang, I'm going to come out and bang, and it's going to be a great fight for the fans. I couldn't be happier with the match-up."
Cedeno is an atypical striker who changes positions a lot, throws from crazy angles, and has a sort of Edson Barboza-esque striking game.
"Definitely, he has an awkward style," Laprise admitted. "You know, he throws a lot of flashy stuff. He switches stances. He throws a lot of spinning kicks. So, it's a traditional boxer versus kickboxer, which adds a lot of excitement to it."
If there's one thing Laprise loves, it's an exciting fight. From his crazy knockout of Johnson to the four knockouts and one submission on his pro record, the guy always comes to finish his opponents. With the sacrifices he and his wife made in moving to Montreal, fans can only expect the best Laprise yet when he enters the Octagon in Halifax to face off against Cedeno on the main card of UFC Fight Night 54.
"I've never been in a boring fight in my life. If you seen my fights before, I'm going to come bring it on Saturday night."
Laprise would like to thank all of his coaches and training partners at Tristar Gym and Grant Brothers Boxing. He would also like to thank his wife, Emily, for supporting him, and he'd like to thank his sponsors: Fear The Fighter, Training Mask and Shaker Cup. Follow Chad on Twitter:
@ChadLaprise
---
Advertisement

---