The UFC's featherweight division has been making waves as of late. Rising star Conor McGregor and upcoming title contender Chad Mendes have really shifted the focus back onto the highly competitive division. In total, the featherweight division has over 70 fighters and it's not easy to keep track of every single one of them. Hidden within this list lies Darren "The Damage" Elkins, a fighter who has dispatched top-level competitors such as Diego Brandao, Steven Siler and Hatsu Hioki. Elkins meets Lucas Martins this Saturday on the main card of UFC 179.
Many fighters transition into MMA from another sport, and usually from a young age.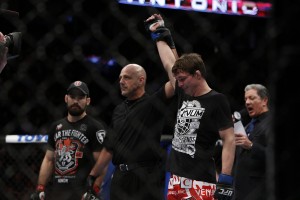 "I started wrestling when I was four years old," Elkins told Combat Press. "I was a high school state champion, won multiple freestyle state championships. Then, I went to college for a couple of years. Then, I came home and got into MMA from a buddy of mine from the gym I train at, Keith Wisniewski. He had been doing it since he was like 16, and he was always trying to get me and my older brother to do it. Eventually, when I decided not to wrestle anymore, I did go back and I trained with him and decided to start fighting. I've been in the gym ever since."
---
Advertisement

---
Since becoming a professional mixed martial artist in 2007, Elkins has compiled a record of 10 wins and only one loss. He was granted access onto the world's biggest stage in 2010. Elkins was victorious in his UFC debut, where he stopped Duane "Bang" Ludwig by TKO. Elkins has gone 7-3 inside the Octagon. He'll look to add an eighth UFC win when he goes up against Martins.
"Yeah, he's got three victories in a row, all by knockout—one of them is by submission after he rocked the guy. He's pretty much all stand-up. There's some hype behind him after he made his debut, and it's definitely a good fight for me" Elkins said. "I think it's a tough fight, but I definitely think that I'm a little bit grittier than him. I think I am going to have the advantage in the cardio, and I think he hasn't been in the wars I have been in. I feel like I have the advantage there. With most people, that's always been my advantage."
Elkins is not kidding. Of his 21 fights, eight have gone the distance, whereas Martins has only seen the judges' scorecards once out of 16 outings.
"I want to mix it up and keep people guessing what I am going to do, because that's when I'm the most dangerous," Elkins explained. "I mean, obviously, I am a wrestler. But my stand-up has gotten a lot better and my ground game and jiu-jitsu is really good, and when I'm doing everything, that's when I am the most dangerous.
"The game has evolved so much in the last couple years, even since I have been in it. It's evolved so much, and if you are not well rounded, you are going to be left behind."
Ring rust is something that comes up in conversations when a fighter has a lengthy layoff, whether it be a few months or a few years. Elkins hasn't fought since a decision loss to Jeremy Stephens in January. It marks the second longest layoff he has had since entering the Octagon.
"It was due to injury. I was hurt for a long time. Just going back-to-back fights, I had a lot of nagging injuries that I was getting in the fights. I was just letting my body heal, and this is the best I felt in a long time. I'm glad I had the long layoff because I feel stronger than I have been in a long time," boasted Elkins.
"I had that quick one with Mendes and he knocked me out. Then, I fought Hioki and I took some kicks and took some abuse to the body. Then I fought Jeremy Stephens and took some damage in that one. Most of my injuries, though, come from those lengthy training camps, though. When you go back-to-back then you're back into another camp, that makes a long training camp, you know? [Antonio] Carvalho to Mendes, that was like one fight into another, so that was like 15 weeks of training."
It was after a turnaround like this that Elkins decided it was time to change things up. First, to rest up his body, and then to make some training changes.
"I toned down the intensity versus previous training camps," he revealed. "I focused more on the technical stuff. I still have the night sessions, but the morning sessions are more technical now instead of hardcore, intense sparring. It's more pad work and more technical takedowns and submissions. I feel a difference in this camp. I'm healthy going into this fight. I have no injuries. I am still in great condition and my body feels great. I feel like I am in a good spot instead of being in a lot of pain."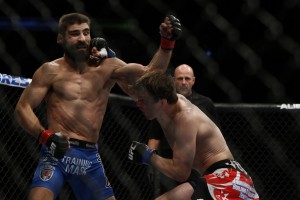 Training partners can make all the difference in a camp. They can produce both positive and negative results. Take, for example, Alistair Overeem heading out to Greg Jackson's camp and training with light heavyweight champion Jon Jones not so long ago. Jones ends up getting hurt in training, which led to the postponement of his upcoming championship tilt with Daniel Cormier. Elkins has developed a simple method to take care of this: consistency and caution.
"I like sticking to a core group of people, so that way I know when I get wild, people aren't going to try and show off and injuries aren't going to happen," explained Elkins, who splits his time at Duneland Vale Tudo and Colon MMA, training under Duneland Vale Tudo head coach Keith Wisniewski and current UFC fighter Josh Shockley and with former Bellator fighter Lloyd Carter. "You get these guys who are like, 'Oh man, I'm training with Darren Elkins,' and they try to get all wild on me just because I'm in the UFC."
Mental focus plays such a big part in Elkins's fighting career, even more so than the physical aspect.
"Life in general, something is always going to come up. You're always going to have different situations for different fights," he said. "We were talking about time off. Yeah, I had time off, but at the same time I kind of took a step back and got a hold on things for a while—enjoying my family, taking care of the things I needed to take care of. When I stepped back into it, I was really motivated and really focused again, and I found out how much I missed the sport and how much I missed getting in the Octagon."
Darren would like to thank Duneland Vale Tudo in Hobart Indiana and Colon MMA in Merrillville Indiana, adding, "It's been a great camp and I couldn't do it without them." Follow Elkins on Twitter:
@Darren_Elkins
---
Advertisement

---