The early Rocky movies were some of the greatest films of all time. They are basic underdog stories about a short, heavyweight boxer from Philadelphia that had to defy the odds to win a match against a seemingly tougher opponent. By the time the third installment rolled around, the movie was a marketing machine, and actors like Laurence "Mr. T" Tureaud and Terry Bollea, aka "Hulk Hogan," joined Sylvester Stallone, who played the main character, Rocky Balboa, to usher the franchise into the 1980s.
Rocky III was a bit different than the first two. The movie started as Rocky was coming off his first title defense over Apollo Creed, played by Carl Weathers. Creed was Rocky's nemesis in the first two films. Immediately, the basic Rocky plot line took a new twist. With an aging Creed having been beaten twice, a new challenger emerged from the woodwork. He was a beastly man by the name of Clubber Lang, played by Mr. T. He was larger, cut from stone and mean as hell.
As the movie progressed, Mickey Goodmill, Rocky's longtime trainer, was confident that he could not beat Lang and didn't want him to take the proposed fight. Mickey represented Rocky's fear, his comfort zone and, overall, his security blanket. He padded Rocky's record with chump opponents and a nice, cushy training regimen.
---
Advertisement

---
Mixed martial arts has become a more "mainstream" sport than boxing with gyms popping up all over the world. But fighters, especially the good ones, face the same challenges as Rocky did in Rocky III. Call it guilt, call it security, call it fear, but fighters often find it very difficult to get away from their old gym, their old regimen and their old coaches in pursuit of growth. However, it is a seismic change to make, and this doesn't come easy.
Earlier this year, Anthony "Lionheart" Smith went through a cosmic shift of his own. For years, he was training at the same gym with the same guys. He was one of the top dogs and carried himself as such. He was confident he was training to the best of his abilities, and nobody was going to tell him different. He was 25 years old and had fought for six years straight, including appearances in Strikeforce, UFC and Bellator. Smith had just picked up his first victory in four fights when he defeated Victor Moreno in April. It was a much-needed win.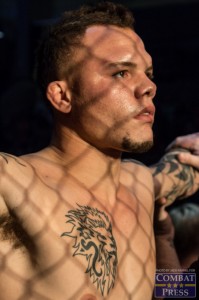 "It was good to get a win after a string of bad luck," Smith told Combat Press. "Between injuries and that stuff, it was good to get back on the winning track. It was almost like I forgot what it was like to win.
"As far as the fight itself goes, I was a little disappointed. I had been working on all these new things with my training. I was thinking a little too much, and I waited a little bit. It's like, I have all these tools in my tool box and I was running through my head with every single one of them. I didn't perform like I should have, but anytime I can get a win, I'm happy with that."
After dropping three in a row by submission, Smith picked up that win by way of a second-round triangle choke in his Bellator debut. He was happy, but he still felt something was missing.
In Rocky III, as the champ was preparing to fight Lang for the first time, his trainer suffered a heart attack during a melee with the challenger. Basically, Mickey was dying as Rocky was getting his ass handed to him. After the fight, in one of the most iconic movie scenes of the '80s, a beat-up Balboa said goodbye to his longtime trainer and friend on a training table in the locker room. Thus, Balboa's security blanket, his protection, had faded away. He was left without a guide. Then emerged an unlikely friend.
After Mickey passed, Apollo Creed, who had his own beef with Lang on the side, approached Rocky and offered to bring him across the country to Los Angeles to train at his old gym. Apollo wanted Rocky to get his edge back, something he referred to as "the eye of the tiger." Smith can certainly relate.
Smith was happy to get the win over Moreno, but he felt unfulfilled. He may be young, but he has 29 fights under his belt and is one of the rare fighters to have over 25 bouts with not a single one going to decision. He was too young and too good to have lost that hunger for his sport.
"You keep doing the same things over and over for years, and you kind of get in this groove," explained Smith. "Conor McGregor talked about this recently. I almost felt like Conor McGregor was talking to me. He talked about some guys who just go in the gym and do rounds and rounds and rounds and run miles and miles and miles, and no matter how good of shape they are in, they're just maintaining. That was me six months ago, in all honesty. I was getting in really good shape. I was sparring my ass off. I was running my ass off. I was grappling my ass off. But I wasn't growing. I wasn't getting any better."
Last year, Smith had an unsettling encounter with a trainer from a different gym across town in Omaha, Neb. At the time, what was said did not sit well with the young professional, but now it all makes sense.
"Mick Doyle said something to me like a year ago in passing," said Smith. "It really resonated and it really bothered me for a really long time. He said, 'You haven't gotten any better in a long time.' At first, I was like, 'Man, fuck you. What the fuck does that mean?' I didn't understand what he meant by that, you know? Now that I've been there for a while and I'm growing and I am getting better, I look back and I'm like, 'Fuck, I wasted a lot of time.'"
After his successful Bellator debut, the first on his newly minted three-fight contract, Smith, amongst other things, decided to leave his primary gym, Premier Combat Center, and move his training across town to join Doyle and his crew. This was not an easy decision for Smith, and it had nothing to do with his old guys. In fact, he credits Premier with helping him come up in the sport. However, internally, his "Mickey" was gone. It was time for a change.
"I don't have any bad blood with Premier," said Smith. "I just needed something different, you know? There's just a lot of things I needed to change. I don't have anything bad to say about them. I just needed something different. It just seems to be working out really, really well for me."
When Rocky arrived in Los Angeles, none of the guys at the gym cared about who he was. They were happy to meet the former champ, but they were a bunch of young, hungry guys that were there to make a name for themselves. The East Coast fighter meant nothing more than the chance to shake hands with a celebrity. As far as training goes, they were all gunning to be the best. Rocky was famous, but he wasn't the top dog in their gym. Smith is in that same position now, and it's been humbling in the best possible way.
"The world has made me more of a student and less of a fighter," Smith intimated. "I think that's one of the biggest changes. I'm kind of the guy that's off in the cut and I've got my eyes open. It's really hard to explain and I tried to explain it to other people. It's just hard to explain. I'm probably a student for the first time in my career. No one gives a shit who I am, and I'm just there to learn."
With a new training regimen and two more fights on his Bellator contract, Smith is preparing for his next battle. It comes this Friday night at Bellator 129 in Council Bluffs, Iowa, just across the Missouri River from his hometown of Omaha. Standing across the cage will be another regional opponent in the form of Brian Green.
"To be honest, I don't know anything about Brian Green," admitted Smith. "I really don't. I know he's from Des Moines, and he was apparently out of the country for a while. I honestly don't know anything about him as far as his fight style goes. I remember I cornered against him one time, years ago, but I couldn't even tell you anything about his fight style. I haven't watched one fight of his. I couldn't tell you anything about him."
Green is a 29-year-old veteran whose pro record is 31-19 and spans the last decade. He has finished his opponents in all of his victories—a whopping 26 submissions and five knockouts—and he has been stopped in 16 of his 19 losses. However, Green's only big-stage appearance was a Bellator loss back in 2010 to journeyman Rudy Bears, and Smith is not too concerned with the match-up. In fact, with a Bellator title shot in his sights, he's not very excited about his opponent.
"I'm just trying to work my way to a world title shot, and I don't give a shit who I have to go through," Smith intimated. "Whether it's Brian Green or whoever the champion is, I don't care. I think as I've gotten older, things aren't as important as they were before, and things that I didn't think were important are kind of in the forefront of my mind during preparation now. Whatever he's going to do doesn't matter to me. I'm going to beat him wherever he wants to go. Realistically, if he wants to keep it on the feet, we can do that all day. If he wants to go to the ground, then I'll take a submission win. I don't care.
"It's no secret to anybody that I didn't want to fight Brian Green, because I want to work my way to a title shot and putting a stamp on him doesn't get me any closer to that. I want to fight again right away, and I want it to mean something. That's what bugs me about this fight. It doesn't mean anything, other than a W and a fat check. That's all it really means; it doesn't get me closer to a title shot. That's what I want. I want that in December. I want to fight again by the end of the year, and I want it to mean something."
While it sounds like Smith is looking past Green, that is not actually the case. He is training for Green the same way he would train for any top middleweight. He just feels that, with his pedigree and Bellator's deep roster, he deserves a bigger name for an opponent.
"It's no disrespect to Brian," Smith clarified. "I don't mean it bad towards him at all. I'm sure he's a great guy. But I'd be lying if I said a win over Brian Green gets me anywhere with this company, you know?"
Earlier this year, former Strikeforce chief Scott Coker replaced Bjorn Rebney as the head of Bellator, and Smith sees Coker as an ally. Coker has seen what Smith can do and knows what he brings to the table as Bellator looks to shore up its brand.
"Scott already knows that," said Smith. "I think the people I've already fought, the people I've beaten, the shows I've been in, show that he can put me in there against anybody. I'm not looking for any handouts. I'm just looking for the opportunity."
As Smith enters the Bellator cage for his second fight with the promotion, he is definitely looking at what match-ups make sense for the third fight. A few names come to mind.
"I think Kendall Grove is probably a good match-up," Smith stated. "Kendall, he's a veteran. He's been around forever. I've got nothing but respect for him. Goddammit, I've got to get there, and if I've got to go through him, that's what I got to do. I don't know what [Alexander] Shlemenko has planned. I don't know. If he wants to work his way back and beat up a nobody to get there, I want to welcome him to be that nobody for him. I'm down for anybody. I know Doug Marshall's a good match-up. I don't know when he's going to fight again. It seems like some of the guys who were at the top are leaving. I think there's this new breed of guys that are coming up, and I just want to be one of those guys, you know?"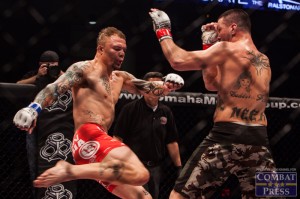 Whatever the future holds for Smith is yet to be seen. He will first need to get through Brian Green, and then, hopefully, the Bellator brass will begin to listen to his requests. For now, the best thing he can do is to focus on his new training and be the best fighter he can be. This training camp has been a big change for the young veteran. He's ready to show the world that on Friday night.
"Every fighter wants to blow smoke up your ass and tell you, 'This is the best training camp I've ever had. I'm new and improved,'" Smith elaborated. "If anyone can say it and be completely honest with you, it would be me, man. I changed everything—I changed training, I changed my gym, I changed my coaches, I changed the way that I train, I changed the people I train with. I mean, everything's different. I'm doing everything completely different. I've never had this amount of growth in such a short amount of time. I'm getting older and I'm starting to move into my prime a little bit."
With the move to Doyle's came a whole new stable of really good kickboxers and quality trainers for Smith. He still wrestles and does Brazilian Jiu-Jitsu training with Scott Morton, but he has personally moved from a Gracie Barra affiliate to Axios BJJ in the Omaha area. However, this is a small change in the grand scheme of his life. Change has become the theme for the new Anthony Smith.
"I'm really taking my whole life in a different direction, and that was just one of the things," explained the Omaha native. "Me and my fiancée just had another baby, and, I don't know, man, everything's changing. First and foremost, I'm trying to be a better person as far as everything I do in general. Overall, there's nothing specifically I'm trying to do. It's just moving to be a better person."
It has been difficult for Smith to verbalize what all of this change means, but, frankly, it can be summed up in one word: maturity. He is maturing in his profession. He is maturing as a father and future husband. And he is maturing in life in general. Rocky lost a Mick, and Smith gained a Mick. However, the change is metaphorically the same. It is about getting out of that comfort zone and forcing himself to be better in all aspects of life. He has a renewed conviction toward being the best in the world, and that all starts on Friday night at Bellator 129.
"I promise you. I'm going to be a world champion or I'm going to fucking die trying. Nothing is going to stop me. I know the changes that I made bothered people and it pissed people off probably and it probably offended people, and I don't give a shit. It's not about them. It's about me. It's nothing personal."
Anthony would like to thank his family, friends, coaches and training partners that have stuck by his side and supported him through his transition. He would also like to thank his sponsors: Nissan of Omaha, CageTix.com, Caged Combat Wear, Larson Motors, Primo's, Young Chiropractic, Big Brain, DC Management and Dynasty Concrete. Follow Smith on Twitter:
@LionheartSmith
---
Advertisement

---