The third time could be the charm for "Uncle Creepy."
When it comes to personality, it's hard to argue that the flyweight division has a few characters. You have fighters like John Dodson with his crazy laugh and backflips off the cage and Louis Gaudinot with his green hair. And, of course, there's Ian McCall with his trademark mustache and that nickname, "Uncle Creepy." Of those fighters, it is McCall who is seemingly on his way to another crack at the title. But in front of him stands John Lineker at UFC Fight Night 56. The contest has already been announced as a No. 1 contender's fight.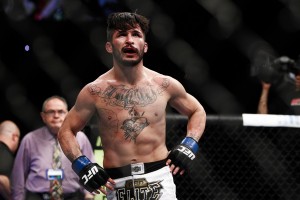 McCall's entry into the UFC wasn't as bright and successful as initially expected. After a hard-fought fight with Demetrious Johnson in Sydney, he was on the losing end of a controversial decision. As we all know, that fight was overturned at the press conference to reflect its actual outcome: a draw. So the rematch was booked for UFC on FX 3, just three months later. This time, there was no controversy. Johnson took the victory by decision and would later claim the inaugural flyweight title. McCall was given another chance to earn his first UFC win and was matched up with Joseph Benavidez, but once again McCall was on the losing end of the scorecards. At that point, McCall was 0-2-1 in his first three UFC fights. He was in dire need of a win. In August 2013 in Brazil, he found that win.
---
Advertisement

---
At UFC 163, McCall took on a tough Brazilian in Iliarde Santos and earned a dominant victory to put that "W" in his win column. However, McCall was forced to the sidelines for the next nine months. Upon his return, he was matched up with Brad "One Punch" Pickett. McCall was able to outstrike and out-wrestle the former bantamweight fighter and notched yet another much-needed win. The two-fight winning streak brought McCall back into title contention. McCall was almost certain he knew who his next opponent would be.
"I knew that I was going to fight either Lineker, or I figured if it wasn't Lineker, it would be [Jussier] 'Formiga' [da Silva] again, because that's got some storyline to it," McCall told Combat Press. "I figured it was going to be either one of those two. I mean, ranking-wise, Formiga makes more sense because he is higher ranked, but I think the fans would rather see me fight Lineker. It would validate me more fighting Lineker."
McCall is definitely aware of the opportunity in front of him. Lineker may have a history of struggles at the scales, but he also has 12 wins by some form of knockout and 15 stoppage victories overall.
"I always look at the big picture," he explained. "I know that the streak matters, and I know I have to focus on the task at hand. I have a dangerous person ahead of me. Lineker hits freakishly hard. I need to fight smart and I need to fight him the right away. I need to put all my effort into this fight. I can't look past him. I know what the future holds if I win this fight, especially if I win in spectacular fashion—I get a title shot. The more entertainment I put on, the faster I will get a title shot. There is a lot involved, but everything is focused around that 15 minutes."
While McCall is aware of what may be in store with a victory, he is not overlooking Lineker. And he is excited.
"It's a big deal. Next stop is title shot. Next stop is getting my belt," McCall said. "It shows me that people are realizing that I deserve it after beating someone like Lineker. I'll deserve it again. It's nice. It's what I want. It's what everyone strives for in this sport. To be champion."
McCall knows what it's like to feel the weight of a gold belt strapped around his waist. In February 2011, McCall made his flyweight debut for Tachi Palace Fights. His debut fight came against the aforementioned Formiga, who at the time was considered the No. 1 flyweight in the world. McCall took the upset win and continued his run by defeating Dustin Ortiz, and then Darrell Montague to capture the flyweight title in August 2011. His UFC debut came shortly after that performance.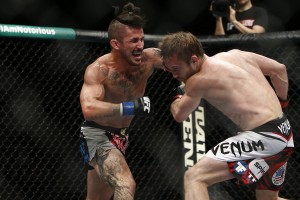 In contrast to his first three appearances in the Octagon, McCall has shown improved focus and domination in his last two outings. He attributes the changes to two things: listening to his coaches and a better inner focus.
"I just do whatever they say and that seems to work," he explained.
McCall's mental state is completely different, too.
"I've got a really good structure behind me in my life," he said. "I've got my girlfriend and everything that revolves around that. My daughter's taken care of. My life is just better. I'm happy, and that's all that matters."
With McCall in the state he is now, it's going to be difficult to halt that kind of momentum.
But does McCall think the UFC will book a third bout between Demetrious Johnson and himself, as long as both are victorious?
"I think they will do it," he replied. "There's no other person. Dodson's out, and it seems like they totally forgot about [Joseph] Benavidez."
McCall is confident right now. He's ready to make a run at the belt, and he also has a message for his upcoming opponent, Lineker.
"I beat Brad [Pickett] with one hand. Like, pretty easily. What do you think I'm going to do to you with two hands?"
---
Advertisement

---