Two weeks after his title shot against Robin van Roosmalen, Serhiy Adamchuk, one of the best featherweights in the world, spoke with Combat Press writer Ruslan Navshyrvanov.
How do you feel after your fight with van Roosmalen?
I am feeling good. No injuries. Now, I've come home [to Ukraine] for a rest.
---
Advertisement

---
In the van Roosmalen fight, two judges gave three rounds to your opponent and another three judges gave him four rounds. In your opinion, how many rounds did you take?
Just after the fight, we thought that we took four rounds. Then we watched replay. The first three rounds were a draw, but the fourth and fifth were mine, no doubts.
In watching the fight, I didn't think he landed any good strikes in the second round.
He landed only three significant punches and one solid low kick during the entire fight.
Why did you walk away just after the fight?
Why do I have to stand there? He was the winner. Let him give his interview. I am thankful to van Roosmalen for this fight.
Did he surprise you with something?
Not really. He was cutting angles and constantly pressing, but we expected this. My game plan was working.
There was a mixed public reaction after the decision.
Yes, it was pleasant to hear. We can say that I was a guest there. He is a local fighter. But the public supported me as well.
GLORY provided two versions of statistical data on your fight. First, just after the fight. Second, on official website. According to the first set, van Roosmalen landed two knees and 14 kicks. According to the second, set, it was 14 knees and 44 kicks of 30, what makes 147 percent.
Give us your comments on this data.
Probably, they were watching another fight. [Or] maybe there was failure in counting system.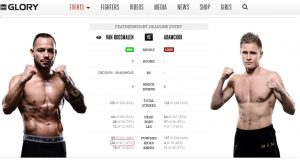 On your Instagram account, you posted a video where you work on pads and Badr Hari watches you. Did Hari take part in your preparation?
He trained first. Then it was my turn. We watched each other. He gave me some advice. Right now, he stays in the gym every day, from morning till evening.
Did he solve all his issues with the law?
He spends all his days in the gym. I don't know what he does after training. I didn't ask him.
Did you watch the Massaro Glunder and Zakaria Zougari fight? GLORY commentators call them some of the brightest prospects in your weight class.
I didn't watch the GLORY 45 replay. And during the event I stayed in the dressing room and warmed up. All I can say is, it is the typical Dutch style.
Matchmakers announced the fight card for GLORY 48. A title fight between van Roosmalen and Kevin VanNostrand is on the preliminary list of fights, as the headliner. Do you think VanNostrand has a chance against van Roosmalen?
I didn't watch that contender tournament. However, there were no details until now. Van Roosmalen did not confirm that he will fight. We don't know what will happen. His contract with GLORY is finished.
Who can compete with him in your weight class, besides you?
Right now, there are plenty of fighters. I think anyone from top 10 can. However, previously he destroyed everyone during three rounds. He was always pressing.
Expect for his Muay Thai opponent, Petchpanomrung Kiatmookao.
The Thai guy started to step back during the fourth and fifth rounds. The first three rounds, Petchpanomrung kept him away with the left middle kick. Then he started to step back. From my viewpoint, van Roosmalen won that fight according to kickboxing rules. I just don't know how they judge. If it is based on the quantity of the strikes landed on block or they consider accurate strikes. You should damage your opponent and stay unharmed.
In our interview with Pavel Zhuravlev, he suggested that the judges' decision is based on the sport where this judge came from.
Well, those are details. That means you need to enter and make your job better. To leave no doubts. To make judges shameful for their opposite decision.
On Dec. 9, a big boxing match takes place at Madison Square Garden — Vasyl Lomachenko against Guillermo Rigondeaux. Are you going to watch?
Of course. I like to watch such big fights in boxing or the UFC. Not like an expert, but like a fan, just to enjoy the show.
Would you like to have a training session with Lomachenko?
Sure, it would be very cool! You have to work with the best if you want to be the best. It is true not only for sport, but also for business. For any field, actually. Of course, it is hard work. But that motivates.
---
Advertisement

---