Elite Sports is a newer brand of martial-arts gear, claiming to provide quality construction and design for a reasonable price. This edition of CP Gear Review will cover the company's Ultra Light BJJ Jiu-Jitsu Gi with Preshrunk Fabric.
I opted for the blue color, which is a very vibrant color with orange highlights throughout. The gi itself had most of the standard accoutrements — pearl weave jacket, ripstop pants, and reinforced seams around the edges of the jacket. The pants did not have reinforced seams at the bottom of the pant leg, which may or may not be of concern, depending on the level of the practitioner. The fabric was very soft and lightweight.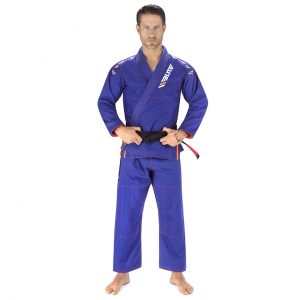 ---
Advertisement

---
Despite the claim that it was preshrunk, I expected significant shrinkage after the first wash, because the fabric was so soft. After the first cold-water wash, I let it dry just a little longer than usual in the dryer on low heat before hanging up. It hardly shrank, if it all. The fit was nearly identical to when it arrived.
It was time to give it a roll on the mat.
The first thing I noticed with this gi was the comfort. I never felt bunched up, and it allowed for a great deal of mobility. A training partner tried to rip the jacket several times throughout training to no avail. It's hard to gauge how the gi will hold up through dozens of rolls, but the initial reaction was a good one.
For the low price of $69.99, this is a great lightweight gi for most levels of grapplers. The only drawback would be the lack of reinforced seams at the pant-leg openings, but that may not matter, depending on the intended usage. As a lightweight training gi, I would have no problem purchasing this gi in the future, and, as lightweight as it is, I would have no problem using it in competition either.
This gi and other Elite Sports products can be ordered at www.elitesports.com.
Click here for: Australia
Click here for: United Kingdom
---
Advertisement

---