As the month of May approaches, the Atlantic hurricane season is on the horizon. Anyone with a Caribbean vacation planned in the next six months will be on storm watch. One low-pressure system can ruin the hopes of the unsuspecting tourist. Legacy Fighting Alliance has its own storm brewing, but this one is definitely not of the low-pressure variety.
Aspiring UFC star Ian "Hurricane" Heinisch has not led a boring life by any means. Is he the proverbial stud wrestler? Yes, but he did not follow the same linear path into MMA as most wrestlers. Much like a hurricane, Heinisch's path had plenty of zigs and zags. His swath of transgressions spread across multiple continents and countries before morphing into an impressive 7-0 career as a mixed martial artist.
Storms do not "lose" energy, per se. In a world of equilibrium, the energy contained in a storm simply spreads out and gets absorbed by the atmosphere. Theoretically, if a fighter loses momentum, whether through injury or a series of losses, he needs to work his ass off to create new energy so he can maintain that high-pressure system.
---
Advertisement

---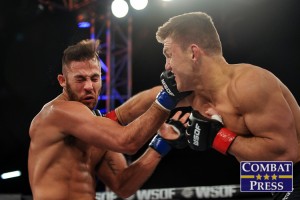 Heinisch was riding a ton of momentum and working very hard to face Lucas Rota at LFA 8, back in February. However, just days before the fight, he announced he had to bow out.
"In my last sparring session before my fight, I tore my LCL, so I was forced to withdraw from that fight," Heinisch told Combat Press. "Gratefully, the LFA wanted to see what the doctors had to say, and they said, 'Can you recover in time for the main event at LFA 10?' I got the report from the doctors [and] it all worked out, so they brought me into the cage at the event I was supposed to fight at. I got to announce my fight and do a little promo for it, which was super awesome. Here we are — I'm 100 percent healed and ready to rock."
The Colorado fighter was not about to let a knee injury take the wind out of his sails. With an eight-week push, he was able to coincide training with recovery. Heinisch was able to keep the energy alive instead of letting it dissipate into the atmosphere. The worst thing that can happen to the power of a storm is a loss of momentum, and the same holds true for fighters. Heinisch had to dig deep to stay on track.
"It's been a rough process," said the middleweight fighter. "It's been a super emotional camp, because the first three or four weeks was all recovery and then it was all boxing. So, really, it was a lot of time to focus on my striking, which is great for me, because that's the area that I believe I need work in. I've been striking a lot more, and the last three weeks of my camp, I was able to do everything. It was super emotional, because every day, I was worried it would happen again. I had to block it out of my head. It did hurt and was sore, but the doctor said that was normal.
"The good thing is, it was the same opponent, so I didn't have to change anything. I've been training for the same guy for like 15 weeks now."
Rota is more of a striker with a so-so grappling game, so it's good that Heinisch has had some extra time to work on his striking. That being said, he likely will be able to use his superior wrestling to control much of the fight. During this second camp for Rota, a couple UFC fighters came out to train for fights of their own at UFC on Fox 24.
"Anthony Smith and Zak Cummings just fought in UFC Kansas City with two great finishes," Heinisch said. "They were at our camp, and I got to train with them a good, full three weeks. It's been great. Even though they are both southpaws, they both have a lot to bring to the table. They bring different styles of jiu-jitsu and striking, and we rubbed off a lot on each other. I was super thankful they were here, and I know they were super thankful, and their performance showed it."
In addition to Cummings and Smith making visits to Heinisch's camp for sparring, Brazilian Jiu-Jitsu black belt Mario "Busy" Correia has begun training the fight team in BJJ at Factory X Muay Thai. Heinisch likely won't have a ton of trouble with Rota on the ground, but it is a big help in his overall development.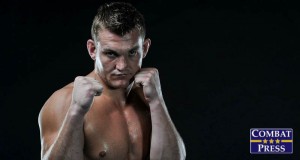 "The program is amazing," Heinisch said. "Professor Busy is such a good teacher and a good person. His style really matches up well with mine. It's a constant-attack style, and I feel like it favors wrestlers a little bit, so it's been great. I need to get deeper after this fight and continue to grow my jiu-jitsu. I'm super excited that he's with us full-time now."
Friday's main event is just another island that Hurricane Heinisch plans to destroy on his path to the Octagon. He had a chance at The Ultimate Fighter last year, but the promotion needed to get closure on some of his past issues. Since then, everything has been cleared. 2017 looks very bright for the up-and-coming brawler.
"I'm really focused on this fight right now," Heinisch said. "There are so many things in the future. We have The Ultimate Fighter tryouts a month after my fight. LFA, after I get the finish, has offered me a title shot, so that's in the mix. Also, if I get an impressive finish, I'm 8-0. The UFC has got to recognize that — especially with all this exposure — and they could be giving me a call.
"[Rota] is just another body in my way to the ultimate goal. He doesn't have a face. He doesn't have a name. I'm just going to go out there, take care of business, put my game on him, not worry about what he's going to do, and I already have my game plan drilled into my brain. I'm just going to be shutting my mind off and doing what I do best. I'm going to get that victory, and I'm looking for that first-round finish."
A hurricane may have a unique energy system of its own, but the path is largely dictated by the outside environment. On Friday night, Hurricane Heinisch makes landfall at LFA 10 as the headliner at the Massari Arena in Pueblo, Colo. He does not care who is in his path of destruction. He's ready to ride the wave all the way into the UFC.
Heinisch would like to thank his coaches and training partners at Factory X Muay Thai and Landow Performance, his manager Jim Walter, and the team at Denver Sport Recovery. He would also like to thank his family, friends, fans and sponsors: Illegal Pete's, Hayabusa, Terphouse, Elder Auto, Dionisio Metal & Iron, Receptra, Parker Landscaping, Caveman Chefs, Rad Roller, Northern Climate Control, Alec Conway, Five Star Management Group, and Colorado Industrial Recycling. Follow Ian on Twitter:
@HeinischIan
---
Advertisement

---