It is absolutely crazy how many great fighters fly under the radar. It's not because of their own performances, but because of who they've fought. Even the UFC misses some great talent because the company has a difficult time paying attention to the hundreds of thousands of fighters who are all vying for a shot in the big show. Nebraska native Darrick Minner is a great case in point.
Minner trains at one of the Midwest's top MMA gyms, Premier Combat Center. At only 26 years of age, he holds a 17-5 record with a whopping 14 submission wins. He has only been the distance twice, and he never puts on a boring show. However, even with a 4-1 record in one of the UFC's top feeder promotions, the Resurrection Fighting Alliance, Minner has yet to get the call. That could all change after this weekend.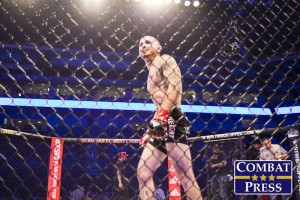 2017 marks the inaugural year of the merger between the RFA and Legacy Fighting Championship. The new promotion has been coined Legacy Fighting Alliance. After stringing together a couple more submission wins in 2016, Minner was invited to joining the LFA 2 card as a co-headliner. UFC and RFA vet Chico Camus will stand across from Minner.
---
Advertisement

---
"Man, I need to get this win, and hopefully get the call," Minner told Combat Press. "I think I haven't gotten the call because I'm missing the name. Chico is a name that I need to have on my record. If that's not the case, it matches up perfectly that they're fighting for the LFA bantamweight title at LFA 1, and I happen to fight Chico Camus the next weekend."
Last weekend, at LFA 1, Legacy bantamweight champ Steven Peterson met RFA champ Leandro Higo to unify the titles and crown the first LFA champ. After a five-round war, Higo took the judges' nod. This weekend, at LFA 2, Minner and Camus, both of whom are riding two-fight winning streaks, collide in what is sure to be a No. 1 contender match-up.
"They hit up [my manager] Train, saying that they might have Camus at 135 [pounds]," Minner explained. "They didn't really mention me, but Train said, 'Can we please have that fight?' I've actually been scouting him. I really wanted him for my teammate, Kevin Gray. I really wanted Kevin to fight him at 125, but when I heard he was moving to 135, I got excited. I'm super pumped for this one.
"I think his takedown defense is pretty good, but I think the wrestlers that he's fought didn't really mix up the transitions like I do. If he wants to strike, we'll strike. It seems like he really wants to throw bombs, jump out, dance around, throw some more bombs — and that's fine. I think I can match his speed, and I think I can stand with him if that's the case. I just really like the match-up. I think it's going to be a fun fight."
Camus is exactly the type of name that could boost Minner to the next level. The Roufusport fighter beat Brad Pickett and Dustin Pague in the UFC, and he also went the distance with Henry Cejudo and Chris Holdsworth. His tenacity is apparent in the fact that he has only been stopped twice, and one of those stoppages was in his second pro fight, which took place over seven years ago.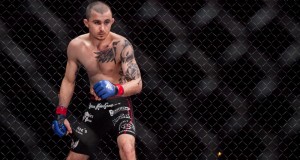 LFA 2 is a huge step in the right direction for Minner. He loves the match-up, and he loves that it will be with the new promotion, live on AXS TV.
"I imagine the ring is going to be the same with different logos," Minner said. "That's home to me right now. I've had a lot of success with RFA, so I'm glad we're back on track with those guys. All those guys are really good to us."
Minner is a full-time fighter. He owns a gym with his training partner, the aforementioned Gray. Minner trains at Premier every day, and, when he has time, he even makes the trip out to Black House in California. He trains himself, but he also trains others. He only has one destination in this sport, and that's the UFC. The only thing missing is the name, and he will finally get a chance to add a big one to his record on Friday night when he fights at the Mystic Lake Casino Hotel in Prior Lake, Minn.
Minner would like to thank his team at Premier Combat Center, DC Management, his fans, family, friends and his sponsors. Follow Darrick on Twitter:
@DarrickMinner
---
Advertisement

---