Megan Anderson's debut for Invicta Fighting Championship didn't go the way she envisioned.
Her first fight for the promotion came at Invicta FC 14, where the Australian featherweight suffered a second-round submission loss to Cindy Dandois. It was her first fight outside of Australia. The grand introduction to American fans turned out to be a stumble out of the gates.
Losses happen in this sport, as they do in any other. The real test comes in how a fighter handles the defeat. How do they respond to the adversity?
---
Advertisement

---
Anderson's response was nothing short of spectacular.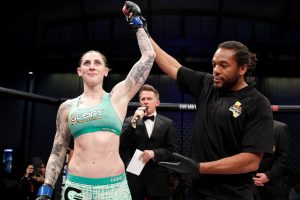 Anderson's 2016 opened up with a tough test against Amber Leibrock at Invicta FC 15. Anderson showed she could take a hard shot and fight back. She learned from her previous mistake by better defending herself when Leibrock attempted to lock in a triangle choke, the same submission Dandois used to defeat Anderson. In the third round, Anderson finished Leibrock via TKO.
Less than four months later, Anderson dispatched Amanda Bell with exactly one second left in the first round, unleashing a solid flurry of strikes that showcased the impressive arsenal the Aussie holds.
Another quick turnaround came when Anderson returned at Invicta FC 18 and turned Peggy Morgan into a sight not commonly seen. The side of Morgan's face was so swollen up it looked like Morgan was attempting a record of trying to fit as many jawbreakers as she could inside her mouth.
Three fights in 2016 and just like that (say this in your best Mike Goldberg impersonation for the desired effect), Anderson was a star, her 2015 misfortunes seemingly so far in the past they had been forgotten. She became Invicta FC's "Fighter of the Year," and the young, talented prospect shed that label. So, this was what Anderson was fully expecting for 2016, right?
"Oh god, no," a laughing Anderson told Combat Press. "I thought, like, Andrea Lee and some other girls would be the breakout stars. And I just kept on winning and I kept fighting. My goal was, I wanted to fight three or four times in 2016, because in 2015 I only fought once and I want to be more active than that. So, I fought the three times, which was in that goal, so it was good. It was good exposure. I keep on putting performances that people want to see, so I guess it was just a result of putting in the hard work. I definitely did not expect it to turn out like it did. [I] definitely did not expect to be main-eventing."
It's doubtful that many expected such a meteoric rise from Anderson. It's fascinating to look at her evolution, considering she started MMA at just 23 years old.
"I hadn't done any martial arts before that," Anderson explained. "I hadn't done any sport. I just started this for self-defense."
It usually takes years to develop a sound striking ability like Anderson has. Her striking is seen as some of the best in the 145-pound division. Furthermore, she has become very well versed in other aspects of MMA, such as the clinch and grappling game. It's hard not to ponder how she has been able to grasp the sport so quickly.
"It has been like a massive data dump into my brain," said Anderson. "It's weird. Like the striking — I picked it up super easy. The wrestling and the jiu-jitsu was a little longer, but I'm getting there. It's getting up to the same level of my striking. It's been interesting, because I guess I just have one of those brains that processes things really easily and I've always been able to pick up things very quickly. My dad always called me a sponge growing up, because I, like, absorbed everything."
Anderson is striving for perfection. She is taking no shortcuts or easy paths. She didn't travel halfway across the globe to become just another name or another fighter. She's making sure her sacrifices are worth it.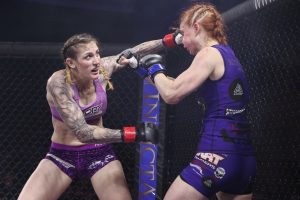 "I just want to be the best at everything," said Anderson. "Even in the gym, I want to be the best striker. I want to be the best at this, and that's hard to do in MMA. It's hard to be perfect. There's always something new. There's always something that you can add. But I guess that strive to be, the strive to keep learning, the strive to be the best is what has gotten me over the edge.
"I don't have any distractions here. I literally live in the gym. I go to the gym in the morning. I train. I'll then have lunch, take a nap or do some stuff for the gym and then I'll train at night. Then I'll teach a class or whatever it is. This is my life. Like, that's the thing that people don't understand. I live and breathe this shit every single day. There are no days off. I have just completely immersed myself into the sport, and I think that's why I'm becoming more successful than other people, because I want this more than anything. If I didn't, I wouldn't have moved halfway across the world."
It can be taxing to come to a new country and be so far from family. When you've spent 25 years of your life around them, within minutes of being able to stop by, and now those opportunities are gone, adjustments won't come easy. However, Anderson, now stripped away from those luxuries, has found herself growing and learning more about herself as a person.
"The holiday season is definitely not my favorite now, because I don't get to spend it with my family," said Anderson. "I don't have that distraction, and, yes, it's emotionally tough, it's mentally tough, and it's draining. Sometimes I wish I could just hug my mom or hug my dad and just cry to them if I want, but I can't do that. I've learned to become a lot stronger as a person. I've learned to be a lot harder and closed off, I guess. But my love for my family has grown to another level than it was. This is why I fight. I want to make my family proud."
The fight business has been good to Anderson, and not just in the cage. At her gym in Kansas City, Mo., she has developed a strong bond, a special friendship that has grown with an individual who has helped her not feel so out of place and uncomfortable in her new environment. We all need shoulders to lean on when we're struggling to get through life.
"Laura Sanko has been the biggest influence and rock since I came here," Anderson said. "She has helped me so much as a friend. I can tell her anything. If I'm upset, she'll be there. If she's upset, I'll be there for her. It's something where we just got along from the get-go, and it's… We just have similar personalities. We have similar likes [and] similar dislikes. We don't compete with each other. We're both successful in our own ways. I want all the success in the world for her, and she feels likewise.
"Having someone that you can talk to, no matter what, no judgment, is rare to find. It's pretty cool to see her success. She's worked really hard to get where she is, and I think 2017 is going to be a big year for us both."
Anderson will have her first opportunity to make 2017 special on Jan. 14. She'll be headlining Invicta FC 21 for the interim belt against Charmaine Tweet in her adopted home of Kansas City. It will be another chance for Anderson to show that the sacrifices are worth it. It's another chance to show that her stardom still has another level to reach.
---
Advertisement

---