A name is just a name. It rarely defines who someone is, and, most of the time, it was given without choice. Sure, someone can legally change their name, but that doesn't change their given birth name.
Monikers are different.
Some monikers are obvious and with seemingly little thought, but others carry great meaning. In the case of professional fighters, it has to sound badass. "The Spider." "Iceman." "Rowdy." These monikers are not only fitting, but they also sound tough. These are all names fans have come to know and love in the world of mixed martial arts.
---
Advertisement

---
Nicdali Rivera-Calanoc has been in the fight game for over a decade. She has always been known as "The Night Queen," but that was a name that she felt no longer defined her. She decided it was time for a change. "The Night Queen" is a unique name and it certainly sounds tough, but after a rough four-year stretch with five losses and only one win, Rivera-Calanoc decided it was time to update her nickname and her overall approach to training and fighting. It started with a move out of her home camp in Oklahoma.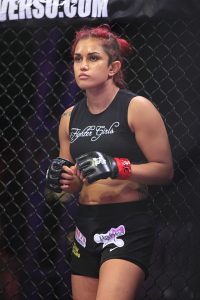 "I've been training at Xtreme Couture for a year," Rivera-Calanoc told Combat Press. "Lately, I've been working with head coach Robert Follis, who has been a high-level MMA coach for about 18 years. He was Randy Couture's coach, Miesha Tate's coach [and] Chris Leben's coach, and I've never felt this amazing in my life."
In March 2016, the switch appeared to get things moving in the right direction. Rivera-Calanoc, a natural atomweight, entered the cage for her second consecutive fight at strawweight. After losing her Combate Americas debut to Kyra Batara, she faced Ronni Nanney, a natural flyweight, at Freestyle Cage Fighting 51. Rivera-Calanoc was able to pull off a split decision.
"Oh man, it was amazing," said Rivera-Calanoc. "It was great, because, the girl I fought, it was her first fight at 115 [pounds]. She normally fights at 125, and I'm a 105er.
"So I went up in weight to fight her. It's always great to have a win over a bigger opponent. Their legs are bigger, their arms a bigger, they hit harder, and it didn't really bother me, but I realized that I need to go back down to 105."
Rivera-Calanoc got right back to work after her win over Nanney. She was feeling really good about her new camp, but she still wasn't satisfied with her moniker. She really felt that she was breaking out of "The Night Queen" mold. Her teammates started calling her "Medusa," after the gorgon from Greek mythology who had snakes for hair and a gaze that would turn people to stone.
"Since I moved to Xtreme Couture about a year ago, that's kind of the name they have given me — especially, Miesha Tate and my husband, Travis," Rivera-Calanoc explained. "I was telling them that I remembered when [Tate] changed her name, and I really wanted to change my name, because I feel like I'm a totally different fighter now and a totally different person. To me, I'm not 'The Night Queen' anymore. I'm something different and someone different.
"They were pondering, and Miesha thought of 'Medusa.' My husband and her were talking about it, and I think we were watching a Greek movie, and they said, 'You should totally be 'Medusa,' because you're so pretty, but people don't realize what a badass you are.' My husband said it's like Fatal Attraction."
With a new camp and a new name, the next thing Rivera-Calanoc needed was an opponent. She was back in the win column and wanted to keep her momentum alive. As Combate Americas was expanding into Mexico City, she wanted to a fight in her ancestral homeland. However, it wasn't coming easy. She was able to land on the Combate Americas 10 card this Thursday night, but it came with a struggle of its own.
"I had to fight tooth and nail to get this fight," said Rivera-Calanoc. "They were going to have somebody else take this fight, but I was very persistent and very passionate about this fight. I think they realized my passion for this fight, and my dedication, and they were like, 'All right, we need to have this girl fight on this card, because it means everything to her.' And it does. I have never trained this hard for a fight ever in my life."
On Thursday, Rivera-Calanoc will face Mexico native Lisbeth Lopez Silva in an atomweight showdown. Rivera-Calanoc, who's now based in Las Vegas, does not know too much about her opponent. Instead, she leaves that up to her coaches. All she knows is that she really wants this win. She headed down to Mexico a few weeks in advance to prepare.
"Things have been going great," stated the atomweight. "I'm a planner, and I've traveled around the world quite a bit. I'm used to being in different places. Mexico is a second home to me. I've actually been in Mexico this year probably five times already. It feels like home to me. I don't feel strange, and I'm a planner, so I found a gym that me and my training partners could train at privately.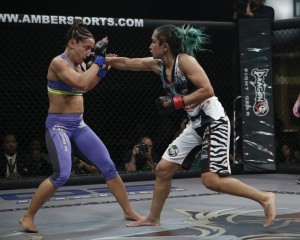 "And one of my friends, Heather Jo Clark, had a fight here, so I've been training with some of her friends as well. Of course, I do miss my home gym, Xtreme Couture. I do feel like there's no gym like it in the world, so I miss it a little bit, but it will be all right."
Rivera-Calanoc initially brought two training partners with her and then added a third. She is very focused on upsetting Lopez Silva on her home turf. She may not know much about her opponent, but this is not her first trip around the block.
"I feel like I'm more well rounded," Rivera-Calanoc said. "I've been doing this for 10 years, and my motivation for this fight is higher. This is just another fight for her. I mean, this is her hometown. For me, this is all I've wanted from day one, ever since I first started fighting MMA, because they didn't have UFC for women when I first started. So, all I wanted to do is fight in Mexico City. To me, that's where my ancestors are from. They were warriors and this is their spot."
A win in the atomweight division of Combate Americas is exactly what Rivera-Calanoc needs to achieve her ultimate goal of becoming the best atomweight in the world.
"I'm actually really excited about this promotion," said Rivera-Calanoc. "They've taken really good care of me. Their vision right now is to build up the 105[-pound] division, so they've recently told me they signed a bunch of new girls from all over the world — Japan, Korea, Europe, Mexico and all over the U.S. — and that excites me. My goal is to be the number-one 105er in the world, and they're going to bring all of the best 105ers together under one banner. I'll have to fight them one-by-one until I get to the super villain at the end.
"To me, it's important to be an international fighter [and] to extend my brand to other countries. I've already fought all over the world, and I want to continue that. I've fought in Japan, Puerto Rico, all over the U.S., and now I'm adding to my resume Mexico."
"The Night Queen" is in the past. Rivera-Calanoc views the last decade as a learning experience. Now that she is at Xtreme Couture and fighting in her ancestral homeland, she is a completely different fighter, one that will turn her opponents to stone as she climbs the ladder to international greatness. On Thursday night, fans will be able to see the changes firsthand when Combate Americas 10 airs live on UFC Fight Pass from El Plaza Condesa in Mexico City.
"I'm a complete mixed martial artist," said Rivera-Calanoc. "My style is aggressive and I'm fun to watch. I put forth my whole heart and soul into this training camp. I really want people to watch, because I'm very emotional about it. This will be the best me."
Rivera-Calanoc would like to thank herself for making the necessary changes, her family at Xtreme Couture, Robert Follis, her husband Travis Calanoc, Miesha Tate and her sponsors: The Float Sanctuary, Fighter Alias, Prototype Combat, Combate Americas, and Babes of MMA. Follow Nicdali on Twitter:
@Nicdali
---
Advertisement

---