Evolution is a term that doesn't get tossed around as much as it should in the world of martial arts. However, regardless of religious beliefs, nobody was created as a martial artist. It has always been a timely evolution of mind, body and soul.
Roxanne "The Happy Warrior" Modafferi was not always a great ground fighter – she worked hard over a long period of time to gain accolades in competition, while earning a brown belt in judo and a purple belt in Brazilian Jiu-Jitsu. She also wasn't always a talented MMA fighter who was good enough to make it onto season 18 of The Ultimate Fighter reality show – she worked her butt off over a 25-fight professional career, winning various titles and fine-tuning her craft. She has knocked people out, submitted them, and only been stopped four times in her now 31-fight career.
After her bantamweight run on TUF came to a close in November 2013, Modafferi returned to flyweight, where she had previously been, and started her run with the top all-women's promotion, Invicta FC. While TUF gave her some great exposure, Invicta seems to be the place where women fighters really identify their place in the fight world, and there was no better place for Modafferi to prove her decade-long evolution as a warrior. Things have been going quite well.
---
Advertisement

---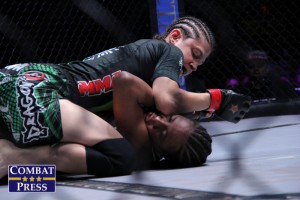 After six losses in a row, The Happy Warrior debuted with Invicta in September 2014 with a decision win over Tara LaRosa. She has since followed that up with a 3-1 run, which has landed her atop the Invicta flyweight rankings – in line for a title shot. On Friday night, live from the Scottish Rite Temple in Kansas, City, Mo., she will finally get that shot as she headlines Invicta FC 19 opposite the interim champ, Jennifer Maia. She is certainly one happy warrior.
"I was very proud of myself in my last fight," Modafferi told Combat Press. "I felt my overall skills, striking and grappling, have come a long way. I've been improving with every fight. I'm going to do more of the same in this next fight, and, hopefully, get a knockout.
"I've been working on my power, and we shall see. I've got a whole new bag of tricks I'm going to throw at her, so I'm trying not to stress about the fact that it's a title fight or the significance of everything. I just want to apply my technique to her, and I'm excited about that."
A few years back, right around her time of TUF, Modafferi, a Delaware native who lived in Japan as an English teacher, made the jump to Syndicate MMA in Las Vegas. This was a major evolutionary transition for her.
"I always train really hard when a fight is coming up," Modafferi said. "I can't wait to get in the gym and learn new things. My coach John Wood makes it exciting, and I learn new stuff every day. I also teach kids' jiu-jitsu. I'm the main instructor for the younger age group, which is age five through seven, and it's growing. Those are the things I'm really focused on."
One of the most underrated aspects of training is when a fighter can train others. Many dedicated fighters are traditional martial artists, and they get a lot more out of their own training when they can focus on the fundamentals. UFC welterweight contender Stephen Thompson has always said that training kids is the highlight of his camps, and it helps him get better in his own career. Modafferi is no different.
"One of the things I love the most is that, regardless of whether I've had a bad day or good day or whatever, they don't know and they don't care," said the decorated grappler. "They're just there to have a good time and have fun. It's my responsibility to be a good person and be a good role model and teach them stuff. It's awesome.
"I think it helps my maternal instinct, because right now, I'm single. If I were to have kids, I would want a proper husband and raise them properly. I'd quit my job until they get to kindergarten. I can't have kids yet, so I'm teaching other peoples' kids."
At 33 years old, Modafferi has plenty of time to worry about family stuff, but right now her primary focus is that belt on Friday night. This is no easy task as Maia is a very tough competitor.
It has been almost two years since current Invicta flyweight champ Barb Honchak took a leave of absence from fighting, and the flyweight division has been in a bit of flux. But, Maia and Modafferi have been climbing the ranks ever since. It was last March when the Brazilian striker was able to capture the interim belt, and Modafferi is finally getting a chance to prevent Maia's first title defense. She obviously knows about her opponent, but not as much as she'd like.
"I wish I knew more, frankly," Modafferi admitted. "I know she likes boxing. Her stance is kind of a boxing stance, but she's well-rounded and good on the ground, if you study her last fights.
"One thing that is going to be a challenge is her stamina. She's really tough, really durable, and has really good stamina. I've been doing a lot of cardio and preparing for that. I run stairs, I do burpee sets before and after practice, and I also do circuit training."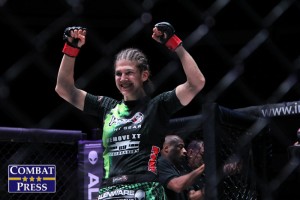 Maia, who trains out of the Chute Boxe Academy in Brazil has competed not only in MMA, but also in Muay Thai. She is a very tough brawler, who also has a solid ground game, so she will definitely pose a lot of challenges for the challenger. However, Modafferi has been constantly growing as a fighter, and she's ready to show off her evolved technique.
"I have some pretty cool tricks," said The Happy Warrior. "I hope to entertain the fans with some techniques. I have some surprises for everyone. Also, the weigh-ins – don't miss my weigh-ins, because I'll be dressing up with my coach.
"We'll be She-Ra and He-Man. I really wanted to do Xena the Warrior Princess and Hercules, but I was looking through the costume store, and I could not find Xena. I kept browsing and I saw He-Man – my coach loves He-Man – and right next to it, I saw She-Ra, and thought that was perfect."
One thing Modafferi has always been well-known for is her weigh-in costumes. Fans have seen a Jedi, Katana, and many more, and She-Ra just fits the bill. Her costumes evolve along with her fight game, so it only makes sense to represent "The Most Powerful Woman In The Universe."
Roxanne Modafferi has come a long way as a martial artist and a professional fighter. After the longest rough patch of her career, she is back to her winning ways, and has earned, through hard work and perseverance, a shot at the top flyweight title in MMA. It may be interim for now, but one can be sure that a dominant win over Jennifer Maia will certainly lead to either a unification bout or an all-out undisputed title. She could easily become the She-Ra of the women's flyweight division.
"Watch my evolution. Watch the evidence of my evolution. This is my third-year anniversary of coming to Syndicate, and I'm so much better than when I was on The Ultimate Fighter. I just watched my last fight from The Ultimate Fighter and it was so bad. I've really evolved, and I want this fight to show that."
Modafferi would like to thank all of her coaches and training partners at Syndicate MMA, including John Wood, Alexander Almeida, Mike Pyle and Tom Lawlor. She would also like to thank her family, friends, fans and sponsors: Dragon Do, Remove It Restoration and Catalyst Cryo Helmet. Follow Roxanne on Twitter:
@RoxyFighter
---
Advertisement

---