One of the most frustrating aspects of individual sports is when an athlete wants to compete, but nobody wants to face him. In most team sports or tournament-based individual sports, this is not really an issue, because the structure of the contest is never really just one athlete versus another. But, in fight sports, when someone commits to an opponent, that person is the only competition, unless one of them chooses to back out.
Fighters get ducked all the time. It happens everywhere from the amateur ranks, all the way up to the highest echelon of competition. Longtime Roufusport team member Gerald Meerschaert has experienced this firsthand.
Meerschaert is only 28 years old and holds a 22-8 record. He has only been to decision three times and has been active for the last year, but he has not seen the inside of a cage since July 2015, when he knocked out Lucas Rota in the third round of their Titan FC 34 bout.
---
Advertisement

---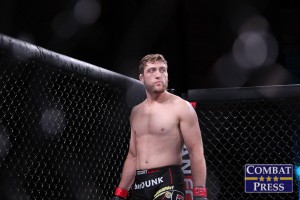 "I've been healthy this entire time," Meerschaert told Combat Press. "I haven't had any injuries and nothing's been keeping me out of training. I'm trying to fight people, but people aren't trying to fight me. That's pretty much what it comes down to."
The search never stopped for Meerschaert, who hasn't take much time off in five years. With the help of some teammates, and a drop-out by recently released UFC veteran Joe Riggs, the Wisconsin native will be back in action on Saturday night at Valor Fights 36, which takes place at the Gatlinburg Convention Center in Gatlinburg, Tenn.
"One of my teammates, Chris Wright, is from the area and knows [Valor Fights CEO] Tim Loy, so he put in the good word for me," Meerschaert said. "My other teammate, Mike 'Biggie' Rhodes, is always on Twitter scoping out fights for me. So, as soon as it came out that Riggs was out, Chris put in the good word and Mike put my name in the hat, and it worked out."
Meerschaert's first opponent in over a year will be a young rising star by the name of Sydney Wheeler. Wheeler is 5-0 as a pro, and all of those bouts have been under the Valor Fights banner. Wheeler holds the organization's middleweight title. He has earned three decisions, one knockout and one submission, which happened in his last fight and second title defense. Wheeler's title will not be on the line for this one, but it's not because of the short-notice replacement.
"It's at a catchweight of 200 [pounds], and to be honest with you, I don't ever get that heavy," Meerschaert explained. "I'm always in the gym and I'm always training, so I wouldn't have had that much of a problem making weight. When they approached me about the fight, apparently Riggs was having trouble making weight and said he couldn't do it, so they had previously agreed upon a catchweight of 200, and they wanted to keep that catchweight at 200, because I guess he said he bulked up to that weight.
"I don't have a problem with it. We fight at the same weight usually anyway. It's like B.J. Penn said: 'If you're going to fight somebody in a parking lot, it's not like you're going to ask them how much they weigh.'"
Meerschaert trains out of the aforementioned Roufusport camp in Milwaukee under the tutelage of longtime coaches Duke Roufus, Scott Cushman and Daniel Wanderley. He's not married or a father, so he pretty much lives in the gym and is always ready to go. Outside of his stable of world-class training partners, he also helped newly minted UFC welterweight champ Tyron Woodley prepare for his successful title win. Meerschaert is ready to take Wheeler to task.
"I don't know too much about the kid, except that he's young," Meerschaert admitted. "He's pretty new, and all of his five fights have been in the last two years, maybe. As far as the experience, I've got the edge. If they think he's ready for something bigger and they want to test him out, I'm definitely the guy to do that."
Meerschaert is primed for a shot at a big promotion. If he scores a solid win over the undefeated Valor champ on his home turf, it should open a lot eyes. Twenty of Meerschaert's 22 wins came by finish, he's never been knocked out, and his only loss in his last eight fights was to UFC standout Sam Alvey, who he had actually beaten once in the past. Meerschaert is on a three-fight winning streak and doesn't plan to bring an easy fight to Wheeler.
"I don't know what people expect," said Meerschaert. "I guess if you looked at my record, you'd expect to see a submission. I have five times the amount of submission wins as he has wins, period. I would think that they would expect me to take him down or something like that.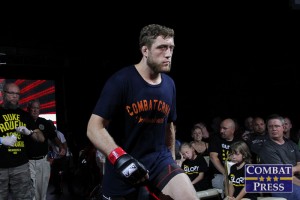 "But I train at a world-class gym known for its striking. In my last fight and a lot of other fights, I'm out here inflicting damage on people. In the few fights of his that I could find, I didn't really see anybody getting banged up, and even when he got a hold of them, it wasn't like he was really putting a beating on people. If I get a hold of somebody, I'm doing damage. The last guy I fought, he's going to look in the mirror for the rest of his life and remember. That's what I bring to the table."
Meerschaert actually brings a lot more to the table than just fighting. He works in a shipping and receiving warehouse where he loads and unloads semi-trailers, and he also happens to have a musical talent.
"I actually went to school for a while to be a music teacher, so I've got a few instruments I like to play in my spare time. My main instrument is the alto saxophone," he said. "I don't know if I have a favorite musician, but my favorite genre is blues and swing music. You know, when I work out, I need to listen to rap or something with speed. I love [blues and swing], but it's not really something you work out to."
Meerschaert is a man of many talents. He trains hard and is ready for anything, but it's unfortunate that he had to go over a year without a fight. In the last month, the stars finally aligned. Riggs bailed and the Wisconsin native will finally be back in the cage, ready to prove to the world why he deserves to move up to the next level of competition.
Meerschaert would like to thank all of his coaches and training partners at Roufusport, as well as his family, friends, fans and sponsors, including Combat Corner and Diamond MMA. Follow Gerald on Twitter:
@The_Real_GM3
---
Advertisement

---