Mixed martial arts is an ever growing sport. Compared to all the other major sports, it is still in its infancy. The more the sport starts to flourish, the deeper the pool of talent will get. In the lighter weight divisions, that pool seems to be the deepest, and it is not even close.
With so many young and talented fighters in those weight classes, it can be a daunting task to stand out from the pack and establish one's self at the top of the list. That is the predicament Austin Springer faces as he looks to ascend towards his ultimate goal of becoming a world champion. One thing Springer is certain will carry him above all others and ultimately to his goal is the confidence he has in abilities.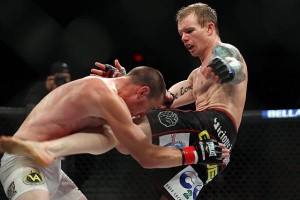 "There are a lot of things that I bring to the table, but I don't think a lot of guys have the confidence that I have," Springer told Combat Press. "There is a certain confidence that comes from my work ethic, the guys that you train with [and] from the coaches that you have and their guidance, and I don't think any of these guys have the ability to have the confidence that I have coming into a fight."
---
Advertisement

---
Springer comes into his next fight with an impressive 8-0 record. His opponent at Prime Fighting V, which takes place in Ridgefield, Wash., on March 14, is Ryan Mulvihill. Mulvihill doesn't bring an undefeated record like Springer, but he has one thing going for him: experience. Whereas Springer has a mere eight professional fights under his belt, Mulvihill has 18. That stat may cause people to automatically put a check mark for Mulvihill in the advantage column. Springer, though, is not buying it.
"Without sounding overly confident," warned Springer, "in fighting there are different skills levels and I think that, across the board in all aspects, I'm a couple of notches above him. That is not to say he is not a tough guy, because he is, but I think it goes back to the training and the mindset. There are a few people that are in the same place mentally and physically that I am. Had he never been finished before or been finished 100 times, the outcome is still going to be the same."
Having only eight fights to his credit up to this point in his career wasn't the way Springer had it drawn up. He started his professional career all the way back in 2007 and took almost a full four years to make his sophomore appearance inside a cage in 2011. That is a rare occurrence with any fighter, let alone for one that has as much promise as Springer does. Unfortunately for Springer, there were lots of moving parts that played a role in his long layoff.
"I was training at a gym — at the time it was called Braveheart Fight Club, but now I think it's Brave Legion — with guys like Mike Pierce, Rick Story and a couple of other high-level guys," Springer recalled. "It just wasn't the right fit for me — and for those guys as well, because they eventually left. I am all about constructive criticism and build[ing] someone up, helping them get better, pushing them, but doing it in a positive way and not in a demeaning way [and] putting somebody down. The coaching style there really ruined the passion that I had for a while.
"When I left there, I took time off and went back to school. I really enjoyed family time and being with friends. It took a little bit of time for that passion to come back. I started my own gym and the startup process of that took more time than expected. Plus a lot of other little projects that I had. But once there was a strong foundation with my gym, then I was able to put more focus on gym. Let others take over certain roles, and that allowed me to get my training in and get ready to fight."
Since making his comeback in 2011, Springer has been fairly active, including three fights last year and, of course, he already has his first fight scheduled in the first quarter of 2015. Springer hopes to maintain that pace this year and for the foreseeable future. Like most fighters, the more cage time he puts in, the more comfortable he will get.
"I love being active," Springer admitted. "The past couple of fights, what I did was put a little more pressure on myself. I have a lot of people around me that want to see me succeed and I don't want to let them down. So it got to the point where I did not want to lose, but where I am now I absolutely love to compete. I'm actually enjoying the whole process — the training, the grind and the healthier living.
"Now, it is not a burden at all, and now it's an enjoyment. Heading into the fights, I am actually looking forward to the fights and not worried about losing at all and [I am] having fun. That has made it a lot easier to jump right back and have back-to-back fights. I'm right back in the gym helping my teammates get ready for fights. A quick turnaround for me, as well, is good for my timing and conditioning, and at any point if I get a call I can fill in. I want to be able to do it with ease."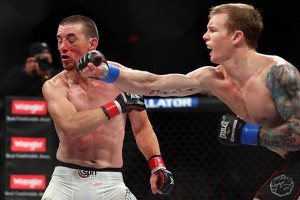 Not only is Springer confident inside the cage, but he is also confident with where his career will go from here. Springer feels he is at the cusp of reaching one of what he called his "short-term" goals. That, of course, would be reaching the UFC. Springer doesn't want to just make the UFC. He wants to stay there and make a run as one of the top fighters in the promotion. In Springer's mind, an impressive win against Mulvihill is the key to unlocking the door to the Octagon.
"The UFC is next," declared Springer. "I'm 8-0 with six finishes and a Bellator fight under my belt with a good performance. That is where I want to go, whether they call and say they need someone last minute or they just offer a contract, I know skill-wise and experience I am ready to go at that level. In the meantime, if I have to take another fight, regional or wherever, I'll do so to stay active because I am not just going to wait around for a call. But that is where I see the next path for my career."
Austin's fight and the entire Prime Fighting V card can be seen live via pay-per-view stream on
Combat Press
courtesy of GoFightLive. Follow Springer on Twitter:
@austinspringer
---
Advertisement

---