Why do you like the sport of mixed martial arts?
If you're like most fans and fighters, then it's the unpredictability. It's literally an anything-can-happen sport. Think about it. We've seen jiu-jitsu white belts submit black belts. We've seen knockout specialists put to sleep by grapplers. There have been crazy simultaneous knockouts. Two wrestlers face each other and it's a stand-up war. There are broken legs and fighters fighting with two broken hands. The list of improbabilities goes on and on.
DeAnna Bennett loves the excitement and the unknown. However, that unknown took her for a ride in her last fight. It was a battle of the unbeatens. Someone's "O" had to go. Bennett faced Livia Renata Souza for the Invicta FC strawweight belt. They had both recently beaten Katja Kankaanpää. They were highly touted grapplers — Souza is a black belt in jiu-jitsu and Bennett is an accomplished wrestler.
---
Advertisement

---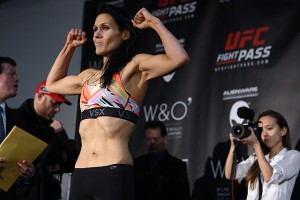 Most predicted a chess match on the ground. Many predicted Bennett to win. But those of us who enjoy such a bout and were looking for that outcome were sorely disappointed, and none more so than Bennett.
"It was a really low point for me," Bennett told Combat Press. "I haven't told many people this, but afterwards, I went to Costco and bought one of those shrimp party platters and I shame-ate it in the front seat of my car, partly because I didn't want anyone to see and partly because I didn't want to share.
"I was stunned. I never expected that liver shot, and she landed it just right. I tried to stay standing and couldn't and then I tried to get back and my body just refused to work. Shit happens. Well, actually I am glad it didn't happen, because I was wearing white shorts."
Bennett is able to joke now but you can hear the pain when she discusses the fight.
"Coach tells me it's rare that someone gets to be champ without experiencing a loss," said Bennett. "It's rare, and everyone loses at some point. If you still have that goal, then a little hiccup is just that. I have my goals. I want to own a belt for Invicta FC, and this loss isn't going to keep me from reaching my goal. If anything, it's making me want to work harder than I have been."
Bennett has competed professionally as an undersized bantamweight, a tall strawweight and an average-sized flyweight. She has taken on veterans and newcomers alike and dispatched all but her last opponent. She is able to go the distance, but she can also sink in submissions or find the TKO. She is well rounded and well prepared.
However, like most humans, she is still surprised at certain news. For example, the bookies are calling her next opponent, the well-respected and universally loved veteran Roxanne Modafferi, the underdog.
"I just found out I am the — what do you call it — overdog?" Bennett said. "I thought, 'What? No! That's my spot!' But I don't really pay too much attention to that anyways. I have always been the underdog and won, until I didn't. And a lot of places said that I would beat Souza and I didn't."
"The Happy Warrior" Modafferi has been fighting professionally since 2003. Her record sits at a modest 18-12. Modafferi has faced the best in the business and, early in her career, found success against them. She hit a rough patch before her stint on The Ultimate Fighter 18, dropping five bouts in a row, but she has been on a tear since being signed by Invicta FC.
Modafferi, like Bennett, hasn't always fought at flyweight. She was a fairly small bantamweight for a good amount of her fights. Since signing with Invicta and moving back to 125 pounds, Modafferi is 3-1 and out to make a case to be the next flyweight contender when she meets Bennett at Invicta FC 16 on March 11 in Las Vegas.
"I plan on making Roxy's friends lose money when they bet on her," said Bennett. "I plan on keeping them from making a lot of money off me."
Bennett is a fierce fighter, but she is really, really bad at smack talk. Almost as bad as Roxy. Modafferi's first attempt was a tweet urging her supporters to follow Bennett on Twitter. Then there was a tepid exchange where Modafferi almost made fun of Bennett's lactose intolerance. She stepped it up and told Bennett that she had been doing a lot of cardio, but Bennett never responded.
Modafferi got a little annoyed at Bennett's silence and called her out. Then Bennett did the strangest thing ever. She sent an image of Darth Vader offering "free throat hugs" (which was actually legit smack talk), but she apologized in the same tweet for her radio silence. Facepalm.
It's clear that Modafferi is a very respectful and kind person. It's highly unlikely that she will ever dis another fighter pre-fight, during or post-fight. And it's also clear that Bennett truly feels honored to be able to compete against Modafferi.
"That tweet is as close as I am getting to the pre-fight banter," said Bennett. "I am terrible at this to begin with, but… it's Roxy.
"After my loss, I wanted to get right back in the cage as soon as possible. So even though I made my run for the belt at 115 [pounds], I told Julie [Kedzie, Invicta matchmaker] that I would take anything at either weight. And with my shame-eating, it's a good thing that this is at 125. I did, though… I ate my feelings, and I had a lot of feelings.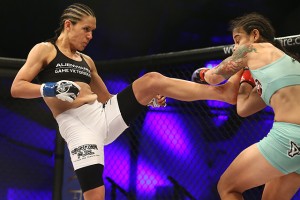 "115 is my home, I think, and I feel really good there, but 125 on a short notice is perfect. I just wanted [Kedzie] to give me a fight. When I heard I might fight [Modafferi], I jumped at it. Roxy is a well-rounded fighter and has been improving in every fight. The only way to prepare for her is to work on everything. As we all know, anything can happen and you really have to prepare yourself to work out of any situation.
"One of my all-time favorite fighters is Jennifer Howe, one of the true pioneers of the sport and the first female from Utah to make a name for herself. She is one of the true elders and will likely hate me for saying it that way, but it's true. She lost to Roxy, twice, and I really want to avenge those.
"After that, who knows? If I come away with the win, I wouldn't be opposed to making a run in the flyweight division. If I am given an opponent right away, I would take it. I just want to compete with the best and, I mean, obviously, I want a belt. But I don't care what division. We will have to see what happens. This card is very interesting — [Jennifer] Maia and [Vanessa] Porto are fighting for the interim [championship] because Barb [Honchak] needs some time. They are both amazing athletes. When I fought Maia, it was a close call and I know a lot of folks thought she should have gotten the nod. Maybe we will see a rematch of that fight. Who knows? But I know that Julie and the team at Invicta like to put good fights together."
Despite having fought for an Invicta title, Bennett still has a day job. She manages a team at Vivint Home Security and is very grateful that she is able to train as much as she needs and take the time off to fight. It doesn't leave time for much else except her dog, Atlas. But she's exactly where she wants to be and doing exactly what she wants to do. It's quite evident in her voice that she knows it too.
There is a steely strength when she speaks of her dreams and what she needs to do to make them come true. Even though she has been surprised and felt the pain of defeat, there is no fear in taking on the next challenge.
DeAnna would like to thank her coaches at Four7 Training, especially Jason Mertlich, strength and conditioning coach Austin Clint Carter, her chiropractor Dustin Drussell, and Warrior Fuel for always being in her corner. She also thanks Suckerpunch Entertainment, Vivint Home Security, her loving and devoted dog Atlas, and her also loving and ever-supportive family. Follow Bennett on Twitter:
@DeAnnaDBennett
---
Advertisement

---