Ernest "E.J." Chavez has been a professional mixed martial arts fighter since 2009. That is probably long enough to qualify him as a grizzled veteran. The 32-year-old California native certainly sounds like one when discussing his current career path.
"I just take it one fight at a time now," said Chavez, who has compiled a 9-2 record as a professional, in an interview with Combat Press. "The day-to-day is tough, but I just try to stay on point."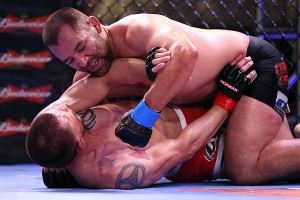 Chavez's current day-to-day routine involves splitting his training between three different camps as he prepares to face off against fellow lightweight Adam Townsend at the next card for Resurrection Fighting Alliance on Dec. 11 in Costa Mesa, Calif. Chavez described Townsend as a "very solid fighter."
---
Advertisement

---
"He will stand in the pocket and he will take guys down. He's good in every facet," said Chavez. "I have to work in every facet in order to beat him."
Chavez ventured into MMA as a hobby after growing up playing football, baseball and participating in wrestling. When he took kickboxing classes at a local gym to keep in shape, he was asked to come spar in regular boxing at a local gym.
"I was sparring better than others and I moved on to sparring with pros," Chavez said. "I started to beat them up, too. Then I ventured into jiu-jitsu."
Chavez initially held two jobs while beginning his fight career, but as the wins started to pile up, he realized he needed to commit himself full-time to fighting.
"You have to live the lifestyle, and I had to change my whole life," Chavez said.
He started his career with a 7-0 record, which led to an opportunity with the UFC. After a win against Yosdenis Cedeno in his debut at UFC 170 last year, Chavez was finished in back-to-back fights and was cut, but he still thoroughly enjoyed his experience in the UFC.
"I had a fantastic time," Chavez said. "That's the goal: to face the hardest competition."
Chavez also described his first UFC experience as more "nerve-racking" than competing on the regional circuit because of the commitments fighters have outside the Octagon. Chavez also noticed how the UFC invests into promotion and the fighters, as well as the opportunity to travel to countries like Sweden and Brazil.
"There are photo shoots and people are putting makeup on you, and there more interviews you need to do," Chavez said. "The whole fight-week experience is different, and the stadiums are huge."
If Chavez receives another opportunity in the UFC, he plans to alter his preparation and focus more on what he needs to do in order to be successful.
"I was thinking about what everyone else [was] doing and tried to target their weaknesses," Chavez said. "Now, I would have more of a grasp on what I need to do."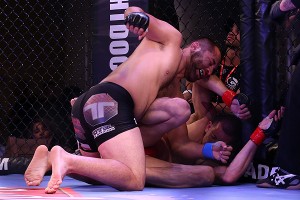 That includes taking better care of his body. Whereas Chavez would previously go through 20 or so practices to prepare for a fight, he now scales back to about 15 and takes the extra time to take care of his body through massage, ice and other methods.
However, Chavez is not taking it easy for his upcoming fight against the 14-3 Townsend.
"He's mentally tough and on a winning streak," Chavez said. "So he's going to be a tough guy to beat. I was knocked down a little bit, but I have to climb the ladder again and this is a good way for me to do it."
It's all about moving up the ladder. Grizzled veterans know how this works. It all comes one fight at a time.
---
Advertisement

---