Sometimes the stars and fate and destiny just will not be stopped. Sometimes things align just so. So much so that once the event has happened or has been set, it seems as if that was the only way it could have gone. Invicta FC 15's title bout is one of those events.
First, a little background. The first Invicta strawweight champion, Carla Esparza, went into the UFC, which left a vacant title. Finnish phenom Katja Kankaanpää defeated Stephanie Eggink at Invicta FC 8 to capture the belt, but lost the strap to Brazilian Livia Renata Souza during Invicta FC 12.
Kankaanpää looked to redeem herself and get back into title contention. After she lost the title, Kankaanpää faced DeAnna Bennett at Invicta FC 14. Despite Bennett coming in over the contracted weight, the fight went on and Bennett scored a unanimous decision win over the "Killer Bunny." The victory gave Bennett an unblemished professional record of eight wins and no losses, just like reigning champion Souza.
---
Advertisement

---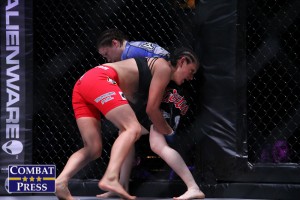 There was just one problem: Alexa Grasso was considered the top contender. However, it was announced that Grasso was still healing from the injury which caused her to pull out of her bout against Souza that was scheduled for September at Invicta FC 14. Souza deserved a chance to defend her belt, though, and Bennett was ready to challenge. Now, the two are set to meet in January at Invicta FC 15.
Could anyone imagine a better match-up? Souza is a well-rounded fighter, but she is certainly known as a grappler. She has seven submissions in her eight wins. Bennett, who has two knockouts and two submissions, is possibly even more well rounded, but she is certainly known for her wrestling.
Famous movie producer Samuel Goldwyn once said, "The harder I work, the luckier I get." Well, actually he is one of many to say something along those lines. Fate, destiny and luck are great to have on one's side, and the best way to do that is to prepare.
"It seems like I always have fights in December or January, so my fight camps happen during the holidays," Bennett told Combat Press. "I can't have a proper Thanksgiving meal with the mashed potatoes and gravy and stuffing and pie, so I actually watch my friends and family eat.
"I am watching my diet early and it's paying off. I actually weigh right now what I did when I arrived in Kansas City last time. I am so focused on the opportunity I have before me right now. I feel like this fight is a birthday gift from [Invicta President] Shannon [Knapp] and the Invicta team. I don't want to mess it up and I am not going to disappoint this time.
"It's kind of funny. We have both fought Katja. We are both 8-0. Souza is a tough fighter. She is a champion, and I need that to push me. I actually hope people see me as an underdog, and they probably do if they saw my last fight. I know I am surprised to be fighting the champ after my last fight. Alexa was hurt and I don't like hearing that, ever, but because of that, I get to fight for the title and I get to redeem myself.
"We are both 8-0, but come January one of us won't be. I am willing to put in the work and sacrifice to see if it will be her with the loss. I know I have learned from my last fight. Honestly, there was so much going on… It was the worst fight camp I have ever had. I scraped by and I got my arm raised, but I wish I had performed better. I think I definitely won the first two rounds, but in the third I couldn't even feel my arms and legs. I knew I wasn't going to let her submit or finish me, but I couldn't make my body do what I wanted to do. It's a horrible feeling to train for so long and realize that I could/should be doing more, but my body just wasn't with me. [I] wasn't responding like I did in training.
"I've never had that feeling before. I train at high elevation, so when we go to lower elevations I usually have no issues with my gas tank."
The fates had different ideas for her against Kankaanpää.
"I tore my MCL and wasn't able to train cardio the way we normally do. And with the drama from the gym, well, I know I was retaining weight due to stress. No excuses — I know what I need to do differently and I know what it's going to take in the gym to be prepared. I never want to feel mortal again," she said with a laugh.
Bennett knows what it takes to find success in the gym. The same is true in her day job. Bennett still works full-time at Vivint Home Security while also training full-time. This is hard enough to juggle, but now she is training for the Invicta FC championship while taking a promotion at Vivint.
"October was tricky. I didn't have a day off," said Bennett. "It's traditionally our busiest month and this is our busiest season, but they let me work around my schedule. I can regularly put in 50 hours a week, yet still get in every bit of gym time. It's exhausting, for sure, and I have to get really good at time management, but I love it. It balances out my personality.
"Sales is definitely not for everyone. I never thought I would do well at it [laughs]. But I get to talk to people and help them secure their homes, so it's a good way to earn a living even if we are the pesky people calling you.
"My team knows I am going to get a little testy and a lot 'hangry' the closer we get to the fight, but I haven't bitten anyone there, so there's that. I have bitten training partners, but they keep coming back for more.
"I choose not to have long fight camps, though. I don't want to lash out at people. But even when not in fight camp, I am in the gym. I don't take a lot of time off from there. It's easier to buckle down in camp if you don't go wild out of it. This camp, I have everything, especially my diet, on point already. There was some confusion with the date and I actually thought this fight would be much closer to New Year's Eve, so when they told me it was the 16th, I thought, 'Sweet! This gives me even more time to train and get the diet on point.' It's still not fun to diet throughout the holidays. I want pumpkin pie on January 17th. I don't care if it's frozen or not, I just want the pie.
"I know it's a little creepy, but I will watch my family and friends eat their holiday meals. If they try to eat mashed potatoes without gravy, I will put it on there for them. And if they eat too fast, I will ask them to slow down. Maybe this is why I have no friends [laughs]. Maybe that is just a little too weird."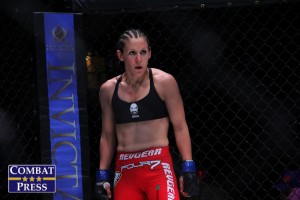 Bennett has a light-hearted attitude about life, food, driving in traffic (for the most part) and even for fighting and especially during weigh-ins. However, she's dead serious when it comes to her upcoming bout with Souza.
"She's got lots of different finishes," said Bennett. "She is a high-level grappler who can find submissions from any angle and she is strong enough to pull a lot of them off. She is tough, for sure, but I am excited for the chance to compete with her. I love jiu-jitsu! I actually taught a class at my old gym, and even when I am done fighting, I will keep training and competing in jiu-jitsu. I plan on sticking with it until I get my black belt. [Souza] has one, so I know I need to be wary, but I am excited to go to the ground with her when I can feel my arms and legs, hopefully. I know that is where she is going to want to go.
"To be able to fight her for the belt in California is a dream come true. I am from Northern California, so it's actually close for my family and friends to come and support me. It's even close enough to Utah that some of my team and friends from here can come to support me.
"But frankly, once you get in the cage, everything goes out and you focus on what's going on inside, not out of it. But it helps me now to know that I can prove myself to the folks that think I can't do it. I like being the underdog and it fuels me."
There are folks who think the fates are in charge of everything and that we don't control our destinies. Then there is Deanna Bennett, taking what life throws at her and making her own destiny by seizing the opportunities with both hands and punching the heck out of them and then choking the fates into submission.
Deanna would like to thank her sponsors: Warrior Fuel, Quest Training and her chiropractor, Dr. Drussel. She would also like to thank Austin Carter at C-4 Training, her strength and conditioning coach who puts up with her at 6 a.m., and her coaches at Four7Training: Jason Mertlich, Rad Martinez and Arnold Anderton. Follow Bennett on Twitter:
@DeAnnaDBennett
---
Advertisement

---