For every fighter who goes through a grueling training camp, sacrifices time away from loved ones, puts on the four-ounce gloves, gets stripped to the waist and then locked inside a cage to fight another trained martial artist, the main objective is pretty clear. That fighter is out to win a championship belt.
Alex Huddleston has put in the work. He has left his loved ones behind while he has traveled down to Coconut Creek, Fla., to train with the world-renowned American Top Team. The Bellator heavyweight contender has strapped on the gloves, stripped to the waist and stepped inside a locked cage seven times as a professional. He's come away with six victories. The training between Colorado and American Top Team has him well on his way toward a title bid. Undefeated Brazilian prospect Augusto Sakai is the next obstacle in the way of Huddleston's objective.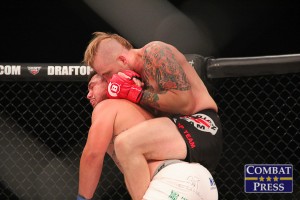 "I hope the win puts me closer," a confident Huddleston told Combat Press. "I don't want to be that guy that calls out anybody or tries to jump ahead of anyone. I want to earn my spot. I want to show and prove to them that I belong. I'll take it one fight at a time. I want to go out and get this one and then wherever Bellator tells me to go, that's where I'll head next."
---
Advertisement

---
Regardless of what happens against Sakai on Friday, Nov. 6, at Bellator 145, Huddleston is already a winner. That is, the winner of the best heavyweight nickname in the game. We thought, at this point, we might have heard all the wacky, yet somehow applicable nicknames in MMA. Boy, were we wrong. Huddleston's moniker of "The Shaved Gorilla" tops them all.
"It happened randomly," explained Huddleston. "My pro debut was on Titan FC, and I had a bunch of nicknames up to that point, like 'Barbarian' and such. When I fought in Japan, they called me the 'Giant Cyborg.' Then one of the guys that worked for Titan came up to me randomly and said to me, 'Man, you look like a big shaved gorilla,' and, for whatever reason, it just stuck. I'm not one of those guys that's super serious. I'm pretty mellow and relax, so 'Shaved Gorilla' is cool. It has a nice flow to it and it represents my personality a little bit. I'm just here to have fun."
Huddleston also has a well-rounded game to go along with his fun and very unforgettable nickname. Even by heavyweight standards, it is hard to ignore the well-balanced nature of Huddleston's record.
Out of his six wins, he has evenly spread the love out. He is the owner of two decision wins, two submission victories and two TKO wins. Generally, heavyweights are considered to be one dimensional fighters, but Huddleston seems to be trending toward a different path.
"I really like MMA," he admitted. "I really love this sport. I played a lot of sports growing up, especially in high school. I played a little basketball in college. So when I got into MMA, it wasn't about fighting for me. It was more about the sport. I wanted to learn everything about the technical aspect of the sport. I consider myself a jiu-jitsu guy, but at the end of the day it's MMA. So wherever the fight goes, I want to be well versed. I am prepared to handle any position."
Though Huddleston is honing his skills and sharpening up his toolbox to make his march toward a Bellator title shot, there is one thing that might be more intriguing than a fight against Bellator heavyweight champ Vitaly Minakov. That fight is against the 'Last Emperor' himself, Fedor Emelianenko. Bellator is expected to lend some of its fighters to compete in new Japanese promotion Razin Fighting Federation at the organization's New Year's Eve show, so it is not out of the realm of possibility that Huddleston, with a win next Friday night, could position himself as a potential option for the fight.
The sea of Fedor's potential foes for the show has been comical up to this point. Leaked info indicated that Emelianenko, who is arguably the greatest MMA fighter we have ever seen, would be fighting Jaideep Singh, a 1-0 MMA fighter from India who has a background in kickboxing. After major backlash, the promotion seemingly backtracked, and now there are recent reports that Razin is seeking a new opponent for Fedor because Singh is 'out of shape.'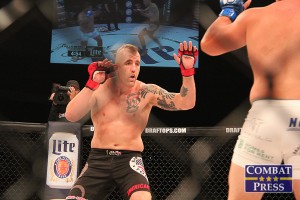 "Whoever Bellator asks me to fight, I'm going to fight 'em," said Huddleston. "It's one of those situations — how could you turn down an opportunity to get into the ring with a living legend like that? That guy pioneered the entire heavyweight division. I'd love to get a chance to fight Fedor. I would jump at that opportunity."
Huddleston might like to think about such a big fight, but he can't overlook his current opponent Sakai. Without a big win over Sakai, Huddleston's chance could slip away just as easily as it presented itself.
"Now that I'm in Bellator, I treat every fight like I'm fighting the best guy in the world," Huddleston admitted. "He is a very technical fighter. He's obviously done well, and he's done well in Bellator specifically. I treat him with a lot of respect. He looks like a really good fighter. I'll go where the fight goes. I'm not one of those guys that come in with a really strong game plan. I feel like in MMA anything can happen and if I go in there and my game plan doesn't shake out the way I think, I really feel like it would affect [my] mental game. So I try not to limit myself. Where the fight ends up, that's where we'll go. I feel really prepared."
There is certainly a lot on the line for Huddleston. He has an undefeated prospect waiting to hand him his first loss in a Bellator cage. He has the possibility to put his name in the spotlight if he advances past Sakai in convincing fashion and, however unlikely, earns a shot at Emelianenko. All he has to do is keep winning. Then, all the sacrifices will start to pay off.
---
Advertisement

---