So many products get better with age. Cheese, wine, whisky are three that come to mind. It takes a combination of the right ingredients, the right mixture and the right storage container to pull it off just right.
MMA fighters are no different. They need skills, talent, drive and the right coaches and environment, not to mention the good fortune to avoid injuries. RFA bantamweight Matthew Lopez has matured into a fine fighter and competitor.
Lopez was raised in Safford, Ariz., a tiny town with one high school. His father wrestled and also coached wrestling, so it was only natural for him to start wrestling when he was only four years old.
---
Advertisement

---
"I loved watching wrestling. So when I would go with my dad to practice, that was my play time," Lopez told Combat Press. "I would beg my dad to be able to stay up late to watch Monday Night Raw'. Sting was my idol.
"I loved WWE as a kid, and that is what kept me going in wrestling at first. And I didn't win a match, at all, for the first two years. I think that is what drives me now — losing every match made me hunger for success. I never went to my dad and said I wanted to quit. I wanted to wrestle the guys that beat me [and] to challenge myself to get better to beat them."
When it was time for Lopez to go to high school, his family moved from the tiny town of Stafford to Tucson so that he could go to Sunnyside High, a school that housed one of the best wrestling teams in the nation. Lopez distinguished himself there. He was the only wrestler, even from Sunnyside, to win four state championships. He was highly recruited and decided to continue his wrestling and academic careers at Arizona State.
"It was close to home and my dad has always been an ASU fan," explained Lopez.
But Lopez tore his ACL during his freshman year and then left school his sophomore year. He worked hard to get back in shape and was recruited again, this time by Cal State Fullerton.
"I had been to California before, but never Disney or the beach. I googled it — it's a little school," Lopez said. "But still, Monday school started and on Saturday I was dropped off in the middle of Orange County. It was like being dropped off in a foreign place. I was used to the ghetto in Tucson and the small town of Safford. But wrestling really helped me with the transition."
The transition from Arizona to California went well and Lopez earned his spot on the team. But just a month before the PAC-10 championship, he tore his MCL. Lopez took two weeks off and then started training again, but the coach had already made up his mind. Lopez was out and another guy was in.
Lopez's senior year felt like déjà vu, except it wasn't an injury this time. Lopez and his coach had a falling out and, despite Lopez earning his spot, the coach decided to let another teammate take his place in the PAC-10 Championship.
"I had been competing at 149 [pounds] with success, but then decided to cut down to 141 and was dominating," said Lopez. "But the lineup got shaken up, so I moved back up. Coach and I didn't see eye to eye on anything, but when he told me that he was taking another guy in my spot, I just… I just felt like it was taken out of my hands. I had goals. I had goals that I didn't get to complete.
"It was tough to deal with. I worked hard all year long, and just as it was time to show what I could do, it was taken away. It's like going into the UFC and winning all your fights, but never getting a title shot. I was angry.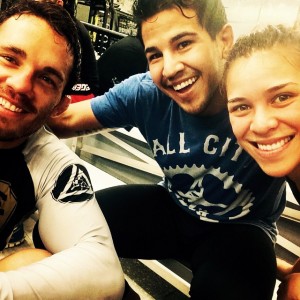 "I take a lot of responsibility, looking back now. I was a 21-year-old and doing things I shouldn't have. In a weird way, I wouldn't have been here right now. If I had success then, I don't know if I would be fighting now. It took a lot of maturing to accept my part. The competitor in me still says I could've won — I could've beat those guys. So now I am hungrier and I work harder.
"There wasn't one Eureka moment; time away from the sport helped. I didn't want to coach. I gave the sport 18-20 years, but once I started getting over that experience I found that helping kids helped a bit. Now I coach high school kids, and if I can help them, if my experience can help them — I have lived both sides of the coin — maybe they will listen and be smart."
After college, Lopez noticed a lot of his former opponents finding success in MMA. His friend, UFC and WEC star Dominick Cruz, encouraged him.
"After college, I was looking to do what you're supposed to do after college: get a job. And I had a bad taste in my mouth from college, so I wasn't focused on getting into a gym even though I was still a fan of MMA," explained Lopez. "But I had a friend in Tucson who was training for a fight and he needed to work on his wrestling, and so I helped him. Then my roommate was prepping for a fight, so I started coming to the gym. I mostly just started boxing and went just a few days, and my buddy said I should come to sparring. So there I am, only a few days of mitt work under my belt, and I am sparring at Mark Munoz's gym.
"A lot of people get into the sport of MMA for the wrong reasons. Fame is not my goal. My goal is to be the best, and this sport gives me the chance, an outlet to do it in combat. There were goals that got away from me and I won't let that happen again."
Lopez trained a very short time and then took his first fight. The thrill of victory and competition kept him coming back. He has put together an impressive pro record of five wins and no losses. Four of the five wins are finishes that came in the first round. His last fight was in April against Devon Turner on Turner's home turf of South Dakota.
"It was his hometown," Lopez said. "There wasn't a lot of video on him, but I really thought it was going to be a dog fight. But when it started, I noticed he wasn't willing to exchange with me. He didn't want to get close to me. [He was] staying on the outside. I had been working my Muay Thai and boxing, and I just knew I was going to take his head off. About a minute into the fight, I could hear the crowd start to boo. He was running from me, but I was able to take him down. He hit a sweep and we were back up, so I took him down again and he tried the sweep again and I was ready. I took his back and got the choke.
"I know my capability. I was surprised at how he approached the fight with me and that he didn't engage quicker. I don't want to get involved in a 15-minute war and win 'Fight of the Night' bonuses. I would rather get in and get out and win 'Submission of the Night' or 'KO of the Night' bonuses."
Those wins have set Lopez up for the biggest fight of his career. He faces Kevin Clark this Friday. It marks another visit to Sioux Falls, where Lopez fought Turner.
"The crowd in Sioux Falls is electric," said Lopez. "Last time they talked about it and talked the crowd up. I had been to North Dakota before. I didn't really think it was going to be as good as it was. They had like 5,000 people and crazy atmosphere. For the first time, I actually felt like I was in the minor leagues, Triple-A ball.
"I've watched videos on [Clark]. He is 4-1, but on a four-fight win streak. I like this guy and the fight. He is not afraid to get in and mix it up. He wants to fight, but I don't think he is on my level in any aspect. I can see this one ending with a KO or TKO. I know for sure I am better on the ground, but I prep for every aspect. I just don't see his skill sets better than any of mine. I hope it doesn't go long [laughs]."
The thing with wine is that once it's opened it starts going bad. It should be consumed that same night or, at the latest, a few days from opening. Maturing MMA fighters are different. They can keep getting better every time.
Matthew would like to thank his main sponsor, Steve Martin of Legacy Builders in Southern California. Without his support, Matthew says he would not be able to be as dedicated to his craft. He would also like to thank his boxing coach, Danny Perez, and his strength and conditioning coach, Jackie , as well as Casey Halstead at 10th Planet. Follow Lopez on Twitter:
@MatthewLopez135
---
Advertisement

---