Regions are known for certain archetypes. The midwest United States is known for hard-working farmers who produce the best corn, wheat and other grains, and their progeny seem to make the best wrestlers in the world. Resurrection Fighting Alliance veteran Andrew "El Dirte" Sanchez is no exception.
Sanchez's story is a little different, though. His father is from Cuba, for one. Sanchez also didn't wrestle all through high school, for another. To be fair, it was early morning when we spoke, but he couldn't remember why he stopped wrestling halfway through his freshman year and didn't wrestle his sophomore year. But fortuitously for him and his future college coaches, he returned to the sport for his junior and senior year.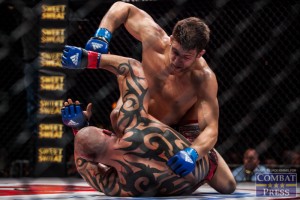 "Wrestling broke my heart my senior year. I made it to state, but didn't place. Looking back, I know it made me hungrier. I went to college looking to prove something," recounted Sanchez in an interview with Combat Press.
---
Advertisement

---
Sanchez wrestled at McKendree University, not far from home. He truly excelled there. He was a four-time All-American NAIA wrestler, two-time NAIA champion and was named the NAIA Wrestler of the Year. Yeah, you could say he made up for that loss at state.
"All through high school, I was overlooked," he said. "In football, the coaches had their favorites. I didn't make the baseball team. But in wrestling, whoever wins, wins. So even though I may not have been the coach's first choice, I was able to earn my way. No one expected it, and that makes my success in college so much sweeter.
"I am just a gritty, hard-working 'hillbilly' — that's what my coaches here in New Jersey call me. I have never been a great athlete. I didn't grow up going to the best gym. I come from a small town outside of the St. Louis area, and everything I have, I have earned. I have made it to the top on my own and that makes me want to work harder to make it to the next level."
Wrestling seems to lead to MMA nowadays. Sanchez took jiu-jitsu at an area community center in the offseason of wrestling. Then, after wrestling, there wasn't much else to do but train in MMA. He started training full-time at different gyms around the area, but he felt he outgrew the smaller gyms. He settled at Finney's MMA for the last few years, but felt the urge to expand his training. After a tour of a lot of different gyms, Sanchez ended up in New Jersey training at K-Dojo.
"I grew up in a small town outside of St. Louis and now I live 20 minutes outside of New York City," Sanchez explained. "I felt kind of stagnant with training, and I feel bad for leaving my coaches and teammates. This is great, though; it's an adventure. It was weird at first, for sure, settling in with all the Russians, but I am settling in.
"I am trying to pick up some Russian. I don't even speak Spanish. My father came from Cuba and he speaks it fluently, but he wanted us to focus on English. It would be great to speak more languages, but I find it very difficult to learn — maybe it's the getting hit in the head. I have a bad memory [laughs]."
Sanchez has a solid pro record of 6-2. His only losses come via a split decision to UFC and Bellator veteran Dustin Jacoby and a knockout last year at the hands of Kevin Casey. Sanchez rebounded from the loss to Casey with a win over Clinton Williams by TKO in the second round.
"That win was according to plan," Sanchez said. "I knew he was a striker, so I took him down and stayed in his half-guard for the whole first round. When I am on top of someone, it's very hard for them to get away. I will stay on top and beat you up and look to finish. He was just trying to control me — to work for a stand-up.
"In the second round, I landed a head kick and we scrambled. It's the transitions that leave you open; it's when you can catch a person. I held him against the cage and punched him out. It was a good fight — a smart fight for me. Coach says I should have tried to advance when I was on top, but I will never force the issue. I would rather punch you in the face until you open up. Patience. Smart fight.
"It's been a year since Casey caught me. In my head, I thought I would never get caught. This first fight back was reinvigorating. [It] put the wind back in my sails and gave me my confidence back. But that fight also gave me a healthy fear. I ran out of fear before my fight with Casey; I wasn't worried about getting hit. I was hands down, chin up, and I never want to have that happen again."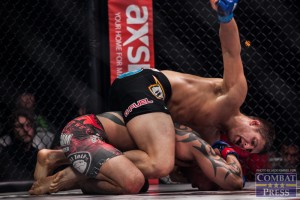 That last fight was more than just a morale booster. It earned Sanchez the opportunity to fight John Poppie for the vacant RFA middleweight championship on Friday. And he gets to do it in front of his hometown crowd in St. Louis.
"Poppie is a wrestler," said Sanchez. "I know he is the guy who wants to grab you. I watched some film — he walks in, grabs you. Now I know not to expect the same thing in every fight, but I still expect him to try to keep with his strength. I expect to out-grind him and put him against the cage. He is a decent wrestler, but I am much better at what he does, what he is known for. He is a tough guy, but doesn't have jiu-jitsu or striking for me.
"I am going to wreck him."
The farm belt has produced some amazing MMA stars: Matt Hughes, Clay Guida, Jon Fitch and so many more. On Friday, we get to watch another try to make his case for glory.
Andrew would like to thank K-Dojo and "Master K" Keshtov, Equine Altitude and his manager, Hector Castro. He would also like to thank all the coaches who have helped him along the way, and especially his mom and dad. Follow Sanchez on Twitter:
@ElDirteSanchez
---
Advertisement

---