Unbeaten in his first four fights with GLORY Kickboxing, Xavier Vigney has quietly, yet violently, been working his way up the heavyweight ladder. The 25-year-old American, nicknamed "X-Man," continues his rise on Aug. 7, when he stares across the ring at veteran kickboxer Daniel Sam. Sam will be Vigney's second straight opponent fighting out of the United Kingdom, though one that brings a different skill set from his previous foe, Chi Lewis Parry.
"He's a veteran, been fighting for awhile," Vigney told Combat Press. "He's fought a lot of the top fighters in the European circuit, so I have to respect his experience. He's a real solid guy, big strong guy, real powerful. But that doesn't mean that when I start to touch him up, I'm not gonna hurt him, because I am. I always have respect for my opponents. I have a lot of respect for Daniel Sam, but come Aug. 7 when we get into the ring, he's going to be in for a real fight."
Vigney has experienced a perceived lack of respect from his opponents leading up to fights. Before Vigney's previous four-man tournament for GLORY, Parry called him a bum, which led to a heated weigh-in confrontation between the two.
---
Advertisement

---
"I think as long as I keep winning fights and knocking people out, that respect will come," Vigney said. "If my opponents want to overlook me, then they're going to pay for that. It's like what Chael Sonnen said — he's overworked, overtrained and overlooked. Even my pro debut against Seth Petruzelli. He had a few things to say on social media. Even at the weigh-ins, he had a few things to say. He even brought like a stepping stool out and I got on the stool during the face off, so he was trying to talk. He was trying to play mind games, but for me that really doesn't do anything."
Vigney is fighting for more than just his opponents' respect, but for a sport that has played little brother to the European circuit for quite some time.
"Kickboxing is still a growing sport here in America and, for myself, I'm still growing in the sport," said Vigney. "I still have a long way to go in terms of my development and experience and so, for me, it's a good thing that as the sport grows here in America, at the same time I'm growing and developing as a fighter. It's an honor to be considered one of the premier kickboxers in America, and I want to represent the sport and the country in a good way. And I want to be able to earn respect for other American kickboxers, kinda like Joe Schilling has. I want to earn respect the same way."
Vigney is doing all the right things in preparation. He's traveling to get work in. Physically and mentally, he's making sure he's in top form when he competes.
"I just got done sparring with heavyweight boxer LaRon Mitchell," Vigney revealed. "He's an up-and-coming prospect. He's 8-0 with eight knockouts. He has a silver medal in the Olympic trials [and] he's a former national champion, so being able to work with a guy like that is really helpful. And I've come a long way getting work in and getting rounds in with LaRon. He's definitely someone that helps me out a lot. There's also another pro boxer I've been working with — Rodney Hernandez. He just fought on BKB [Big Knockout Boxing], actually, for the heavyweight title."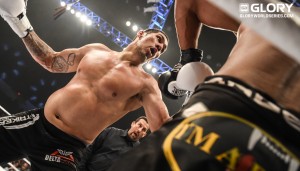 Training out of Team Black has enabled Vigney to be open up to a wealth of knowledge from athletes, and not just those in kickboxing.
"My coach [Dan Black] is a longtime friend with Nick Diaz, Nate Diaz, Jake Shields [and] Gilbert Melendez, so we spend time training with those guys as well," Vigney explained. "Even though they're not heavyweights, just being around them, being in that environment, is a good thing because they're all at the pinnacle of their sport. And just to be around guys like that — to be around them and see their mentality and how hard they work — I learn something from that as well.
"I have sparred with those guys, too. Even though there's a weight difference, it's still good work. We just do it just to get the work. We're not there to take each other out. I'm not there to take them out. They're not there to take me out. We're just working, trying to help each other [and] push each other."
Vigney hopes his efforts will continue to pay off when he steps into the ring on Friday in the GLORY 23 co-headliner.
Xavier would like to thank his team, Team Black, as well as his primary training partners for this camp, LaRon Mitchell and Rodney Hernandez. Follow Vigney on Twitter:
@XavierVigney
---
Advertisement

---