It's comical to be walking around an urban area surrounded by professionals and hear people speak of how "busy" they are. Busy is a relative term. For the millions of corporate stooges who inhabit the offices of the major metropolitan areas, busy means very few things — busy work for "the man," school events for children, meals and chores. It's a miserable existence, and one of the reasons that interviewing professional fighters is such a fulfilling endeavor.
Veteran striker and newfound MMA fighter Joe Schilling is busy. He's got all the same pertinent statistical data as the corporate stooge. The Los Angeles-based Ohio native has a fiancé, two kids, a gym and a career. At the time of one of his most recent interviews, he was on his way to an all too familiar event.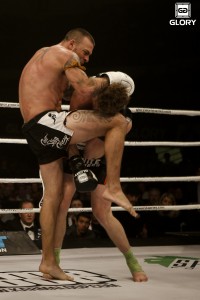 "My kids went back to school," Schilling told Combat Press. "I'm actually on my way to a parent-teacher conference right now. My youngest son just started first grade."
---
Advertisement

---
Schilling has two boys. Joe is nine years old and Jax is five, and it's not every day that you hear a two-sport combat athlete talk about going to the good ol' parent-teacher conference. However, that's a very small part of his day.
In 2015, Schilling has already fought three times, once under GLORY and twice under Bellator, with another fight coming up this Friday night at GLORY 24 in Denver. The gym that he and his coach, Mark Komuro, own is called The Yard, and it is primarily a striking gym. So while training for Bellator, he traveled to get in some more extensive MMA training. Needless to say, the guy is all over the place.
"I was training with Nick and Nate Diaz, and I was out there a lot this past year," Schilling elaborated. "For this camp, I've been training at The Yard. We've got a lot of great sparring partners and nutritionists. I started training with Nick Curson on my strength and conditioning. It's been great."
At GLORY 24, Schilling is headlining an event that was originally supposed to showcase the rubber match between him and Artem Levin. Levin, like Schilling, is one of the highest-ranked kickboxers in the sport, and each one owns a decision over the other. Both of those fights happening in GLORY tournament finals. However, Levin pulled out soon after the GLORY 24 card was announced, and Schilling was matched up against another Dutch fighter instead.
"It was pretty disappointing," Schilling admitted. "That was a fight they offered me, but he pulled out, and it is what it is. Jason Wilnis is a tough opponent — a top-three [or] top-four guy in the division — so I'm training really hard for it and I'm excited."
With over 30 kickboxing matches under his belt, Wilnis has become a seasoned vet in a very short period of time. Both he and Schilling have been training in kickboxing since age 17, but while Schilling is currently 31 years old, Wilnis is only 24. The Dutch fighter actually has more professional bouts in about half the time.
"He's got a lot of power and he comes forward," said the American. "He's pretty much in your face and he's a tough guy with a very high-level Dutch kickboxing style. He's got a lot of power in his hands and his legs, so it should be a good fight."
GLORY 24 is certain to provide an exciting night of fights. Schilling never looks past an opponent, but he's still under contract with Bellator as well, and he doesn't see any breaks in the near future.
"This past year, I fought almost every other month, so I assume I get right back to it with Bellator and GLORY," Schilling explained. "For whatever reason, Artem Levin pulled out of the fight, so, hopefully, he's feeling better and, after this fight, we can get the November match together. I just know I'm going to be busy and be fighting."
Busy indeed. And as if he didn't have enough on his plate already, Schilling has another endeavor in the works.
"I've been doing some acting recently, in some commercials, and that's been going kind of good," stated the pro fighter.
While Ronda Rousey may have a dual career between fighting and acting, she does not own a gym and does not have any kids. One has to wonder how there are enough hours in the day for Schilling to cover all of his bases. Enter Cina Brown.
Brown is Joe's fiancé, and she also takes care of their kids, has a small business of her own, and is the backbone of their household.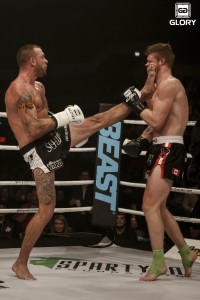 "She's the mom of the year," Schilling admitted. "She handles all that stuff and even does the laundry. She does everything."
A lot of professional fighters have families. In fact, with the aging population of veterans in the sport, some of them even have kids who are starting to find their way into the martial arts themselves.
"My youngest is really into it," said Schilling. "My oldest is not really into it that much. My youngest is training. He's been around my gym since he was two, and he just started karate as well. He's all into it.
"I think karate is a good way to learn the martial-arts way and discipline. It's fun to watch how he is with his instructor. It's great to see the martial-arts process from a father's point of view."
At this point, the conversation was coming to a close. Schilling has a huge fight coming up that will be televised on Spike TV. He's got a gym and a potential Bellator match-up on the way too, but right then it was time for the parent-teacher conference. Hopefully, the teacher had nice things to say about his youngest.
Schilling is a busy, busy guy, but as fight fans have seen time and time again, he means business when he's in the ring. Business is about to go down this Friday night at the Magness Arena on the campus of the University of Denver, as Schilling and Wilnis headline GLORY 24.
Schilling would like to thank his coaches and training partners, family, friends, fans and sponsors: Fire Brand, Affliction, Hayabusa, Pain Away, Moon Mountain, Ascent and Can't Stop Crazy. Follow Joe on Twitter:
@JoeSchilling187
---
Advertisement

---