There are certain moments of a fighter's career that a fighter will never forget. Their first amateur fight, for example. If they're skilled enough, then their first pro fight too. Tasting the thrill of victory for the first time is another moment that stays with a fighter.
Pannie Kianzad has been able to experience all of those events, but she was able to add another milestone to her career on July 10 when she made her Las Vegas debut. It was also her debut in the United States and her first fight outside of Europe.
Fighting out of Sweden, Kianzad made her first Invicta appearance after amassing an impressive 7-0 record, notching a win against top fellow bantamweight fighter Milana Dudieva and then capturing the inaugural Cage Warriors women's bantamweight title. With Cage Warriors hitting the pause button on its promotion, Invicta FC quickly jumped in and signed Kianzad to its already talented bantamweight division.
---
Advertisement

---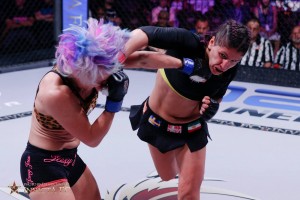 Fighting in front of an American crowd for the first time, Kianzad was excited to make a statement and wasted little time in trying to do so. At the Invicta weigh-ins, she came out donning an American-themed bikini and a cowboy hat, making the stage seem eerily similar to a fashion show.
"My idea was completely different," Kianzad told Combat Press. "A few weeks back, I was determined to do my weigh-in in a completely techno outfit. Yeah, I was going to do the shiny bikini clothes, like really trash with buffalo shoes and everything. I still have the buffalo shoes in my locker at training, because I was going to do this real neon, real techno thing. But then my coach said, 'No, that's just tacky,' and when I showed him my idea, he was like, 'That's trash in a bad way. You should do like cowboy trash — like American trash — because I think you will look good in that.'
"I tried to convince him my idea was cool. I told him to please let me do this, and he was like, 'I don't think people will like it,' and I was like, 'Are you kidding me? This is awesome!' My coach isn't into the whole techno thing and said people in the States aren't also. But I'm from Europe, [so] who cares!? My coach always fucks up my ideas. But the techno thing would work, right? It'd be cool, right?"
I'm still trying to comprehend the idea of a fighter going full techno in a weigh-in when she asks this question, and the best response I could come up with was, "It'd be different, I guess."
That was enough to convince Kianzad.
"Fuck it, I'm doing it next time," she replied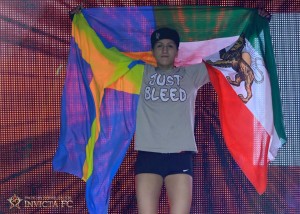 If the weigh-in wasn't memorable enough for Kianzad, her introduction inside the cage was. Standing across the cage from opponent Jessica-Rose "Jessy Jess" Clark, Kianzad, with the pre-fight nerves gone and the three-round battle about to commence, experienced an embarrassing moment that she was glad nobody picked up on.
"I'm ashamed to say it because it's so ridiculous," said Kianzad. "It's a funny story. I'm in the cage and she's getting introduced, and while she's getting introduced, we have, like, this intense look. We both want to win and we don't want to be the first one to look away. I'm pretty excited. I'm jumping around and pointing at her like, 'Fuck, I'm going to eat you.'
"And then I get introduced and I'm moving because my coaches are telling me to keep moving, don't stand still. That's when I trip on my ankle. Jess doesn't notice, but I can feel it and I'm like, 'Fuck, that will hurt me in like 20 minutes; that will be painful.' I can feel that I sprained it right away, but I didn't think about it anymore because I had so much adrenaline in my body. But I did that to myself, and that's the only injury I have coming out of the fight."
Despite her self-inflicted injury, Kianzad continued her impressive run as a fighter by defeating Jessy Jess that night via unanimous decision. The win bumped the bantamweight fighter up the list of possible contenders for current champion Tonya Evinger. Coming out of the fight healthy, Kianzad can be expected back in the States shortly, where she's sure to continue putting on a show in and out of the cage.
---
Advertisement

---