In approximately 380 days, Rio de Janeiro will be the host city for the 2016 Olympics. It's a challenge, a journey and an honor for those who commit their lives to becoming an Olympic hopeful. Whether it's swimming, judo, rugby, golf or wrestling, many athletes are basically bred from birth to represent their country and have a chance at the illustrious Olympic gold.
The Olympics were going to be the first choice for Bellator welterweight contender Chris Honeycutt. However, the timing was not on his side.
"My brother was a wrestler in middle school and he's five years older than me. I wanted to be just like my brother, so I started wrestling at four," Honeycutt told Combat Press. "I got into a little pee-wee program on the west side of Cleveland. Then I ended up going to Boston wrestling, came back to St. Edward, went to Pennsylvania wrestling college and excelled at it. So I just stayed with it, and the original plan was to make an Olympic run before going to MMA, but I didn't want to wait until next year to start my MMA. So I started three years earlier and I was like, 'You know what? The Olympics; that is what it is.' People want to compete for that, but I really want to fight. And I chose that right before my national finals match.
---
Advertisement

---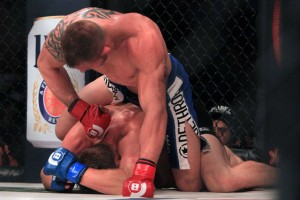 "I started fighting three years ago, but yeah, two years of actually stepping into the cage and competing. It took me at least a year to learn how to fight — to get the concept of mixing my wrestling into striking and knowing how to check kicks. I literally didn't do anything before. I was a 100 percent wrestler. I maybe did maybe a half dozen jiu-jitsu practices before I graduated. Other than that one month I spent in California before my senior year figuring out that 'is fighting really for me?' Because you don't really know, until you get into the sparring ring and you get hit in the face, [whether] you're going to hit someone back or just take them down. You know, just to figure it out before I moved all my eggs into one basket and moved out to California.
"When I was 18/19, I wish I would have did some boxing and some jiu-jitsu in the summer like kids are doing now while wrestling in college. Because then I would have been ahead of the game already and wouldn't have had to wait an entire year before I could start competing. But that's a big learning curve. They say it's fast, but I'm used to being great at everything that I do and you can't just become a great fighter overnight. It took me a good eight, nine months to really figure it out. And now that it's been three years, I feel like I'm really honing in on my true potential. In a couple more years, I feel like that I will be a total rocker. I mean, I don't even know what word to use to describe it, but I feel like in a couple years it'll just be like I'm wrestling Division III guys and beating the shit out of them."
It seems that Honeycutt made the right decision. He made his professional debut just two years ago and has amassed an impressive 6-0 record with five finishes. Honeycutt originally spent the first year in the MMA world at a weight class higher than the one in which he currently competes, winning the UPC middleweight title in the process. It wasn't until his Bellator debut last September that Honeycutt was able to make his presence known in the welterweight division.
"Well, I was always planning on being a welterweight," Honeycutt admitted. "The only reason why I was a middleweight was to get some experience. I needed a fight. I was 210 [pounds] in college, and I was real bulky and muscular. I knew that it was going to take some time just to get my body to adapt to being a welterweight. Up until Bellator, the last time I had made 170-anything was as a sophomore in high school, and I had cut down from 182, 183 then. So, really, the only reason I was a middleweight for those first three fights was because I couldn't make 170 at the time. But I can now, and it's getting better and better with every fight."
Honeycutt will have his hands full at Bellator 140 on Friday when he takes on Paul Bradley, a seasoned veteran with almost five times as many professional MMA fights as Honeycutt and 10 more years in the game. Most fighters and fans tend to put a lot of weight into how many fights a fighter has and the tenure of their career. In any other sport, it would look like a mismatch on paper, but therein lies the beauty of MMA. Intimidation, though, will not be something that Honeycutt will be suffering from come Friday night.
"I'm a little nervous coming out, but as soon as I get in the ring, all that emotion goes out the door and the only thing that I want to do is get my hands on the person across from me, regardless of who it is," Honeycutt explained. "I just want to take care of business. I'm not in there to showboat and have a good time. I'm in there to put on a show and leave healthy with my hand raised, preferably on the TKO. I don't want it to go the full 15 minutes. I train for an hour fight, but I only want it to go 10 minutes if I have to. He might have a little advantage for the first few seconds or so, but I say, because we are both wrestlers, we kind of equal each other out a little bit. But after about two and a half minutes, I feel like if I were the stock, I would be growing, because I'm 10 years younger than him. I'm only two years out of college, so I have that left in my mindset of just not only am I going to compete now, I'm going to compete again and again and again and again.
"My striking is remarkable. So if we neutralize each other on our feet, I feel like I'm dominant as far as the striking goes. I'm sure he has a little more confidence in the striking than me, but I've seen some of his fights and he doesn't show crisp, solid striking ability. He's a wrestler. He hasn't really transitioned into being super comfortable because he can get away with so much wrestling. Early on in the camps, I force myself to be a stand-up fighter just so I can make myself get used to it. At the end of the day, I'm still a wrestler too.
"That's what's going to make this fight really good — because Paul is a wrestler like me. I mean, obviously, he's been fighting for 10 years longer than me, so maybe he has gotten used to the breaks in between flurries of combinations, but I'm not used to that. I'm like, 'Why would someone ever want to back out?' I'm a wrestler. If you backed up more than two steps, you got hit with a stalling call or even the other guy gets a point. It's built in my mind frame that I must go forward and I must destroy and hunt you down every second of every moment because I'm not willing to let someone out. Why let him catch his breath for 10 seconds when I don't need to catch my breath? Because with my cardio and having youth on my side, if I am tired, I can only imagine how tired my opponent will be, especially Paul, with all that muscle.
"I remember when I first moved out to California, I was still in good shape. I wrestled for hours on end, but I would get so tired because I had so much muscle. Not that I would be physically tired, like huffing and puffing, but my arms would be drained and my shoulders would be all tight. I feel like Paul is that way. So don't expect me to let Paul up or get any free breathers by any means. He'll have his hands full and I'm sure he's prepared for it, but who really knows what they are getting themselves into until it's time."
In recent weeks. Bellator acquired highly decorated wrestler and possible future UFC Hall of Famer Josh Koscheck. The new acquisition is sure to shake up the division, but it has another meaning for Honeycutt. Koscheck just happens to be one of his main training partners and coaches at Dethrone out in Fresno, Calif.
"It helps a lot having Koscheck in the gym," said Honeycutt. "He's a black belt and he's a wrestler, and he's made that transition. If anything, I'm getting like the cliff notes on how to become the MMA-fighter wrestler. He knows all the ins and out of everything. I think once he told me he was jealous because he had to work so much — and not that I don't have to work for anything; I work my ass off — but what I need is like handed to me. I need this, and I work just as hard and it's handed to me and I can run with it. I don't have to waste my time doing things that really aren't that important. I can do exactly what needs to be done and I can put 100 percent of my efforts into exactly what's going to make me the best as fast as possible. I'm very fortunate to have a guy like Koscheck have me at his gym and go out of his way to show some interest in my career as well. I feel like a lucky kid, except I'm an adult now."
As has been demonstrated in recent history, it is not unusual for teammates to have to fight each other. It has become part of the business. For example, look back at UFC 187, where heavyweights Travis Browne and Andrei Arlovski were matched up. The emotion could be seen on both men's faces following Arlovski's triumphant knockout victory. So what are the odds of Honeycutt being paired with Koscheck?
"You know, they just asked me that question in another interview, and I don't know if they would ever match us up," Honeycutt confidently told Combat Press. "We have the same manager, and they have had guys fight who had managers on both sides, so I won't say it's not entirely possible but I don't see it happening. Josh has been there since day one of my birth of MMA, and I look to him as my… well, he's not my main coach in the gym, but when he's not in camp, what he says I put as priority over any other coach's input. He knows what the hell he is talking about, and he's a black belt and he's got all the credentials. The only time he's not a coach to me is when we're both in camp or he's in camp, because then he's got to be focused on himself. Other than that, he coaches me.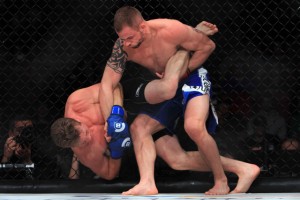 "You know, me and him never had that conversation, because he's only been signed for a couple weeks now and I'm in camp. So that's not something I really want to think about. Maybe after this camp I'll bounce some ideas off of his head and see what he thinks about it, but I truly don't see it happening, because it's not like I was a fighter and moved to Dethrone because he's here and we're training partners. He's coached me, but then again it's a job, so I can't rule anything out. I don't want to say yes, I would fight my coach, but at the same time, because it's a job, if somehow we could work something out…"
For now, Honeycutt has put all thoughts of any possible fights out of his head as he prepares to take on Bradley. However, Honeycutt does have his eyes on something else on the horizon. At Bellator 141 in September, the tournament format is making its way back to the light heavyweight division.
"If they did a 170[-pound], one-night tournament, I would ask to be in it. I would definitely be all about it. It's only in my benefit to fight a second, third, fourth or fifth or whatever it is fight. Most fighters only fight to fight one fight unless they were a Division I wrestler or a wrestler period. They don't even think about doing it twice in the same day.
"It's in my hard drive to go forward and push. So regardless of whether I get hit hard or not, I'm still in it. The only way I am going to stop is if my light switch gets turned off, which I don't see happening because [of] my head movement and I keep my hands up. And, like I said, if he overcommits on a punch because he wants to hit me hard, then I have the greatest opportunity to pick him up and slam him on his head to show him that you can't be a bully with all of that muscle. You gotta put some technique behind that.
'I decided that I want to get in the ring and beat people up now. I don't want to wait till later, and it's never too early to start."
Chris would like to thank Zinkin Entertainment, his managers, Josh Koscheck for being his main training partner, coach Marcos, his boxing coach, his friends, family and fans for all of the support. He would also like to thank Dethrone Royalty and OakGrove. Follow Honeycutt on Twitter:
@ChrisTheCutt
---
Advertisement

---