Under the regime of company head Scott Coker, Bellator has done an incredible job of bringing back the Pride-esque introductions and walkouts. Coker has really upped the entertainment value while re-introducing fans to the days of old. Many of these walkouts are flashy. Some show off previous victories or wars that a fighter has been in, and they offer an opportunity for fighters to get creative. One man has been doing that for quite some time. Dave "The Caveman" Rickels really is the pioneer for Bellator when it comes to creative and entertaining walkouts. He has shown the fans that he can break out of boxes, stroll up like the Flintstones and even have a dinosaur accompany him to the cage. It's something that fans and his employer appreciate.
"They love it man. They love my walkouts," Rickels told Combat Press. "I'm not so sure about all these other guys. I put fun and creativity into mine, and theirs are usually very boring and lame.
"You just know that the Caveman is bringing the entertainment to Bellator 139, which is [near] my hometown [Derby, Kan.], and I can't have a fight in my own hometown and not do something fun. So I got a little something planned and it'll be a good night for everybody. Just know that when I fight, there will be something epic going down."
---
Advertisement

---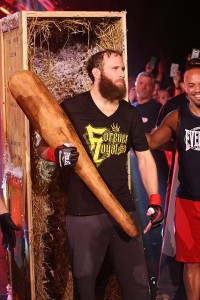 Rickels is no stranger to fighting near his hometown. In fact, he has fought in Kansas three times in a row, with this marking his fourth trip. In that span, Rickels has been victorious two out of those three times, with his only loss coming to Patricky Freire at Bellator 113 in March 2014. Rickels went on to defeat Davi Ramos at Bellator 130 in October. He attributes the victory to his fans.
"I absolutely thrive off of the energy," Rickels explained. "You know, I got into fighting because I like — as crazy as this sounds, and I don't know if you guys can tell — but I like attention. I like to be seen. I like to entertain. So when all eyes are on me, that's absolutely what I want, and Kansas Star Casino is the perfect place to do that. Every single person there is cheering me on — 98 percent — except for the few girls that I have probably pissed off at some point. It's just cool to do it at home because you know that everybody is cheering for you, but damn I haven't been anywhere where I haven't gotten a reaction out of the crowd. Got that home-field advantage."
Rickels will be looking to use that energy when he takes on seasoned veteran John Alessio at Bellator 139. Alessio has fought a who's who of mixed martial artists. He debuted at age 20 at UFC 26, which took place 15 years ago. Going into this fight, Alessio will certainly have the experience behind him, but with experience comes age. Alessio is 10 years the elder of Rickels and hasn't fought in over a year.
"I personally think, in all honesty, that maybe a year off for an older guy like himself would probably be a good thing," Rickels said. "He's letting his body recover, you know, and at that age, being 37 or so years old, man, I'm not sure that he could fight every weekend like I could right now. But the thing is, he's seen a lot. He's got a lot of experience. That's kind of where my dinosaur reference came in [during the Bellator 138 interview]. He's been around for a long time and he's seen a lot. I don't think that there is a whole lot that I can bring to the table that's really going to blow his mind, but I think my pressure and my explosiveness, a lot of these things that I carry as a 'youthful contender,' shall bring me to victory."
While Alessio has had over a year layoff, the "Caveman" isn't far behind. Rickels last victory came in October, but it was in this time off that Rickels had a revelation.
"Man, I been doing a lot of things differently. One is not being a fatass," Rickels said with a laugh. "I've adapted this strange idea between training camps of not drinking heavily and eating fried foods. I decided I want to be a professional fighter, so I have kept my weight down and I started this training camp at 180 pounds, as opposed to 210 pounds in previous fight camps. I'm taking things more seriously, man. I've been doing three-a-days, climbing mountains and doing high-altitude training. It's really helping to see my body change. I decided I don't want to ever work at Taco Bell, so I better start fist-fighting good."
That's where Caveman Evolved was born. The short video documents Rickels in his latest training camp and chronicles the amount of hard work and determination he has put into this endeavor.
"I'm always thinking of ways to promote myself," Rickels explained. "If you are a smart fighter, then you are always trying to get the eyes on you. You're trying to promote yourself as a brand. So Caveman Evolved is just showing people exactly what I have been doing. I'm taking things to the next level and I'm evolving my game. Why not show everybody with a 10-minute video?"
One of the new things Rickels has added to his training regimen that can be seen in the video is something called "floating." It's not for the physical conditioning, but the mental game.
"For anyone who doesn't know what floating is, [it's where you] lay in a pod that's soundproof [and] completely dark, and you float on water — so laying there floating on this water with no sight or sound, no senses," the fighter explained. "I just get to relax, man. It really helps me relax. It really helps me focus and think about who I am, who I want to be, what are my goals, how do I kick John Alessio's ass, those sort of things.
"A lot of fighters don't focus on how important it is to focus training on your mind. If your mind is not in it, you can be a supreme athlete, 100 percent conditioned and ready for a fight, and you will not perform to your full potential. Being mentally sharp is important for your timing and mixing things up. Everything."
Fighting alongside Rickels this Friday will be his mentor and fellow fighter Joe "Nose" Wilk. Wilk will take on Bubba Jenkins in what looks to be a very exciting fight for both fighters. Wilk and Rickels have an extensive history and helped each other prepare for their respective fights. Without Wilk, Rickels would not be the fighter that he has become today.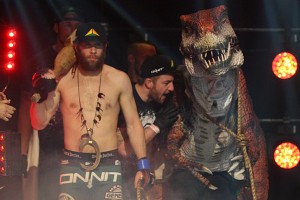 "Joe Nose!" Rickels exclaimed. "We have helped each other get ready. We're always helping each other. Unfortunately, we used to live… I used to teach kickboxing at a gym, so we used to live together and we used to train together every day. He's really like a mentor to me in this game. With us fighting on the same card, it's just really awesome. We haven't gotten as much training in as I would have liked to for this fight, but this is the sharpest Joe that I have seen in a while. Joe looks really good right now and I think he provides a lot of problems for a guy like Bubba Jenkins. I think he presents a lot of problems. He's got slick jiu-jitsu and he likes to scramble, and he's not afraid to dish it out on the feet either.
"When Joe Wilk grabbed me up, I was still living in Wichita and he told me to move to Manhattan and showed me how to really train. Before that, I was basically drinking a few weeks out from my fights and I was still beating people up. When I got signed to Bellator, I decided to move to Manhattan with Joe, and that's when I got a little more professional just from his guidance and stuff, because he's been around for a long time.
"I don't think there's many people that work as hard as I do in this sport. The big trick for me, I think, has been being there mentally. That's where I'm at now. I just don't think that anyone could beat me right now. If you have got doubts in your head — if you feel like you are a little slower, or you're not quite as conditioned as you should be, or you shouldn't have eaten that piece of cheesecake two weeks ago — those are all going to be in the back of your head. I've got a clear conscious going into this fight. I've done everything I can to prepare, so I'm just ready to go. I'm primed and ready."
"The Caveman" takes on the man he calls "Dinosaur" this Friday at Bellator 139, which airs live on Spike TV. However, that's not the only fight he has on his mind. Bellator recently announced that it plans to collaborate with GLORY Kickboxing, a promotion that also broadcasts events live on Spike TV. Rickels wouldn't mind expanding his combat-sport horizons by trying his hand in the GLORY ring. He even has an opponent in mind: Paul Daley.
"Let me kickbox that fool. Dude, I swear to God I would jump up in weight to kickbox him. I did straight kickboxing for a while and I didn't have a lot of fights, but when things are slowed down and you're not worried about takedowns and the gloves are a little bit bigger… I really do enjoy the kickboxing. So, man, GLORY, what's up? Holla at your boy."
Dave would like to thank his sponsors: "Onit, who's been loyal to me since the beginning of Bellator, which is a great supplement company and the best in the business; Future Legend, you see them on all the Bellator fighters because they are dope as shit and they do awesome stuff; Supplement World here in Wichita; Razor M.D , who you can get 26 percent off by using the 'Caveman' name — just put Caveman in the coupon spot and you get 26 percent off; Parts Express, they do audio and subwoofers; Pride or Die — really badass t-shirts." He would also like to thank JMTK (Janjira Muay Thai Kansas), Andy Zerger, Combative Sports Center (Joe Wilk's gym in Manhattan), Team Elevation, Joe Wilk and Marquis Bradley, whom Rickels calls "the best personal trainer in the world." Follow Rickels on Twitter:
@
and Instagram:
@THECAVEMAN316
---
Advertisement

---