It was the hottest month of the year. The hottest day was just around the corner. The cool season wasn't exactly living up to its name in Juiz de Fora, Brazil. Right in the middle of the warmest spell of this month in 2004, on Sept. 25, things were, pardon the pun, heating up for Rafael dos Anjos, who was just 19 at the time.
Fans began to assemble for Juiz de Fora – Fight 1. In a makeshift locker room, dos Anjos was preparing to fight professionally for the first time in his life. It sure as hell beat anything he had done before. And the cash that was going to come from it, boy, that was something else. A 19-year-old kid was about to get his first taste of mixed martial arts competition.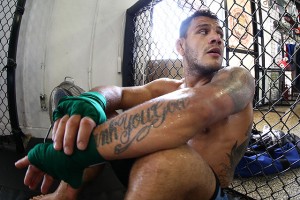 That first taste was a bitter one, though. Dos Anjos was left with a split decision loss. However, the feeling of earning a cash reward for his efforts far outweighed the feeling of suffering the defeat.
---
Advertisement

---
It was the beginning of a love affair that has spanned a decade. Back then, the spectacle of mixed martial arts was nothing like it is today. The hot gymnasium where dos Anjos traded punches with Adriano Abu all those years ago is a far cry from the headlining feature bout that he has ahead of him on March 14 on the UFC 185 card at the American Airlines Center in Dallas.
"My first MMA fight, I got a call one week before the fight and they offer me $250. I never had this money on my hands before. I accept right away," dos Anjos, who challenges Anthony Pettis for the lightweight title at UFC 185, revealed to Combat Press. "I had a very simple and nice life in Brazil when I was kid. I played a lot on the street with bare foot. It was great. I didn't have so many opportunities in my life, but the ones that I had, I grab[bed]."
It hasn't always been great for dos Anjos under the UFC banner. When he was signed to the company, he was riding nine straight victories, including eight in his home country. His momentum was red hot. The Brazilian started off his UFC career at UFC 91 in 2008 with a third-round knockout loss at the hands of Jeremy Stephens. His next outing resulted in a decision loss to Tyson Griffin. Back then, long before the roster was full to the brim, even just one loss could mean a trip to the unemployment office, and dos Anjos knew that.
"I just thought that I gonna get fired, but on my second loss, me and Tyson Griffin, we got a 'Fight of the Night.' Then, they gave me a third chance," dos Anjos explained. "I love what I do. I'm living in a vacation! I love [to] fight in UFC. They take good care of me, and since I start[ed] fight[ing] in UFC, my life changed."
That "vacation" thus far has lasted over seven years and 17 Octagon appearances. Of those 17 times that dos Anjos has fought, he has won on 12 occasions. Despite all of his Octagon experience, dos Anjos had his biggest fight of his almost decade-long UFC tenure when he stood across from former champion Benson Henderson at UFC Fight Night 49 in August 2014. Not many people thought he would win the way he did — with an impressive first-round knockout over Henderson that earned the Brazilian a "Performance of the Night" bonus — but he did it.
"I felt like… mission accomplished!" dos Anjos exclaimed. "I prove everyone who don't believe me that I come to be a champion. I like to be a underdog."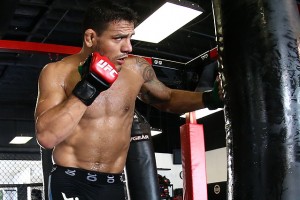 Dos Anjos spends the bulk of his time training with Kings MMA in California, but the Brazilian Jiu-Jitsu black belt has also traveled abroad to hone his skills. As an instructor at Evolve MMA, dos Anjos has been able to spend time teaching what he loves while also developing as a fighter. The 30-year-old fighter makes the trip seasonally, and each time it is with great pleasure that he trains alongside some of the best fighters in the world.
"Evolve MMA has done a lot for me," dos Anjos admitted. "I learn a lot every time I'm there, and if I'm fighting for the title now, it's because of Evolve MMA, because even in [the] bad moments of my career, I had the support of my team."
At UFC 185, dos Anjos has the opportunity to repay some of what Evolve MMA has done for him. He has the opportunity to walk out of Dallas with the UFC lightweight championship.
"It will be a dream become true!" dos Anjos exclaimed. "When I first come to Evolve, I had only one victory in UFC and Evolve believe [in] me, and [to] bring the [title] there will be amazing. I trained my whole life for this moment, and I feel God has prepared this moment for me. I feel a lot of confidence that I'll take this one."
Rafael would like to thank all of his fans who have been supporting him since he started in the UFC. He would also like to thank Kru Chatri Sityodtong "for belief in me since the first time I stepped into Evolve MMA six years ago. I have a lot gratitude for it." Follow dos Anjos on Twitter:
@RdosAnjosMMA
---
Advertisement

---