Life lessons come in many different shapes and sizes.
With a BB gun in hand, looking over what he has done in a scene that was reminiscent of The Simpsons episode where Bart befriends Nelson, a young boy is trying to come to terms with what has transpired.
It was as harsh a lesson as any, and it taught a young Justin Martin that actions have consequences. Life on the farm is something that words cannot truly do justice to. A humble upbringing, coupled with a work ethic that was second to none, provided Martin the opportunity to learn many life lessons in the paddocks, most of which he still looks back on to this day.
---
Advertisement

---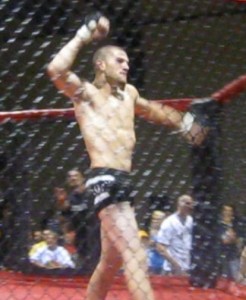 "We fished a lot. But I remember getting my first BB gun," Martin recalled to Combat Press. "I was out in my front yard and I ended up shooting a robin. Here in Louisiana, and I guess all over the U.S., it's illegal to shoot robins, which I didn't know. I had to skin it and my dad made me eat it after it was cooked up [laughs]. My dad said, 'Son, if you're going to kill something, you have to eat it.'"
These days, growing up is more about iPads and cell phones and less about undertaking an adventure in the great outdoors. It's a far cry from Martin's youth. His life was very much entrenched in being out of the house. And although, like all of us, there were some youthful indiscretions, like his first experience with that BB gun, hard work was still instilled in him from a very early age. Growing up then was very different to how it is today. It's a big part of what makes Martin the person he is and why he does work so hard at being the best fighter that he can be.
"My parents had 24 acres," he explained. "We always had horses, cows and chickens. I was always building things, throwing hay — I was always doing something out there. I grew up in a country, farm environment. It was rough. It was good, but it was hard.
"My dad wanted us always to be outside, working on the farm. When we were there, we had to be doing something. He always made us do something. Every Saturday morning, most kids woke up to watch cartoons. My dad would say, "Wake up, boys! Time to put your work clothes on!" I'd have to wake up, fix a fence or the plough the fields. There was always something to be done. It definitely gave me a hard work ethic that definitely transferred into fighting, where you've gotta work for what you get."
In his last bout, Martin suffered his first professional defeat. After winning six fights in a row and only going out of the first round twice, he was stopped in under three minutes by Thanh Le.
"It felt pretty rough," Martin admitted. "I wish it would've finished in a different way. I thought it was stopped a little early, so I really didn't get to feel the bitterness of a true loss. It was tough. You second-guess yourself and you think, 'Man, I could be fishing or doing something other than getting beat up' [laughs]. It's not fun to lose in front of your family and friends, having them see that happen[s] to you. But it was good for me. It made me hungry again. It made me work harder, work specifically on things that needed to be addressed, and it made me focused on getting this win."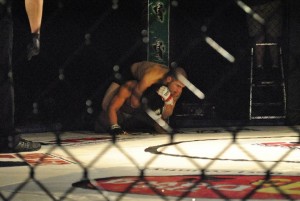 Martin's upcoming bout takes place at Blood and Sand XVI on March 14. He faces Omar Johnson, who has amassed a 10-2 record as an amatuer. Johnson has not lost a fight since 2012, and he's set to make his professional debut against Martin.
"With this one, man, I really, really need a win. I've been training really hard, and I just want to win. All that's going through my mind is how I'm going to finish him," exclaimed Martin, who has recorded stoppages in all six of his professional victories. "That's how I want to be known. I want to be known as a guy who goes in there and always gets the finish, because that's what the fans want to see. And that's what I like. It's really important, because that's how fighting should be.
"I would say my opponent is a lot bigger than me [and] a lot more explosive, but I want to show everybody that it's not all about the looks and the muscles that make the fighter. There's a lot more that goes into it. I want it to be a David-and-Goliath thing. I want to show everybody that the smaller guy can prevail."
Justin would like to thank his family, friends and fans, as well as his training partners and coaches. He would also like to thank Shane Varnado, who got him on a new diet and strength-and-conditioning program for this fight. He would also like to extend thanks to Dr. Ashley Blanche of Dr. Ashley Spine and Sports, because she has him "feeling better than ever."
---
Advertisement

---