The British are coming! The British are coming!
No, this is not an article about the Revolutionary War, although some could make that contrast. It's a reference to Friday night's Bellator 134 card, which is being billed as the "British Invasion." In the main event, Englishman Liam McGeary takes on American Emanuel "The Hardcore Kid" Newton for the Bellator light heavyweight championship. It's McGeary's first crack at the illustrious gold that so many strive for, and he is excited to be fighting alongside some fellow Brits.
"It's great fighting on the card with the other guys," McGeary told Combat Press. "I have never fought on the same card as the other British boys, so I am really looking forward to it. And as far as it being called the 'British Invasion,' yeah, it gives it a little bit more of a push."
---
Advertisement

---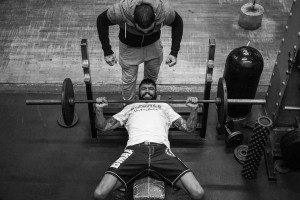 What fight fans will be getting is a fight that is sure to captivate any and all that are watching. Alongside Paul Daley and Linton Vassell, McGeary will be one of three top-tier British fighters showcased at the event. He'll be taking on a fighter in Newton who has a wealth of experience and some devastating skills inside the cage. Many fighters would be a little nervous or even too focused on the task at hand, especially when there is a title involved. Not McGeary, though.
"A fight is a fight," he said. "I'm looking for the same result as any other time, whether or not it's for a title. I haven't looked at it with in too much depth. I'm just ready to fight."
McGeary's answer seems so simple and yet so complex. A fighter needs to focus on the task at hand or he may lose focus of what is in front of him. While Newton may have McGeary beat in experience, McGeary has seen some holes in the current champ's game and he is looking to exploit them.
"Yeah, I noticed a few things," McGeary explained. "He's a scrambler, so it's if we go down to the ground, he's very wriggly and squirmy. And he sweats a lot, so it makes him very slippery. If we do go to the ground, my jiu-jitsu has to be tight. When we roll, we roll in a hot room so everybody's sweating. So it's kind of what I am used to. Just have to make sure that everything is tight. No mistakes.
"I'm not looking past [this fight], mate. There's so many people who ask this and there's so many names out there. I don't care. The person standing in front of me Friday is Emanuel Newton, and that's the one I am training for and that's the one who's in my head to fight. That's all I think about. One guy at a time. Then it's on to the next one."
Along with his boosted confidence, McGeary will be enjoying a substantial reach advantage when he faces Newton.
"Is it six inches?" McGeary asked. "I'm just training and working hard. I'm being pushed to limits of where I can go to, and now I am ready for a fight. I'm going in there with my coaches behind me and my teammates behind me, and that's all I can do. And having that six-inch reach advantage does help a little bit. I'm not gonna lie."
McGeary earned this title shot by being one of the last men to have to go through the tried and true Bellator tournament that was dissolved near the end of last year. It only took him a combined seven minutes and 19 seconds to acquire the $100,000 prize and his shot at the light heavyweight title. McGeary tore through the opening round and finished Mike Mucitelli with a vicious 22-second knockout and then followed that up with a TKO win over Egidijus Valavicius in just over two minutes and finally a beautiful inverted triangle submission in the tournament final against Kelly Anundson.
"I was setting it up," McGeary explained. "I knew where I was at, and my coaches yelled at me for spending so much time on my back. I knew what I was doing. And he was a heavy guy, so I knew he was going to stay where he was and I knew I was going to get that triangle. I knew his head was there, and I should have broken his arm the first time that he screamed but that was my mistake. I let go when he screamed and I kind of figured what was going on there. And then the referee kinda looked at me and I was like, 'Alright, I guess we are carrying on.' So the inverted triangle, it was just set up nicely for me."
McGeary carries an undefeated record with only two of his fights going past the first round. He ended one of those fights — his pro debut against Grzegorz Janus — with only 15 seconds to spare.
"My coach told me he was going to slap me around if I didn't grab ahold of that arm," McGeary chuckled. "I just wanted to see if I could fight for three rounds. He was waving that arm around the whole time in the third round and it was just one of those things, you know? I was told there was 30 seconds left and it was time for the armbar, so I spun around, grabbed hold of it and stretched out the arm. That kid was strong.
"That was the first fight where my coaches wanted to test me. I think the guy was like 6-0 and a prospect, like 21 years old. And they came over to the islands and just because you come to an island, you don't expect to find fighters there. I'm not that easy to blaze through."
McGeary splits his time between his two training homes, the Renzo Gracie Academy and Church Street Boxing in New York City. It is there that McGeary is able to sharpen all of his tools, and he has pointed out two specific people who are constantly a part of his ever-improving game.
"I think Coach Jason Strout is definitely a vital part of my training. Also David Branch. He's always there, pushing me along and he's the demon on my shoulder, so to speak," said McGeary. "He's a 'Don't give up. Don't stop.' I see him with his belt and that kind of drives me. I want one. I want one on my wall.
"We have a lot of training with 'Sapo' [Rafael Natal], and everyone is always there to push each other. It's an all-around experience. My main days for me would be striking in the morning and jiu-jitsu or vice versa, depending on what day it is. Then I do some wrestling in the afternoon with strength and conditioning. I'm in the gym all day, pretty much. If I'm not in the gym, I'm on the train."

Nine fights. Nine finishes. The Englishman is certainly efficient inside the cage. However, there is a possibility that he may have to go a full five rounds against Newton.
"I've been pushed and pushed hard in training and pushed hard doing many, many rounds," McGeary revealed. "So, it's with fresh guys and just keep rotations going. So we've covered all aspects that we have needed to cover and to make sure that I'm ready for a five-round war if it goes for five rounds."
But does the Englishman feel it will actually take that long?
"No. No," he was quick to respond.
Many fighter have a fuel that was ignited somewhere in their life that led them down the road to become a mixed martial artist. For some, it was wrestling. For others, jiu-jitsu. Maybe it was a rough home life or a not-so-nice neighborhood. It's quite rare that fans will see a man who had virtually none of that and was quite literally born to be a fighter. So, how did Mcgeary end up here?
"The fact that I just enjoy fighting, you know?" McGeary couldn't help but laugh. "I tend to get into a few fights if I'm not training or I'm [not] occupied, so I could easily go that way. This is a way that I can channel all of my aggression and focus on fighting."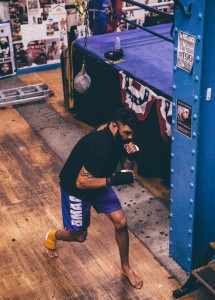 Pay is always a topic of concern for fighters. With news that Bellator may start issuing bonuses in a similar manner to the UFC, it seems that it may be only a matter of time before that extra money is being thrown their way. These fighters really need it. With the amount of money that is being paid out for training expenses and to support themselves, it will be a welcome addition if they're able to bring in a bigger paycheck. Had this bonus structure been in place sooner, McGeary most certainly would have already benefited exponentially.
"Giving extra money to somebody for knocking someone out? Of course, I want it," McGeary said. "I've pulled out a couple of knockouts and a couple of submissions, and I definitely feel we should be getting a little — just a little bit of incentive to finish a fight and make the fight exciting [and] actually hunt for it instead of dragging out through a three- or five-round fight.
"Plus, it helps us out. This fight game is expensive. We want to try and make as much money as we possibly can. 'I'm gonna give you an extra $25,000 for knocking that dude out.' 'I thank you. All right, mate!'
"I started this [camp] in fucking November, I think was when I started training for this. It's a lot of time and effort. It's a lot of days. And you get paid for the actual fight, and most of it goes because I pay out so much."
The Englishman has a point. Former middleweight champion Alexander Shlemenko pocketed a meager $20,000 for his last victory at Bellator 133. Fighters on the UFC undercard are getting paid more than that.
"You see how low it is. You see how low the money is," McGeary continued. "These guys are fighting three times a year and they got families. How the fuck are you going to live off of that? I think we should get paid a lot more money for what we do.
"If you wanna be the best, you gotta work for it. Nothing's going to get given to you."
Liam would like to thank his coaches, Jason Strout and John Danaher, as well as the rest of his team at the Renzo Gracie Academy and Church Street Boxing. He would also like to thank his sponsors: Future Legend, Gamma Labs, Azad Watches and Kryolife. Follow McGeary on Twitter:
@liam_mcgeary
and Instagram:
@liammcgeary1
Image collage: Anthony B. Geathers/ABG Photos
---
Advertisement

---