Sometimes, fighters have to get creative in order to shed a few extra pounds. Some have to strip off all of their clothing to make the limit. However, sometimes even that just isn't enough. Sometimes, the hair has to go too.
That was the case for Daniel Straus in his first title defense back in March 2014. Straus was forced to make a last-minute decision to make his title fight official. He had to cut his hair.
After chopping off those locks, Straus would indeed make weight. He would go on to have a five-round war with Pat Curran and lose, via submission, with just 15 seconds left in the fifth and final round.
---
Advertisement

---
Straus has since rebounded with a brutal first-round knockout of Justin Wilcox at Bellator 127. With the win, Straus earned another crack at the featherweight title. Again, he'll be facing a familiar opponent. This time, that opponent is current champion Patricio "Pitbull" Freire. However, just like with Curran, Straus doesn't see this as a rematch.
"Really, I am not thinking about the rematch, you know?" Straus, who challenges Pitbull for the belt at Bellator 132 in Temecula, Calif., explained to Combat Press. "I'm just thinking about getting that belt and winning the fight. I really want to do it in a way that really puts eyes on me in 2015 and from now on.
"I don't care about the rematch. I don't care how many rematches or trilogies I have, because I don't really focus on that. Every time I fight an opponent, it's the opponent in front of me and not the opponent that I have fought before, or how many times I have fought them before or anything like that. Like I said, I am just focused on winning the fight and doing what I can to stay composed and carrying out my game plan."
To recap, Straus and Pitbull met inside the cage in May 2011 at Bellator 45. Straus came out on the wrong end of the unanimous decision in their encounter. However, as Straus explains it, and as many fans know, that was a long time ago.
"It has been three years since we have fought. He's changed [and] I've changed," Straus said. "Bellator has changed. Everybody has grown since the last time. You can't be looking at the old fight and trying to guess, 'Oh, this is what he's going to do. That's what he is going to do,' because you will get caught up in that and you will definitely be on the backside of two fights then. I just focus on what's in front of me, and that's the Pitbull of 2015. And he has to focus on the Straus of 2015. I mean, if he wants to. That's up to him, and it'd be bad luck on his part if he went back to that fight and thought, 'Hey, I need to study this fight because this is how he is going to fight.' And I'm pretty sure he's not, because he is a smart guy.
"I am sure that everyone has seen the improvements that I have made over the last couple years and you can really tell. I, myself, couldn't tell at first, but then I went back and I started picking apart things I needed to do to get better and I could see the improvement that I had made, even though I am still trying to get better. There's always room for growth, no matter what."
Straus touched on a talking point that has been buzzing since June 2014. That was when it was announced that longtime founder and CEO Bjorn Rebney was out and Scott Coker was in as his replacement. The MMA world, including the Bellator roster, was buzzing about changes that would come to be made. Many fighters and fans were a little taken aback by the changes, but now that time has passed, many fighters, including Straus, seem to have a different outlook.
"You know, I have fought for Scott once now, so it's not been like a tremendous overturn," he admitted. "There is a whole different aspect of Bellator, you can tell. Everybody is pushing for everybody a little bit more and everyone is communicating a little more. You had some people go; you had some people come. So it's just like a new family, and everybody's just trying to learn everybody and get with the program. Everyone is just waiting to see what happens. I feel like Scott's taken the company in the right direction and I think he is doing everything he has to do."
One of the major changes Straus has most certainly benefited from is the disappearance of the tournament format. Regardless of what many may say, Straus feels that he earned his latest title shot, even without going through a bracket of fellow contenders.
"I feel like it's a quick turnaround, mainly because of the impressive performance I put on [in my] last fight and not just that [Coker] is putting on fights that people want to see," Straus explained. "There's other guys in the 145-pound division, and let me say this too and let me be really clear: There are other very, very, very tough guys in the 145 division. It's not just me, Pat and Pitbull. There's other tough guys, and I think it's going to get very interesting and there's going to be a lot of good fights [and] a lot of people that you are going to see break out because you haven't got to see them in the past.
"I feel like with this new style and the new production and the new crew, you'll see the fights and, the first couple fights, you'll be like, 'Who's this guy?' And then you'll get to see them perform. Then you'll be like, 'He's just as top tier as the next guy,' and we will all get to make our names a lot better. We will get to shine a little bit more. I think it's going just great.
"You got Bubba Jenkins, Georgi Karakhanyan and there are other 145-pounders who are going to get the opportunity to make names for themselves. You're going to see standout fights and you're going to see guys that you haven't seen before. There is opportunity for everyone. A fresh start for everybody, and me as well. I get to essentially be a breakthrough fighter myself. I can start reigning this division and taking over, and having a lot more people see and notice me."
Straus has an opportunity that only two fighters, Eddie Alvarez and Joe Warren, have achieved in the history of Bellator. He can become a two-time champion.
"You don't get a lot of guys who get the chance to be a two-time champion," Straus pointed out. "Think about all of the guys that have fought. Think about how many people have been world champions in this weight class. You don't get a lot of guys that are world champions, let alone two-time world champions. It is an opportunity to open eyes and have people look at me and see the strength of my game in my camp, coaches [and] my strategy. I really can't wait to fight this guy and just prove myself to my fans and to my coaches and to the media. It's a chance to open a lot of people's eyes."
It seems like a fairly reasonable goal, but most fight fans don't know that there are organizations other than the UFC, let alone that top-tier talent could possibly exist outside the Octagon. Straus is very passionate about exposing fans to Bellator fighters and showing the world just how good they really are.
"There's more than one organization," he emphasized. "This isn't the National Football League, where you just have single football teams to pay attention to. There's other organizations out here and there's other top-tier fighters out here. Everyone is just trying to prove themselves, and it's not even to each other or to other organizations or to anybody. It's just about making your own name. I don't care where I am at. If I can make my name and have people recognize me and understand how good of a fighter I am, I'm happy. If I can be the best fighter where I am at and have people believe in my skills and I can show how good I am, I am happy. It's because the fans are seeing this.
"For people to overlook other organizations, I think it's just… I'm not going to cry about it. It's not a big deal to me. It doesn't hurt my feelings. It doesn't bother me. Rankings don't mean anything anyways because, let's be honest, who's making the rankings up? The media? And no one really cares about that. I can honestly tell you that you could go to each organization and in each weight class and ask guys, 'Do you really care what you're ranked in the world?' And they will tell you no, because all they are focused on is winning. All they are focused on is winning that next fight.
"If you don't think I am the best, that's fine. I am going to continue to win, to push [and] to challenge new people, any comers that are placed in front of me. That is what it's about. This is a sport. This is a real sport where you have to embrace…
"No one cares if you are second. No one cares if you are third. You are either the best fighter or you are not. That's what we are all searching to be. We're all searching to be that best fighter. No matter what organization. No matter what weight class. No matter where you have been, who you have been with, who you fought, who you lost to. No matter how much you are making. None of that matters. What matters is me putting my hands on somebody and, at the end of that fight, me getting my hand raised or my opponent getting his hand raised."
Rankings aside, Straus has his sights set on one thing and one thing only. That, naturally, would be featherweight gold.
"Of course this is my job and I fight to pay my bills, but at the end of the day I am at a point where I'm fighting to be the best," he admitted. "I'm fighting to be that number-one guy. I'm not worried about the rematch. I'm worried about that belt. I'm not worried about the paycheck. I'm worried about getting that belt. I'm worrying about, when I leave, that I am the best 145er in Bellator and I'm the best featherweight out there. That's my mindset. No one wants that second-place title. No one is looking for that silver belt."
There lies another question that Straus will eventually have to confront: the talk of what happens if he is victorious against Pitbull this Friday. The question of a rarely ever seen fourth fight with former champion and familiar foe Pat Curran.
"It'll happen one day… maybe. If it happens, it happens. If it doesn't, it doesn't," Straus said. "I feel like we will see each other again sometime, and I won't worry about it until that time comes. Just like the first time. I knew I would see him again and he knew that he would see me again. I destroyed him twice and I lost the last one, but I really beat myself in that fight."
Fighting to be the best is an understatement given Straus's current training home at American Top Team in Coconut Creek, Fla., alongside such fighters as Bellator lightweight champion "Ill" Will Brooks, World Series of Fighting women's strawweight champ Jessica "Jag" Aguilar and recently crowned UFC welterweight champ "Ruthless" Robbie Lawler.
"We're working towards a different opponent, so you always gotta change up something," said Straus, speaking about his recent training camp. "Maybe the way you are moving, or how you are connecting. It might be ground game. It might be this. Might be that. I would love to tell you, but that would just open the cat out of the bag. You just can't be the same because if you are the same fighter each fight, then you are not really improving. And if you are the same fighter each fight, that just gives your opponent the one-up on you. They will know what to look for. They know what to come. They know how to strike and get around you, and what techniques to use and what techniques not to use. Some part of you always has to change.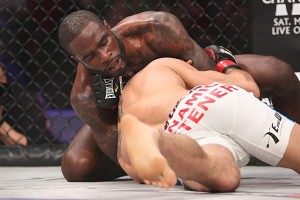 "If you stay the same, you are always going to get the same results. Everyone has to evolve and that's what it's all about. Evolution. If you are not evolving, then get the fuck out of the sport. Flat out. If I walked in that cage with one boxing glove on and wish I knew some karate shit that some guy was doing back in 1993, I'm going to get my ass tore up. We know what you are going to [do]. If you are not evolving, then get out of the way and let somebody else."
The evolution of a fighter is so crucial nowadays to stay relevant in this highly competitive combat sport. There is always a question of when is it time to hang up the gloves. Straus feels that the only person who can rightfully tell a fighter when to walk away is the fighter.
"That's a double standard. Who is to stop a fighter from fighting?" he asked. "If you have that fighting spirit, then that's something that you are either born with or you are not. I mean, look at Dan Henderson. Somebody told him a long time ago that, 'I think you should step away.' Did he? No. Because he has that fighter's spirit. And he is still winning. I mean, he hasn't tremendously evolved, but what he is doing works for him. If you are still evolving, there is no telling how long you can be in this game."
Straus was very adamant that he is part of a team, and he's sincerely thankful to those around him.
"As far as a certain person, I would like to thank each and every last one of my training partners," he said. "Everyone in the gym. There is not one guy that has not pushed me more than the others. Every coach. Every guy, even if they don't know me, [says,] 'Hey, brother, good job today.' We are really big on that. When you get done, shake your teammate's hand. Why? Because he helped you get better.
"These guys are helping me get better, and it's not just one guy and I'm not just using one guy. I'm not using two guys. I just have a stacked crew of monsters that beat me up. There are low-tier guys that push me and there [are] low-tier guys that are beating me up. You might think that is embarrassing, but it is not. They are helping me get better. They are helping me be a champion. So, with that being said, I have to thank all of my training partners and all my coaches [and] anyone that has helped support me."
He'll bring that support with him to the cage on Friday night. He may have subtracted some hair for his last title fight, but this time he hopes to add something. It's shiny and it's gold, definitely not silver.
Straus would like to thank MapCargo, who has been supporting him a lot. He would also like to thank Unbreakable Mouthguards, specifically Hector, who has been "an awesome dude, and if you ever need a mouthpiece, definitely go check him out." He would also like to thank Perfecting Athletes, who "aren't just clients anymore, they have become family. They truly, truly treat me right and have my best interests at heart." Follow Daniel on Twitter:
@danielstraus
and Instagram:
@danielstraus
, as well as on his website:
strausmma.com
---
Advertisement

---