People talk trash, plain and simple. In the fight world especially, trash talk comes with the territory. It's a competitive sport, it's one-on-one, and a fighter, whether intentional or not, is always representing his coaches and teammates.
Looking at examples like Tito Ortiz, Michael Bisping, Quinton "Rampage" Jackson and Chael Sonnen, it's easy to pick out the guys who like to spice up the talk to help build the buzz around their upcoming fights. However, it's very rare that an unprovoked attack occurs between former fighters and a gym. But that's what went down over the last few weeks.
On March 29, tragedy hit the Roufusport camp when Dennis Munson Jr., a Roufusport kickboxer, passed away after suffering heavy damage and dehydration in his amateur debut. At the time, people were very concerned about the lack of care showed by the ringside doctor, the veteran referee and Munson's corner, because even people in the crowd could see Munson was visibly having trouble. These are the perils that come with the amateur level in combat sports in many states.
---
Advertisement

---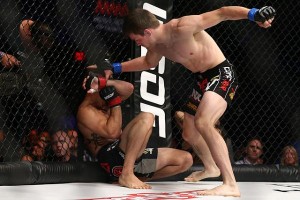 Not much was said publicly about the tragedy until mid-November, when the Milwaukee Journal Sentinel released an investigative article that sparked outrage for the Roufusport camp and the culture around the gym. However, there are two sides to every story.
The death of Munson was a tragedy, and one that is not to be overlooked. However, even though the investigation paints a clear picture of the failures of the many involved parties, somehow the Roufusport camp came under fire as being directly responsible for the loss of this young man. The gym's patriarch, Duke Roufus, had been called out as a bully by some high-profile former team members.
Roufus and his famed camp house some of the sport's best fighters, including UFC lightweight champion Anthony Pettis, current ONE FC and former Bellator welterweight titleholder Ben Askren, and World Series of Fighting featherweight champ Rick Glenn. In the wake of the allegations by former team members, many of the current Roufusport fighters have come forward to defend their camp and their coaches. Glenn is one of those speaking out.
"You know, it's like any other workplace, really," Glenn told Combat Press. "These guys that are complaining, they obviously can't take criticism on what they're weak at and need to get better at. If you tell them, 'You're walking too slow,' or, 'You could technically do that a little faster,' some people get upset or they're not going to take it right. These guys are not at our gym for a reason—they can't take the criticism from the world-class coaching.
"I mean, they're going to tell you what you're bad at. I'd rather have them tell me that I'm bad at something rather than just holding off and not caring. The coaches there are awesome, the environment is great, the team is growing, and it's crazy in there. It's too bad that people are talking bad about them right now."
What happened to Munson didn't happen at the gym, but some argue that the gym's culture is the reason why he put himself in that position. The results of the medical examination said that he had a combination of high salts in his brain, a direct result of his weight cut, and had traumatic brain injury, a direct result of the fight. Had the aftermath of his collapse in the ring been handled better, his death may have been prevented. However, it is very tough to directly tie any of this back to the gym's culture. Glenn wants people to know that Roufusport is still one of the best camps in the world.
"I think we're all on the same page," said Glenn. "I think one of them was complaining about Duke being a bully and yelling at people. Like I said, I think they can't take tougher coaching or criticism. They're not around and everything is great."
Glenn is a humble, focused champion who made the move to Roufusport from his gym in Iowa just a couple years ago. He's not a bully and he's not an inconsiderate person. He is a family man who wishes no ill will on anyone. He also knows he trains with some of the best coaches and training partners in the world.
At 15-2, Glenn hasn't lost a fight since March 2010. With eight knockouts and five submissions on his record, he is an extremely well-rounded finisher who has only been to a decision three times and has only been stopped once, by submission. His last outing was at WSOF 10 in June, when he beat incumbent champ Georgi Karakhanyan by TKO to earn his newfound glory. But, as with any new champ, the next fight is the true validation of the title.
WSOF 16 lands at the McClellan Conference Center in Sacramento, Calif., this Saturday night, and Glenn will make his first title defense against top contender Lance Palmer.
The 26-year-old Palmer fought Karakhanyan for the inaugural WSOF featherweight title one year ago. After nearly three rounds of back-and-forth action, the Californian was submitted late in the third, suffering his only professional loss. He bounced back with a first-round submission win at WSOF 10, putting himself back at the front of the line for another title shot.
"Before I even left the ring after my last fight, I knew I was going to fight him," Glenn said. "I thought I was going to fight him a lot sooner, but I don't know what happened. I found out probably a couple months ago."
Like any champ, Glenn wants to fight the best in the world, and he accepted the challenge from Palmer with open arms. Palmer will be fighting in the hometown of his storied camp, so the crowd will certainly be on his side. However, Glenn is not worried in the least.
"I feel good," said the Roufusport champ. "I beat the guy that beat him, and I definitely see myself winning. I've got to watch out for his wrestling, but overall it's a good fight for me.
"I've got to watch out for him taking me down, but everyone's in there to fight, so I also have to watch out for him punching me in the face, too. His wrestling is definitely good, but I've been training with some seasoned wrestlers, so I'm just fighting for the win."
Anyone who has seen Glenn fight knows that he has some of the nastiest finishes in the sport. However, most of his recent wins have come late in the second and third rounds. If there is one thing he learned from his last fight, it's the need for urgency, especially against a grinder like Palmer.
"I need to stay sharp," Glenn admitted. "I need to come out there faster. I tend to come out slow in fights with the whole feeling out process. I've been changing that up."
That is not the only thing that Glenn has changed up. As a rangy, 6-foot-tall featherweight, weight can be a bit of an issue. With these several-month breaks between fights, he has the luxury of changing up many of his routines to always stay at the top of his game.
"I'm working with a nutrition guy, now," Glenn explained. "He's pretty good. Lot of veggies, which I've always done, but not as much pasta. I feel good."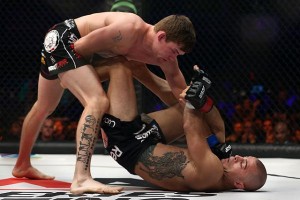 Even with all of the controversy surrounding the Roufusport organization, life has been business as usual for Glenn, both inside and outside the gym. His wife and their two Italian mastiffs make up a sizeable family of four. While Glenn is dialing up his nutrition, the other man of the house is picking up the slack by eating furniture, so to speak.
"Yesterday, we started letting our one dog out, the male, and he's about 150 pounds. He got a hold of the couch," Glenn elaborated. "We have a huge sectional-type couch, and he pulled that thing away from the wall like three feet and ripped it up, just to get a bone from underneath it. He doesn't usually tear stuff up like that, but when he does, it's something huge. He tore up the whole freakin' couch."
Frankly, the hearsay of others is a relatively small disturbance compared to a shredded couch. Rest is an important part of training, after all, and the champ needs a place to sit.
With the onset of social media, the firestorm of rumors being spewed about Roufus and his gym got wildly out of control, especially by people who use their own personal outlets to act like judge and jury in a case that is well above any individual fighter's pay grade. In the wake of the storm, things have been going great for Pettis, who just defended his own title this past weekend, and Glenn, who looks for that much-needed validation victory. Glenn is cool, calm and collected, as usual, and is looking to make a big statement against Palmer at WSOF 16 this Saturday night. While the death of Munson is an unfortunate tragedy, Glenn and his teammates will continue to ignore the trash talk and look for dominant wins.
"I'm way more improved, and I'm going to be more explosive and quicker. I'm super excited to fight, and I just can't wait."
Glenn would like to thank all of his coaches and training partners at Roufusport, his family, and all of his fans for supporting him throughout the years. He would also like to thank his sponsors: Onnit, New Blood Fight Gear, and Askren Wrestling Academy. Follow Rick on Twitter:
@GladiatorGlenn
---
Advertisement

---