Once upon a time, Ray Lewis was called in to speak to the Stanford basketball team before a game. For those of you who may not be into team sports, Lewis is one of the best defensive players ever to play football and one of the only linebackers to be voted the Super Bowl's MVP on the winning team. He was called in because he is a winner and a leader. He made one of the best pre-game speeches ever recorded, lucky for us.
"You've got to be pissed off for greatness because if you're not, you're okay with being mediocre."
As an amateur fighter, Delaney Owen put up an impressive 7-2 record. And with her two pro wins before getting the call from Invicta FC, she had put together a five-fight winning streak. The Highlander MMA fighter, who trains in Tampa, Fla., has had a taste of the big show and she wants more.
---
Advertisement

---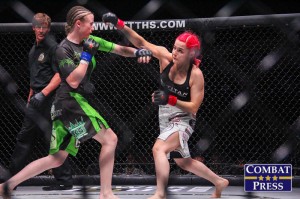 "They really took care of us," Owen effused in an interview with Combat Press. "They were extremely organized and took care of everything. They anticipated what we would need, gave us a list of numbers when they picked us up, the food before the weigh-ins was all clean and not tempting for us cutting weight and then, after, the buffet was all pasta and good stuff.
"Probably because [Invicta matchmaker] Julie [Kedzie] was a fighter and she knows how to take care of fighters, but everything was right. I loved working for [Invicta President] Shannon [Knapp]. She was sweet and professional, and she looked happy at the weigh-ins because we made weight. It was a great experience and I will never forget it. The goody bags, the trip to Cancun, the headphones by V-Moda are so sick. It's just awesome. I cant wait to earn my way back on the card."
Unfortunately for Owen, Invicta FC 8 was where she got her first professional loss. JJ Aldrich made her pro debut against Owen and was able to come away with the unanimous decision.
"There are some folks who have told me they thought I won the first seven or eight minutes, but I've watched the fight at home and I have mixed feelings about it," admitted Owen. "I just wasn't myself. I knew what I wanted to do, but I wasn't pulling the trigger. Watching it, you can see I was thinking too much, and it was really frustrating in the fight. I almost felt like I was watching myself. I mean, I was moving forward the whole time in the fight [but] I was just stuck in trying to take her down. I should've changed levels. I should have mixed it up.
"I don't think my stand-up matched up badly against hers. She hit me a couple of times, but I was able to roll them off or make her hit my shoulder or glance it off. But her takedown defense was good, and I got tired from that. In the third round, I took some knees to the face and my nose is definitely messed up from that.
"It really was weird. She would knee me and I would think, 'That's not so bad,' or, 'That didn't hurt. Bring it!' My mindset was that she couldn't tap me [and] she couldn't knock me out, so let her do what she is going to do, even though there was no reason to take all that damage. But at the same time I was thinking, 'Why are you trying to be a guy? Don't let her knee you again' [laughs]."
The laughter went away quickly and was replaced by a steely tone.
"But that loss put a fire in me," said Owen. "I am pissed off now. I never want to feel that way again. I feel like I was supposed to win that fight. I think it was a good, exciting fight for the fans, and I am glad about that and I hope people enjoyed watching it, but at the end of the day I didn't win.
"I didn't like being the first to fight. I've never been the first on a card. I am used to watching at least one fight, saying 'good job' to someone and then heading out there, but that is no excuse. I felt great, had a great training camp, had never been stronger or more ready, but overthinking got in the way.
"I like being the underdog, but I don't think I was the underdog in this fight. I didn't underestimate her—she has beaten a lot of good fighters as an amateur—but I felt like the fight was mine to win. I believed I was going to win, to a fault. I chalk that up to inexperience. I am still learning, and it is what it is. But I don't ever want to feel that way again."
Learning from mistakes is often a more effective manner of learning than any other kind. It's hard to go back and really assess one's past, and it's even harder to do it objectively. That is where the right coaching comes in. Some fighters don't learn from watching film, but sometimes you have to do it.
"I didn't want to watch that fight, but Mike [Yanez] said, 'Yes, you'll feel better about it. Sure, you did some bad things, but you also did some good things," Owen explained. "And it's true. There is always something to fix or learn, and we are constantly evolving. That is actually a really hard thing for a perfectionist like me to deal with. During the fight, I wanted to hit a move perfectly but because I was afraid of doing it dirty or not hitting it clean I didn't do it when I had the chance. I have to put that aside and go for it. Who cares if it's technically perfect?"
Owen will have a chance this weekend to put her new mindset to the test in a battle for the Sugar Creek Showdown strawweight belt. She will be facing a friend, Amber Stautzenberger. Stautzenberger has a pro record of 5-3 and has posted wins over the likes of Glena Avila, Lacey Schuckman and Kathina Catron. She is known for being fairly well rounded but with a strong grappling base, quite similar in fact to Owen's reputation.
"I think this a good match-up," admitted Owen. "We are friends, actually. She is a super-cool chick. She is sweet, and I think we are both comfortable with facing each other. She went 4-3-1 as an ammy, and so she has a lot of fights under her belt. She is tough and has had some tough losses and has overcome a lot to get to where she's at.
"It's going to be an exciting fight, for sure. She is well rounded, likes to work, and will do different things than what you expect. She trains in a really good camp—she trains with Invicta fighter Jinh Yu Frey—so she is prepared. I think it's a fair fight. She has more experience than I do. There have been a lot of people who tell me that they have wanted to see this fight, and I am excited to get in there.
"I am going to go with the game plan—no, I can't tell you what it is, but I feel different about this fight. The main thing is that this fight is about me. It's not personal. It's not about what I think she will do or bring, but it's about what I am going to do and what I am capable of doing. It's about me becoming a fighter, becoming the fighter I know I can be.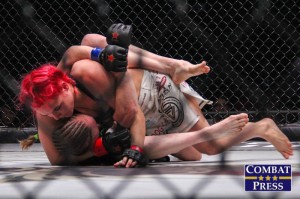 "The loss was emotional for me. I hate losing. I want to feel peaceful and fulfilled. I've made a giant mental leap since that loss. For this fight, I am happy if it goes to a decision. I want to have a chance to work on what I have worked on in practice, and I don't have a set way to win. I think it's going to be an all-out war, and that will give me a chance to showcase all the different things I've been working on.
"I've been going through a tough fight camp. It hasn't been easy for me because of lots of different things. In fact, this is probably my worst fight camp, with lots of outside stuff trying to get in the way. I even thought maybe I should not take this fight. I have been spending a lot more time by myself, but I am glad I am continuing. Fighting is the one thing in my life that is stable. So I've poured all of that in to my training and I feel like it's making me even more focused.
"This camp has been different from any other. I feel like it's more spiritual this time. I feel like I am starting to understand what people mean when they say 'fighting is all mental.' That is legit. You can be athletic and strong, but if you're not right there—right in the head—then you can't put it all together. I am going to be 22 right after the fight, and it's crazy how different I feel. There are a lot of growing pains, but I think I am learning to go with it.
"A win here puts either of us in a great position. After my loss, there were people who came up to me and they said, 'Don't worry, you're marketable, you're tough.' It made me feel better, but even though I am signed with them, I know I need to earn my way back. Nothing is ever set in stone. All I do know for sure is that I never want to feel that way again and I will do everything I can to avoid it."
It's clear that Owen is not okay with mediocrity and she is not okay with her opponents keeping her from her wins. Her opponents will not only be dealing with a physically strong, technically sound fighter, but one with hate in her heart—hatred for losing, that is. She truly is pissed off for greatness, and her effort will match her will.
Delaney would like to thank her sponsors: Titan Medical, Nala Dog, Florida Fight Company, Premier Fitness Marketing, Press Box, South Tampa Smiles, Byrd & Gonzalez Law and Mastro Subaru. She would also like to thank her teammates at Highlander MMA, especially her coach, Mike Yanez. Delaney would also like to thank her friends and fans for their support. She also would like to say, "Rest in peace, Ray." Follow Owen on Instagram:
@lilscrappydl
and on Twitter:
@scrappydl
---
Advertisement

---