Fighting an average of once a year over the course of a seven-year period seems like a ludicrous notion for a competitor. Combat-sport athletes are notorious for wanting to be active all the time. It make sense, after all, because fighting is what helps pay the bills.
Steve Micallef's seven-year-long career has seen him average just one trip into the combat arena per year. It seems like a long time just to do what some will achieve over the course of two years. However, sometimes life just doesn't play out the way we want it to. Micallef knows that all too well. If it were up to him, he probably would have fought twice as much.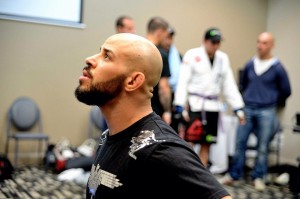 "It was just bad luck with injuries," Micallef explained to Combat Press. "The last one was an elbow reconstruction. I tore the MCL in my elbow, and by the time I got the operation and the rehab and got back into it, it was two and half years to three years out. And I've had a lot of bad luck which has put me out for up to a year to a year and a half at a time. I tore my pec off the bone and had to get an operation on that. I've had an operation on my neck—a bulging disc—[and] my eye socket—I had to get that reconstructed too. I've had a lot of bad luck over the years, but it hasn't deterred me. It's just made me a lot more hungrier.
---
Advertisement

---
"The first fight back was a bit rough for me. It was a bit more rough than I had anticipated. But the second fight back, I felt unbelievable. I just felt great, and I feel like I'm just constantly building my skill set and my mindset as well."
Martial arts has been a long journey for Micallef. With years spent both in and out of the cage, as well as on the mat, he has been able to learn a lot when it comes to the arts of fighting and grappling. It may have started off almost as a novelty, but it has turned into a life-long love.
"Going back about 12 years ago, me and a couple of mates wanted to start a martial art," Micallef explained. "We stumbled across Brazilian Jiu-Jitsu, thinking it was capoeira, and we ended up jumping into the class anyway with Anthony Perosh and sorta fell in love with it from there. We learnt a few moves and it just snowballed.
"I think Elvis [Sinosic] and Anthony, my coaches now, I think they were literally appointed brown belts at the time, and pretty much the gym was just 10 or 15 of us all up, and the top-level dudes were all blue belts at the time. It wasn't very popular or known at the time. I wasn't too bothered with that, because I loved it so much I was really keen to show people a few moves and open their eyes to it, but I did have to explain it a bit."
Grappling and fighting are two very different arts. As Micallef began to find his comfort with the ground game, he still wanted to be able to prove to himself, as well as to others, that he was capable of a lot more. Mixed martial arts became the next logical step.
"I was competing a lot in Brazilian Jiu-Jitsu at the time, and my coaches sorta told me, 'Look, that's the best way to learn,' and that was my main priority at the time—to learn Brazilian Jiu-Jitsu," he said. "At that stage, I think I was a blue belt going on to purple. I just wanted to test my Brazilian Jiu-Jitsu. I wanted to put it to the ultimate test in a real situation. That's what made me take my first MMA fight, and then I just fell in love with that—the feeling that it gave me—and then obviously I had some success and just carried it on from there."
In December 2013, Micallef was awarded his black belt in Brazilian Jiu-Jitsu. It had been a long journey for the Sydney-based fighter.
"It felt awesome," Micallef exclaimed. "It was many years of experience; [it] is not something that money can buy. It was a lot of years on the mat with blood, sweat and tears, and to finally get that black belt was a very, very big accomplishment for me."
Although he now holds a black belt in jiu-jitsu, Micallef still prides himself on being able to utilize as many skills as possible inside the combat arena. With four of his seven professional wins coming by way of submission, it's no secret that Micallef knows hows to finish a fight should it hit the mat. But that's not all he wants to be known for.
"When it comes to MMA and my fighting career, the way I see it is that I wanna be comfortable everywhere," Micallef confessed. "I don't wanna be tunneled into one side of MMA, whether it's wrestling, standing or BJJ. I work on everything in the gym to make that happen. In saying that, BJJ is where I was born, so it's always gonna be a favorite finish or a favorite way to end fights, and I wanna build on that."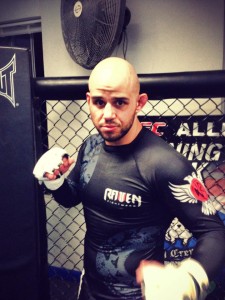 For a student and friend, there is nothing better than to watch a coach and mentor find their own successes. For Micallef, this happened when Anthony Perosh stepped into the Octagon on Nov. 7 in Sydney. Perosh walked away with a first-round submission victory over Guto Inocente. The buzz from the victory is something that Micallef plans to replicate when he fights under the BRACE banner in Canberra on Nov. 22. Micallef will collide with Corey Nelson in a welterweight championship contest to headline the evening's festivities.
"I've based my camp around [Perosh's camp] as well," Micallef said. "We've got a few dudes fighting. Me and Gerhard [Voigt] are fighting on the BRACE grand final, and we've been training with Anthony for his [recent fight]. Obviously, it was awesome to watch, being in the camp with him and training with him and seeing his game plan go perfectly was awesome. It just lifts the rest of the gym up as well, and it was just great to see."
With two victories to his name already for 2014, the only thing left is for Micallef to walk out of Canberra with the BRACE 2014 welterweight championship and his undefeated record intact. That's not going to be an easy feat by any means. His opponent, Nelson, is considered one of Australia's top welterweight fighters.
"I've been envisioning it since the start of the year now," Micallef admitted. "So now it's here, and now I'm gonna take the bull by the horns and give it everything that I've got. A win over an opponent like Corey Nelson, who is one of the best in Australia, I'm hoping that it's gonna open up a few doors. Ultimately I'd like [to fight for] the UFC, or there's some big shows like ONE FC in Asia. I'm hoping that a win over Corey would get that door open and see me with some overseas fights."
Steve would like to thank Sinosic Perosh Martial Arts, Sports Pit at Leichhardt and Raven Fightwear.
---
Advertisement

---