Amateur to professional. Professional to titleholder. That's the typical way that you could graph the career of a successful mixed martial artist. It's almost linear, the way it transpires.
Ali Cevik has the potential to achieve all three of these milestones in just one year. It's not that common. Hell, it's probably frowned upon to see a fighter rushed to the title picture of a nationally recognized mixed martial arts brand. Good things don't always come to those who wait, though. Sometimes, they come to those who grab it. That's exactly what Cevik plans to do on Nov. 22 in Canberra, Australia when he takes on Abel Brites.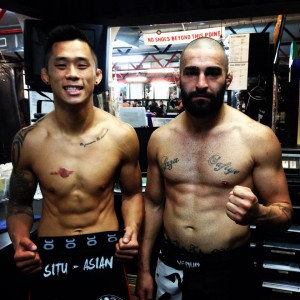 "With someone pulling out, I was the first one to raise my hand," Cevik told Combat Press. "I respect my opponent, Abel. It's gonna be a good fight. You can't be discounting opponents. Whatever is put in front of you, you've gotta just fight. I thought, 'You know what? I'm the underdog, so why not make it happen?' I've gotta make a statement, and that's what I'm going out there for."
---
Advertisement

---
In what will be just his second time competing as a professional, Cevik is tackling a new weight division with the 2014 BRACE lightweight championship on the line as well.
"I'm feeling 100 percent. My weight cut has been good," Cevik said. "I'm on track and I don't have that much weight to cut for weigh-in day. Everything has been good. My cardio is strong. Overall, I'm feeling ready to fight."
It's not unusual for a fighter to get several fights into their career and decide that it's time to make a change in weight classes. We have seen that happen time and time again. With just one professional bout on his record, Cevik can see the opportunity that exists with shedding a few extra kilos.
"I've been fighting at 77 [kilos] for a while now," Cevik said. "I feel that I've got a better advantage and there's more opportunity and more doors can open up at 70 kilos. When this title fight came up, I took the shot and I said, 'You know what? I'm gonna go for lightweight next year.' I was gonna wait till then to drop, but if I can have my first fight at lightweight I'd rather do it now for a title fight. That was the change—because it was a title fight. [Wednesday] is my birthday too. I'm turning 23 this week I'm fighting. I'd love to bring the belt back to KMA. Overall, I'm 100 percent ready. There's no more waiting."
Even with his limited professional fights, Cevik has been training like a full-blown professional for some time now. To show just how serious he is about being the best fighter he can be, Cevik has traveled internationally in order to source out the best training that the region has to offer.
"I've been over to AKA Thailand with Mike Swick and Soa [Palelei] and all those boys," Cevik explained. "I'm actually a sponsored athlete, so when I go there I get looked after. They've always looked out for me. Mike Swick, I've always got contact with him. My network is pretty big out that way. I know that I've always got somewhere to go when I'm in Thailand. Every time I head over there, that's where I train.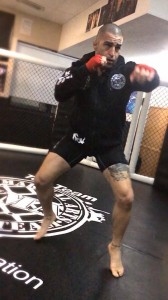 "I've got a good role model there, and I've always looked up to him growing up. And it's [a] dream falling into place I guess. Having Mike there all the time, it feels good whenever I go there. It's like my second home, and it's worked out alright. KMA is my home gym in Sydney. That's the gym that has brought me up. We've got Martin Nguyen, ONE FC fighter. We've got a lot of up-and-comers. KMA is like life for me. It's a routine."
With his first professional victory out of the way, Cevik now has to add some more big-fight experience to his young career. The BRACE championship bout is a chance for him to make a good impression in his second outing as a professional, and there's no better impression than heading back to Sydney with a title in his hand.
"I'm looking for a long-distance fight," Cevik admitted. "I just wanna go in there, enjoy myself and fight. He's got more pressure than I do—remember, his opponent pulled out [and] I put my hand up. I'm just gonna be calm and take every minute as it comes, and let the best fighter win. But, you know what? I'm coming in ready, and I hope he's ready.
"I do have a little pressure on me. I have heaps of younger kids from KMA looking up to me. I'm gonna try blocking that out and try to be in the zone at fight time. I want to be able to make sure that I make a statement and just do what I do. I can handle pressure pretty good. It's just about performing that matters. Mentally, I'm prepared and I just wanna fight. I can't wait till it's fight time."
Ali would like to thank AKA Thailand, MCCCXIV Apparel, AiiMS, KMA, Sydney Seat Covers and Roofrite Metal Roofing. Follow Cevik on Twitter:
@aacevik2012
---
Advertisement

---