"We're talking about practice." Those were the words that former 11-time NBA All-Star Allen Iverson made famous 12 years ago. While the practice rant was taken mostly out of context, the message a lot of folks took away was that a very successful professional athlete thought practice wasn't very important.
Of course, that's not what Iverson meant, and, thankfully, social media didn't exist back then or it really would have been exponentially misconstrued. There are plenty of pro athletes out there who have proven time and time again that practice might be the single driving force behind their success. Guys like Tiger Woods and Peyton Manning are known for their tremendous work ethic when it comes to their respective crafts. Woods had a nearly obsessive practice schedule throughout his meteoric climb as a professional golfer, and Manning is the guy known for coming in early, staying late, and practicing through almost all of the voluntary workouts during the NFL off-season. Both men have achieved greatness in the world of professional sports and have set extraordinary examples for future generations.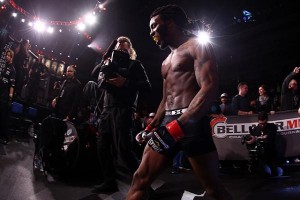 Desmond "The Predator" Green was midway through grade school when Woods won his first major title at The Masters and Manning entered the NFL as a first-round draft pick of the Indianapolis Colts. Now, Green is a professional mixed martial artist and he, too, understands the importance of practice.
---
Advertisement

---
For most of Green's two-year, 14-fight career, he has trained at Team Bombsquad in Ithaca, N.Y. Green's career has been largely successful thus far. At 11-3, the former NCAA Division I wrestler got a quick start in the sport, going 6-0 in his first five months and eventually racking up a Bellator record of 3-2. However, there was something missing.
In his last outing, which took place at Bellator 119, Green entered the cage on a three-fight winning streak and was poised to win the season-10 featherweight tournament. However, his streak came to a screeching halt in the second-round when Daniel Weichel submitted him with a rear-naked choke. While it was obviously a setback for the young up-and-comer, the loss was an eye-opening experience that would prove to change the landscape of his career.
Following his defeat, the young native of Rochester, N.Y., was released by the promotion. At the time, he was definitely disappointed, but it was the shake-up he needed to take the next step with his career.
"What I took most out of it is training camps," Green admitted in an interview with Combat Press. "Training camps mean a lot. I had my hands tied behind my back with where I was. I couldn't really get to a good training camp because the fights were so quick after another. I grew so fast—you know, I just started in 2012—and the gym I was training with wasn't one of those top gyms. I had two training partners that I was able to train with, and both were southpaws. The guy I last fought, Weichel, he was traditional. So, everything played into it. Everything happens for a reason, and I feel like I'm in a better place now to get where I want to go."
As Woods and Manning have already proven time and time again, practice is everything to a pro athlete. However, it's not just about putting in the time. To practice most effectively, an athlete needs to be surrounded by the right training partners and coaches who are there to push the athlete out of his comfort zone. Green wasn't getting that at Bombsquad, but his new gym is a huge step in the right direction.
About a month ago, Green made a hop across the border into Canada to train with one of the world's premier gyms. It was a move he needed to make, and it was made with the assistance of his new employer.
"After I got released from Bellator, Jeff Aronson, the owner of Titan, he hit me up and made a proposal to me to fight for Titan," Green explained. "He was really interested and really genuine about looking out for me as a fighter first. He asked me if I had any management, which I didn't. He directed me to Alchemist Management, and I got hooked up and signed under them. Then, he asked me where I was training at, and he asked me about what I thought about Tristar in Montreal.
"At the time, I wasn't really training with anyone, and I was actually looking for a gym to train at. I was training at Bombsquad in Ithaca, N.Y. It was a smaller gym, you know, there weren't many active fighters. When I left, there were only two fighters and my coach was moving too. We kind of knew I had to get to one of these bigger, more premier gyms, with how far my career is going. With Firas [Zahabi] and [Georges St-Pierre] and all of the other guys at Tristar, I was like, 'Hell yeah!'"
Practice was about to take on a whole new meaning for Green. After moving into the dorm in Montreal, his rigorous training schedule began immediately. He has three workouts per week with Kru Ash, three workouts with Jon Chaimberg, and the rest of the time is spent training with Zahabi, who is by far one of the most influential coaches in the world.
Furthermore, the stable of fighters is huge. In addition to GSP, Tristar also houses guys like Rory MacDonald, Mike Ricci, David Loiseau, Francis Carmont, Jonathan Brookins, Kajan Johnson and Chad Laprise, to name a few. In the blink of an eye, Green went from training with two southpaws in Ithaca to training with a huge stable of UFC-caliber fighters in Montreal.
"I have no free time with some pretty rigorous training," Green admitted. "I'm in Canada right now, about five hours away from home—my kids are back home. With 14 training sessions a week and Sunday as my day off, I try to rest in my free time and ice my body, pretty much."
Green's first battle under the Titan FC banner takes place this Friday night at Titan FC 31 at the USF Sundome in Tampa, Fla. Standing across the cage will be one of the most seasoned fighters in the history of MMA, Miguel Torres.
Torres is a true veteran of the sport. The former WEC bantamweight champ spent six years of his career fighting under the WEC, UFC and World Series of Fighting banners. He has 24 submission wins and nine knockouts, and has fought dozens of guys with world-class talent. With 50 fights in the last 14 years, the 33-year-old has a lot of miles on his chassis.
"Yes, he has a lot of experience, close to 50 fights, but I'm 25—fresh, young—and he's 30-something, you know, a little older," Green elaborated. "I'm quicker, stronger and will be fresher and more prepared. He will be more seasoned, but I'm at a point now where I've definitely been able to gain some good experience."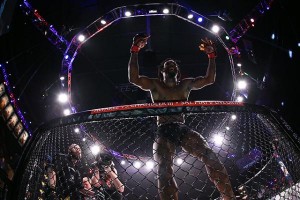 Green has only been stopped twice in his career and both times were by submission. With Torres having two dozen submissions on his record, the average fighter would be highly concerned going into this match-up. Green is not an average fighter.
"Miguel may be a big submission artist, but a lot of the fights he's had were at 135 [pounds] and most of the guys he's fought have nowhere near the wrestling background that I do, so I think I'll be able to figure that out," Green said. "It's more than me losing by submission. In the past, I beat myself. I just didn't have enough experience of being put in a lot of positions and being used to that kind of competition. Being up here at Tristar, I make sure and get in my good, hard rolls. I make sure to pick Firas's brain about the jiu-jitsu world. Really, it's about being up here and getting that high-level experience. Being at Tristar, I've gotten that experience."
Coincidentally, Torres has also spent a lot of time at Tristar, and the Brazilian Jiu-Jitsu black belt's ground game is no joke. He's super rangy and can get his tentacles around some of the best, but he has slowed down as his career has progressed. However, the Indiana native is now on a three-fight winning streak and looking to get back into the big promotions. Green's not worried about Torres's plans. He has plans of his own.
"Even though I'm not in Bellator, I have my sights set on the UFC anyway," Green intimated. "Now, with me being linked in with Alchemist and Tristar, I think this is potentially a better position for me."
Torres is a huge step up in competition for Green, but Green is ready to show the world that practice makes perfect on Friday night at Titan FC 31.
"I'm going to dominate this fight and try to finish it early. I think I have the talent to dominate this fight. I don't think there's any place that he's going to be able to outwork me. I definitely think I'm going to be able to set a higher pace than him."
Desmond would like to thank his mom, adding that without her, he wouldn't be able to train the way he is now. He would also like to thank all of his coaches and training partners at Tristar, as well as Jeff Aronson and Bryan Levick at Titan FC and his management team at Alchemist Management. Follow Green on Twitter:
@PredatorToon
---
Advertisement

---