One year, six months and 27 days.
To some, that duration may not seem like much time. But in the career of a professional mixed martial artist, every day away from competing in the cage is an eternity. It means not only lost time, but more importantly, lost wages.
Las Vegas-based fighter Ulysses Gomez has endured 18 months of inactivity, but it certainly hasn't been by choice.
---
Advertisement

---
"I've had bad luck," declared the fighter while speaking with Combat Press. "I've had three or four fights pull out. I got sick in London. I got offered a fight in the end of July, but I had a hurt rib. I had two or three shows cancel maybe a month before the fights."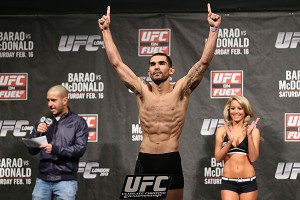 The series of unfortunate events may have kept Gomez out of the cage, but the former two-division Tachi Palace Fights champion and UFC veteran hasn't been wasting any time on the sidelines. As he prepares to face off with DREAM and King of the Cage veteran Abel Cullum—who returns from a three-year layoff of his own—at RFA 18 on Sept. 12, Gomez is ready to get back to what helped him succeed in the past.
"I've been gone, but I've still been training," explained the 31-year-old. "Abel could be the same exact fighter if he's just been chilling at the house eating Cheetos. Training is completely different. It's all about how you make use of your time.
"One thing that I went back to was my grappling roots. Back in grappling tournaments it was always submit your opponent as soon as you can and get as much rest before your next match. It was aggressive, aggressive, aggressive, put him away. I've gone back to those roots. I have to start attacking more and putting people away."
Gomez's renewed philosophy comes on the heels of the first two-fight skid of his career. Although both defeats came inside the UFC Octagon, Gomez is out to put the fights in his past.
"I want to get the Phil Harris loss—if that's what you want to call it—erased, but at the same time, I just want to get back in there and fight," he said.
The recent losses aren't the only thing that Gomez would like to forget. He was expected to headline Cage Warriors 62 in December against Neil Seery, but a weight cut gone wrong resulted in Gomez being sent to the hospital.
"It was disappointing," admitted Gomez. "I lost money. I flew cornermen out there. I know I disappointed Graham [Boylan] and Cage Warriors, because I was the main event. It was more embarrassing than anything."
Given the tumultuous ride Gomez has had since last February, it's no surprise that his biggest concern is just getting to the cage.
"I kind of want to put myself into a bubble until the fight," Gomez said with a laugh. "It's on Friday and I'm just trying to make sure I stay healthy until then."
If things go as planned, Gomez will make his RFA debut in the co-main event live on AXS TV. The bout will also mark his return to the bantamweight division, after competing at flyweight in the UFC and failing to do so for Cage Warriors.
"RFA offered me 125 or 135 [pounds], and I haven't lost at 135, which is the plus side," proclaimed Gomez. "Abel isn't that big of a '35er. He probably should be 125. I just felt it would be a little bit better for me to fight at 135 for this one, especially after what happened last time I tried to make 125."
While Gomez is confident that he can make weight this time around, he's dealing with a different kind of challenge against Cullum. Not only will he be fighting in his opponent's backyard, but Cullum's lengthy break from the sport leaves more questions than answers.
"He's a veteran and he's fought a lot of tough guys," stated Gomez. "Based on who he's beaten and who he's lost to, I don't think he's better than me. I watched some footage of him and he's scrappy.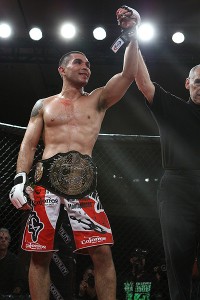 "I really didn't want to analyze or obsess on watching the footage because he hasn't fought in three years. People change. I don't want to go in there expecting him to do something, because he could be completely different."
More than anything, Gomez is anxious to recapture the form that earned him invites from not only the UFC, but also Bellator during his 13-fight career. And the Cobra Kai product is hoping to do it as quickly as possible.
"I don't get paid by the minute," joked Gomez. "I'm trying to get in there, get the win and go home. If the opening arises, I will put him away, whether it's the first minute or the last minute of the fight. One of the things that messed me up when I fought Phil Harris was that I coasted a little bit in the third round, and it cost me the win and my job.
"I am always looking to finish. I kind of pulled back from that style when I was in the UFC. It could've been because of nerves, who knows. I'm going back to the style from my Tachi Palace Fights bouts—take 'em down, pound 'em out and get the submission."
Having worked his way to the sport's highest level once before in his career, Gomez knows the recipe. He just can't get too far ahead of himself.
"My goal is to win this fight," he said. "After that, I can hopefully string together another win and maybe get a title shot down the road. After I won the belt at 125, I got a shot in Bellator. After I won it at 135, it was the UFC. People like seeing winners. Down the road, it's get back in the UFC and give it one last go. But right now, I have to get through Abel."
Ulysses would like to thank his sponsors: Onnit, Moya Brand Gis, Bulletproof Coffee, Sqor.com and Defense Soap. Follow Gomez on Twitter:
@uselessgomez
---
Advertisement

---