In combat sports, every fighter is looking for a fast track to stardom. But sometimes that path happens too quickly.
Twenty-six-year-old Dustin Jacoby has lived that scenario firsthand.
"When I first started training, I trained at Matt Hughes's Hit Squad. People were coming from all over the world to train with Matt. I trained there for two years and my game spoke for itself. I got to 6-0 very fast and made it to the UFC less than a year after turning pro," recalled Jacoby while speaking with Combat Press.
---
Advertisement

---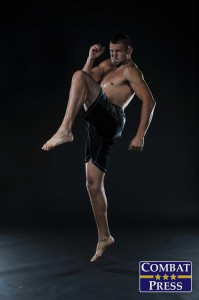 Jacoby's quick rise to the highest level of MMA competition turned into a quick fall. The Illinois native dropped both of his Octagon appearances and was released from the promotion after only four months.
"Right when I got signed by the UFC, that gym broke up and I didn't have a place to train every day," explained Jacoby. "It was unfortunate for my career. Everything I was doing to get me there, I didn't have for my two fights in the UFC. It wasn't the same. It wasn't a consistent grind to get better."
When Jacoby's UFC stint came to an abrupt halt, he returned to the regional circuit and earned two quick wins. That earned him a spot on the first World Series of Fighting event, opposite current middleweight champion David Branch. Unfortunately, it led to another setback. After rebounding against recent RFA title challenger Andrew Sanchez, Jacoby turned his attention to kickboxing. After rolling through a Road to Glory tournament, he earned a contract with GLORY.
But that wasn't the biggest change the fighter would make to date.
After losing to Chris Camozzi in the UFC, Jacoby ventured out to Colorado to train with his former foe at Factory X Muay Thai/MMA. Following a few return trips during his time with GLORY, Jacoby knew it was time for a switch.
"I was used to having killer teammates around me that had the same goals and aspirations. I knew that was what I was missing. I came out here a couple times and then in July my wife made the career choice to move out here with me," said the fighter. "It's already paying off. I wanted to stay active and be part of a team where I fight on Friday night and Monday morning I'm back in the gym."
Just two weeks ago, Jacoby scored a first-round stoppage of Lucas Lopes at Titan FC 29. It was his first MMA fight in 18 months. Jacoby's desire and willingness to stay active in the gym has presented him with a golden opportunity, as he'll take on former Bellator MMA title challenger Muhammed "King Mo" Lawal in the co-main event of Bellator 123 on Sept. 5.
"I caught wind that [Marcus] Sursa was out and it just dawned on me that I was relatively healthy. [I had] some little bruises, but nothing that would prevent me from going 100 percent in a fight," said Jacoby. "I asked coach to put in a word that if Bellator was having a hard time finding somebody, I'd take it. Within six to eight hours, the fight was mine.
"When you're ready for opportunities, you can take them. By moving here and being surrounded by such great, talented people, it gave me the confidence and the ability to be in this position."
The fight against Lawal will come at light heavyweight, or 20 pounds heavier than Jacoby's usual home of middleweight. Despite moving up in weight, Jacoby is undeterred.
"I possess the same power at 205," he declared. "I know for a fact that I can knock out anybody at 205, just like I can at 185. I think at 205 I'm quicker to the punch and I'm lighter on my feet. I'll face some bigger guys, but it's more of an advantage than people think."
Jacoby is confident in his abilities after stopping eight of his 10 career wins with strikes. But he's not ignoring the challenge that lies ahead of him on Friday night.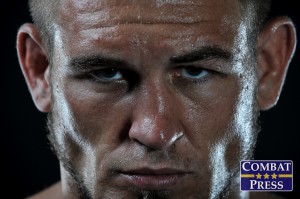 "I know I have my hands full," admitted the fighter. "Mo's a very dangerous opponent. His credentials speak for themselves—Olympic-level wrestler, former Strikeforce world champion. He has dominant, powerful wrestling. I feel like I'm prepared for that; I can scramble with the best of them.
"I'd love to stand there with him. I know he's a good striker, too. He's really focused on boxing. I have to keep moving, keep my distance, find my range and not be scared of him. If I sit back, the takedown will be open. I have to bring it to him."
Having already competed on the highest level of the sport, taking a detour into the world of kickboxing, and now returning to the limelight, Jacoby has come full circle.
"I've been through the trials and tribulations and I'm ready for the big time," proclaimed Jacoby. "My stint in the UFC, I feel like I got there too soon. I wasn't ready. I only had six professional fights under my belt. Now, with all the experiences I've had and doing kickboxing for the past year and a half, my stand-up game has gotten a lot better. I feel very confident.
"Fans should expect to see a guy that's hungry, who's put a lot of work into his career and is ready for that next level, to compete with the Muhammed Lawals of the sport. I have two thousand Twitter followers, King Mo has 120,000 followers. There's a slight difference there in popularity, but I know I belong. After Friday night, the fans are going to see that too."
Dustin would like to thank his sponsors: GLORY, Enseco Energy Services, Beast Sports Nutrition, Noble Savage, 508 Brand Logo Stars, Lexani and Rolling Big Power. Follow Jacoby on Twitter:
@dustinjacobyDJ
---
Advertisement

---