After his last fight ended with a shocking knockout at the hands of Thai legend, and now-featherweight titleholder, Superbon Banchamek last October at ONE Championship: First Strike, Giorgio Petrosyan stayed off the combat sports radar for a while. And, we are not surprised at all.
Over these years, we have learned to know Petrosyan: a humble man of few words who has always placed the ring above all the rumors and flashy spotlights. Relentless work ethic and dedication have always been always the polar star of his amazing career, especially through hard times. That's probably why he preferred silence and concentration during his recovery from his jaw surgery.
A Setback Paves the Way for a Comeback
Now the time has come for, maybe, the last Mount Everest of Petrosyan's unparalleled career, which is the ride for the re-conquest of the ONE Championship throne.
---
Advertisement

---
Since the Pandemic started, the Singaporean sports entertainment powerhouse has established itself, especially in the kickboxing and Muay Thai domains, as the undisputed leader. That's why taking over, at 35 years old, one of the most stacked divisions ever would set the last seal on Giorgio's amazing journey in martial arts and leave no doubts on who is the kickboxing GOAT.
One Step at a Time, One Punch at a Time, One Round at a Time
Immediately after the Superbon knockout, everyone realized that Petrosyan's journey could not have taken shortcuts. But over the last few weeks, we have noticed encouraging signs from the legend's social media pages.
The first big one was the announcement, on Jan. 17 of a Petrosyan comeback on Apr. 30. at Petrosyanmania, the kickboxing show run and organized by his brother Armen. The opponent is still unkown. Armen, on the other hand, will be the first of the Petrosyan brothers to fight in their native country of Armenia. At Multi Fight Championship 1 in Yerevan on March 5, he will take on Fabio "The Brave" Ferko, who trains out of Germany. Armen will be attempting to defend his Armenian WKU kickboxing title.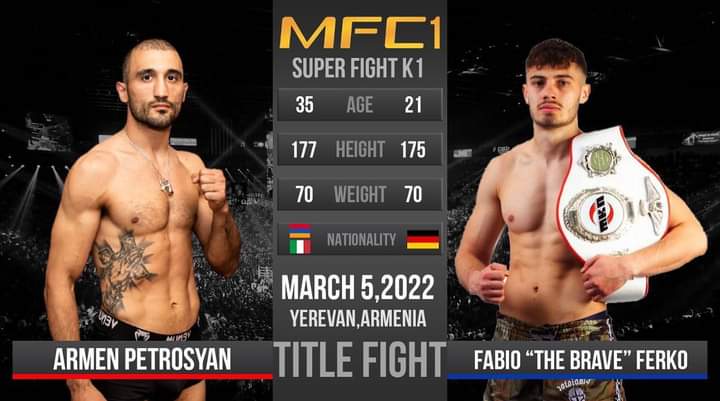 Another promising update is that, last weekend, the Petrosyan brothers hosted a large seminar in Canada, with the support of local legend, and former 3-time world Muay Thai champion, Kieran Keddle.
All the evidence suggests that the fire is still burning in the heart of the great champion, Giorgio Petrosyan. Only time will tell if it will lead to other incredible achievements inside the ring. What is sure for now is that all of the combat sports community is happy to have this champ back in good shape.
---
Advertisement

---