The more things change, the more they stay the same. In this day and age, that's one saying that could not ring more true. Yet, people still seem to fight it. However, in the last year, one fighter has been forced to embrace the concept.
2016 has been a wild ride for Dakota Cochrane. Cochrane has two careers. He's a personal trainer and a professional mixed martial artist. He's also a husband, a father and a homeowner. In many regards, life has been business as usual. He still trains people, he is still fighting with great success, and he still owns a home. On the surface, it's a lot of the same.
"It's been a crazy-ass year," Cochrane told Combat Press. "I'm working at Lifetime Fitness now. 24 Hour Fitness sold its gyms to a smaller company called Genesis. They sold all of the Omaha locations, St. Louis locations, and Kansas City location to Genesis Health Clubs. It was an interesting ordeal. One day, they said we had a meeting. They told us we were pretty much all fired, and the next day we were officially Genesis.
---
Advertisement

---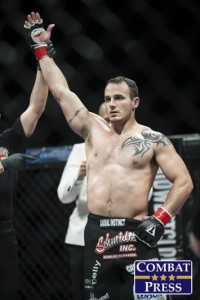 "I tried it for a month, but the pay structure was a lot different, and it wasn't going to be good for me and my family. It was actually perfect timing, because Lifetime was recruiting me pretty hard. So, I'm at Lifetime now, and it's going well. In that whole process, we were buying another house. We had sold our first house and were looking, and it was a hell of a time to be going through a job change."
Wait. What?
Anybody who has been through a mortgage or refinance process since the financial crisis knows that the banking system has been scrutinized, and the underwriting process is not what it used to be. Going through a job change during this time can be the equivalent of mortgage suicide. Fortunately for Cochrane, everything worked out.
"We moved to Glenwood, Iowa," Cochrane explained. "Me and my wife are both from small towns, and we like the country. We looked all around Omaha — north, south, east, west — but, that one popped up, and it is perfect, actually."
The only catch for Cochrane is that Glenwood is about 30 miles southeast of Omaha and Lifetime Fitness is in far west Omaha, so he tripled the time it takes him to get to work. His drive changed, his job changed, and his home changed, but, for all intents and purposes, life is still business as usual. The same goes for his fighting career.
With his last fight of the year coming up on Friday night at the 55th installment of Victory Fighting Championship, Cochrane will step into the cage for the 37th time in his pro career, and his sixth time this year alone. He has always been one of the few fighters to regularly hover around four to five fights per year, and he inevitably will take more than one on short notice. His last fight is a wonderful case in point.
One big change for Cochrane was that he finally was able to compete in Legacy Fighting Championships. It was actually strange that after already fighting for almost every major regional organization, Bellator, Titan FC, and even overseas in a Helsinki Fight Night, he had never fought for Legacy. In October, he was offered a fight with Jos Eichelberger.
"I knew it was going to be really tough," Cochrane said. "He was on like a five- or six-fight win streak. I took it kind of on short notice, so I knew it would be tough. I took him to the ground and, in the second round, I got him worn out and he just kind of gave up."
With only 13 seconds left in the second stanza, Cochrane pulled off a big win to take his current streak to three fights. The win led to an offer from a former employer.
"I was originally supposed to fight in Bellator on December 3rd, and my opponent backed out, because he signed with the UFC," Cochrane said. "They didn't find another opponent for me. It was almost like they didn't even try to find a fight for me."
In early November, Abdul Razak Alhassan was called up to test his undefeated record in the Octagon. Meanwhile, Cochrane was left high and dry. With as often as the Nebraska native is scheduled to fight, it has become pretty standard to have around one fight per year canceled over the last few years. But, things never really change. He landed his next opponent quickly.
"Jake Lindsey's opponent backed out, so [VFC CEO] Ryan [Stoddard] hit me up and asked me if I wanted this fight," Cochrane explained. "It's my first rematch I've ever done, so that's interesting. I know it's going to be a battle.
"In the first fight, I lost the first two rounds, but I choked him out in the third. I know it's going to be a tough fight."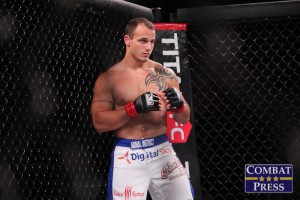 While "five fights ago" seems like that should be a couple years back, Cochrane's first fight with Lindsey was actually in January. This is his sixth camp of the year and second for the same opponent. It's a completely different situation, though, because in almost 40 fights, Cochrane's never done this before.
On Friday night, at the Baxter Arena in Omaha, Cochrane-Lindsey 2 will headline the evening in a five-round, non-title fight. While a rematch of a tough fight might seem like a daunting task for most, fans should know who they are dealing with.
"Oh, you know me," Cochrane said. "I'm pretty much good to fight. I just need a date, and I don't really give a shit who it is. I'll go in there and fight him as best I can. The biggest thing is getting the date and having something to work hard for."
It's so unusual for a guy to consider a very unusual year as business as usual, but for Cochrane, that's the status quo. His family has gone through a lot of changes in 2016, but, geography aside, life just continues to flow. It's only fitting that he caps off the year with his first rematch. And, if things are truly to remain the same, Cochrane will finish the year with a win, just as he did in 2014 and 2015. The outcome he's hoping for is no surprise.
"I'm hoping to finish him in the third round again. At welterweight, it seems like I really need to wear them down, and in the second and third, that's where I shine."
Cochrane would like to thank all of his coaches and training partners at Premier Combat Center, his new management team at DC Management, his family, friends, fans and sponsors: Hayabusa, BB Roofing, Twin J Transportation, Greenbelly, DigitalSky, Stryker Outdoors, Monarch Tires and Wheels, Schmidt's Inc., StayRXFit.com, and CageTix.xom. Follow Dakota on Twitter:
@DakotaCochrane
---
Advertisement

---